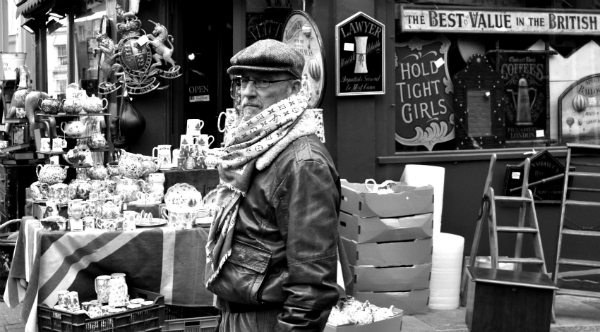 Oscar Wilde once said, "The man who can dominate a London dinner-table can dominate the world". I reckon the same goes for brunches. After all, many famous people are known to have been late risers – for instance, Hitler was known to conduct very important meetings from his tub as he took his late morning bath… Ok, bad example. Moving on.
I would have liked to have titled this post 'Breakfasts in London', but that would've been boring, and frankly, I wouldn't know what a breakfast in London would be like. I don't function before 10am, and I don't smile till after 11am. Period. So I like brunches, they're perfectly timed around my transition from Grumpy Amy to Not-so-grumpy Amy; and my few days in London made me an extremely well fed and content Amy.
We originally had 2 mornings in London, but thanks to the infamous London fog and a very… very… very last minute cancelled flight to Zurich that I shall not go into detail about for fear of vulgarities spewing forth, we ended up with three mornings in the city instead. Not that I was complaining really since I do like London quite a fair bit, plenty more than Zurich anyway – personal opinion, don't shoot me.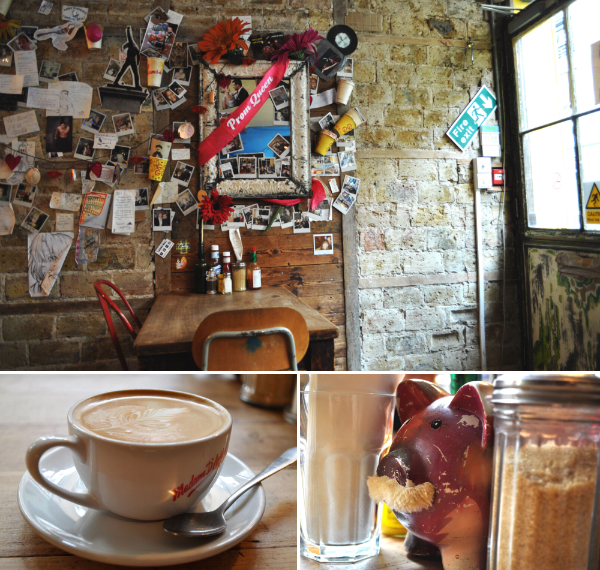 First on the list is The Breakfast Club in Soho. Credit goes to mum for finding it after she discovered how to use this thing called a 'Google search engine'. We actually had a pretty early start that day since we were all suffering from jet lag, and got there 15 minutes before it was due to open – and there was already a queue! I consider anything more than 5 persons in front of me a queue, even if they're in the same group. Jokes aside though, the queue did get pretty long by about 10:30am, and I had a window seat, so picture me all warm and toasty with a cup of coffee and a smug look on my face smiling at the folks freezing their tushes off outside; I might've even waved. I'm secretly very evil. On to the food – the portions were huge by my standards, but I still finished it all though, greedy pig that I am. I had 'The All American'. Poached eggs, bacon, a sausage, sautéed potatoes; ingredients you can't really go wrong with, but the item on my plate that was gloriously yummy, was the pancakes. Those were some fluffy, tasty pancakes, good pancakes, yummy pancakes… mmmm pancakes. Get pancakes.

The next day was just mum and I, since dad was sending the siblings off the Hogwarts. Just so you know, we all went through the sorting hat (online – still counts) and I belong to Gryffindor, Little A in Slytherin and my brother S… er… Hufflepuff. Ahem. Not everybody can be… notable. Anyhoo, us ladies trotted off to The Riding House Café situated between the Oxford Circus and Goodge Street stations. The décor was definitely more refined than The Breakfast Club and there were far fewer tourists, just a whole lot of British muggles. Good thing is they do take reservations even for breakfast, but being a larger establishment, getting a table wasn't that long a wait. Mum opted for a small portion of the 'Eggs Benedict' while I picked the 'Eggs Hussard', purely because the description of the latter included 'ox heart tomato'. Sadly, there weren't any physical ox hearts in the dish (we reckon they're a bit hard to come by) but the sauce was might tasty nonetheless. If I really had to choose, I'd probably pick The Breakfast Club over The Riding House café just in terms of the sheer variety of food that the former provides; but when it comes to the overall vibe, it's a tough fight. No matter though, I've saved the best for last.
It was extremely difficult deciding where to go on the last morning in London because in my family, everyone's a critic. "You can't ruin the last breakfast in London" kept running through my mind, because even if it's mediocre, it's straight to the guillotine for me. I finally settled on Dishoom, an establishment in Shoreditch much to dad's chagrin since it was a bit out of the way and he was already agitated thanks to the fog looking like it was going to set us back yet another day on our itinerary. Not a good start. The taxi ride there (made no sense cost-wise to take the tube with 5 of us) along cobbled streets and little alleyways was no better, he kept muttering in whatever little Mandarin he knows that we were going to get cornered, ditched and mugged by the cabbie and his mates – sorry cabbie! When we arrived at Dishoom, recognisable from the street by their huge black metal gate, I thought for sure dad would drag me aside for a little 'discussion' – but he let us get into the warmth first, and that ladies and gentlemen was my saving grace. The place is absolutely gorgeous! Beautiful wooden furniture, antique thingamagics, plush leather seats, throw in South Asian influence and BOOM, you have Dishoom, a Bombay café right smack dab in London city.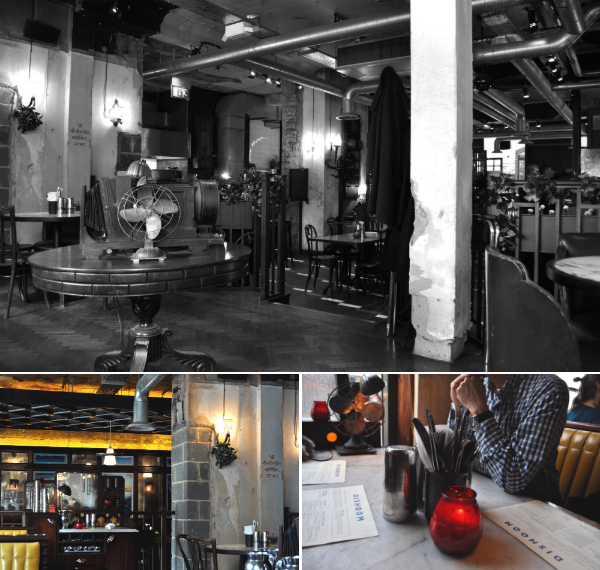 We arrived at 11:25am, and I cheekily asked the waiter if I could still order from the breakfast menu since it only ends at 11:30am, and success was mine! The rest of the family ordered from the all-day menu, so we enjoyed the best of both. The Akuri (a spicy Parsi scrambled egg dish) which is part of the 'Full Bombay', was an explosion of flavours in my mouth.  We also ordered the 'Kacchi Lamb' – not for the faint of heart, the sheer amount of chilli in it is killer, 'Lamb Raan Bun', 'Masala Prawns', 'Dishoom Chicken Tikka' and garlic and cheese naan. The lassis and cappuccino were delectable too – you can guess who ordered the coffee.
It was a fantastic brunch/lunch and it only got better because the skies cleared and we even had time to stroll through a Christmas market near Westminster Bridge before heading off to the airport. Really, if you're in London, you need to have a brunch, whether it's what I've talked about, or something else you read about (DO LET ME KNOW MORE), you just have to – it's a part of world domination. It's obligatory. And on the topic of obligatory, here's ending off today's 'slightly' lengthy post with an obligatory tourist shot of Big Ben, a bridge and a bus. Cheerio!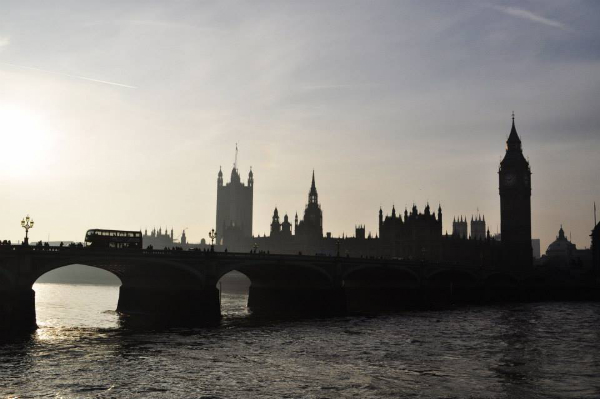 The Breakfast Club (several locations)
33 D Arblay Street
Londong W1F 8EU
Tel: +44 20 7434 2571
www.thebreakfastclubcafes.com
The Riding House Cafe
43-51 Great Titchfield St
London W1W 7PQ
Tel: +44 20 7927 0840
www.ridinghousecafe.co.uk
Dishoom (two locations)
7 Boundary Street
London E2 7JE
Tel: +44 20 7420 9324
www.dishoom.com

Having lived in Sydney for 4 years, Amy is currently on a quest to find the best coffee joint in Singapore to supply her with her necessary caffeine dosage, as she feels an 8 hour flight on daily basis is taking things a bit too far. When she is not on her quest, she enjoys the more mundane things in life like singing in the shower as she contemplates life, as well as fashion, photography, food, music and the occasional travelling.