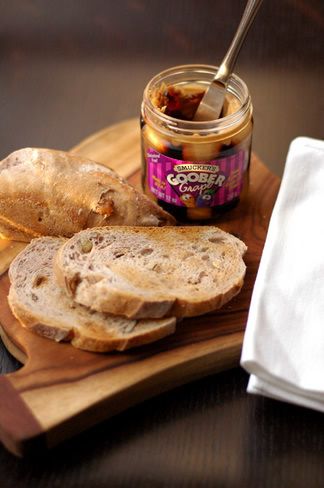 The latest meme that's been making the food blog rounds is called Childhood Memories. Once tagged, we're supposed to write about 5 childhood food memories that have shaped our current culinary predilections. Last week, the wonderfully sweet Tara made me "it", along with The Domestic Goddess and Nicky and Oliver, the hugely talented couple who write Delicious Days.
PB and J
There's nothing more familiar and reminiscent of early childhood chomping than this simple, oh so pervasive but still fantastic combination. My family moved to the USA from Singapore (for the second time) in 1974. While my mother became and still is an amazing cook, she has, for most of her life, pretty much stuck to her Chinese roots when in the kitchen. That said, she did make a few concessions to "American" cuisine, chief among them a pretty mean cheeseburger, Sara Lee's chocolate cake (take out of fridge, open box and serve), and peanut butter and jelly sandwiches. PB & J sandwiches found their way into our family breakfasts, afternoon snacks and most often into brown bagged school lunches. Smucker's Goober Grape (pictured above) is one of S's and my secret indulgences and an easy way to satisfy this childhood craving with just one jar.
Cheesburgers
As I was saying, one of the other few American dishes that my mother excelled at preparing was cheeseburgers. And boy were these good. Honest to God, her burgers are some of the best I have ever had, far better than any I've found in Singapore and better than most of the ones I ate in numerous burger bars and diners across New York. She mixed ground sirloin, chopped onions, a raw egg, some worcestershire sauce, and a sprinkle of salt and pepper. Over her generous patties, she melted Kraft singles and served her burgers on toasted Thomas' English muffins. Today, when I make my own burgers, I use the same ingredients that she did.
Xiao Long Bao
I discovered these marvelous Shanghainese steamed soupy dumplings as a little kid in a restaurant in New York's Chinatown called Peking Duck House. As you would expect, the restaurant specialized in fantastic Peking Duck. Unfortunately, few of its other dishes were as good. In fact, over the many years and as a result of many, many meals, my family had discovered that aside from the duck, only two other items on the menu were equally delicious–a noodle dish and the xiao long bao, which were excellent. I can't recall when I had my first one, but they have since early childhood remained one of my all-time favorite food items. In fact, I would go so far as to say that xiao long bao have been one of my earliest obsessions and addictions. When young, I was downright embarrassingly greedy–consuming as many as 40 (and once 60) dumplings per sitting. These days, I try to limit my intake, keeping my consumption to single digits.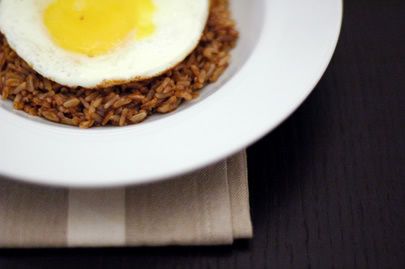 Bovril, Rice, Butter and Fried Egg
This may just be the unhealthiest dish in my repertoire but it is one of my favorites. I've been eating this for the better part of two and a half decades. I have no idea whether the recipe comes from my mother, our old retired housekeeper or a family friend. It was the perfect one dish meal for a tiny tot, the perfect comfort food for a hungry college kid, and the perfect but occasional walk down memory lane for an aging chubby hubby. It's also a breeze to make. Put a pat of butter in a bowl. Drizzle some Bovril (yup, liquid beef) over the butter and spoon in some hot rice. Stir this up. The amount of Bovril you add is up to you; just don't put too much or the rice becomes too salty. Then fry an egg sunny-side up. Put the egg on the rice and stir the whole thing together. Eat.
Pate de Foie Gras
I discovered Foie Gras when I was 8 years old. I had attended a Christmas party thrown by a family friend. Among the many delicious treats that were being passed around was a silver tray laden with toast triangles covered with silken slices of Strasbourgian Pate de Foie Gras avec Truffe. My first taste was an utter revelation and before I knew it and to my mother's utter dismay, I had consumed all the Foie Gras in the house. The hostess laughed off my mother's many apologies, telling her that the only insult would be if I wouldn't be able to eat the rest of the Christmas feast that she had prepared (well, ordered… this was New York after all). Suffice it to say, I mustered up the strength to eat everything and anything put before me that night.
Since it's now my turn to pass the torch, I'd like to invite these fellow food bloggers, if they haven't already, to take on this meme:
Aun has always loved food and travel, passions passed down to him from his parents. This foundation, plus a background in media, pushed him to start Chubby Hubby in 2005. He loves that this site allows him to write about the things he adores--food, style, travel, his wife and his three kids!