I'm a big fan of a well-made cocktail. I appreciate the combination of skill, passion, creativity and great ingredients that goes into mixing the perfect drink. All of these are important, perhaps not in equal measures, but without the presence of all four ingredients, that post-prandial you've been craving for might just leave you a little disappointed. These days, my tastes run pretty simple. I pretty much stick to ordering classic drinks. A glass of Champagne or some ice-cold sake and I'm happy. If pushed to order a mixed drink, I'll take a bellini, vodka gimlet, mojito or Pim's cocktail over newer, fancier libations any day. Of course, I was not always so simple. In fact, when I was younger, I'm embarrassed to say, I was quite the wanker. My tastes in my early teen years ran to bottled wine coolers. From these disgusting alcopops, I soon found myself exploring and enjoying sickly-sweet, garishly colored cocktails with stupid names like Woo-Woo, Fuzzy Navel and the way-too-popular Sex on the Beach. Pathetic, right? Thank God by the time I went to university I had moved onto microbrewed beers and handcrafted vodkas.
Despite my current penchant for classic combinations, I still enjoy occasionally discovering (and tasting) smartly-crafted and unique cocktails. One of my favorite finds of the past few years is the Alberto #1, named after and created by Alberto Alonso, who spent 40 years working behind the bar at the famous but now closed restaurant La Caravelle. It combines fresh lime juice, mint, sugar, and vodka, and is topped off with Champagne. It's a delightful, zesty drink that packs a huge punch.

photos courtesy of American Express Publishing Corporation
I recently had the opportunity to peruse Food & Wine's Cocktails 2006, a cool, pocket-size guide with over 150 drink recipes. While I have to admit that I probably would never attempt to mix many of the cocktails in this book, there were several that did catch my eye and a couple that had me drooling over the book's glossy and well-designed pages. I really like that the recipes are all attributed to bartenders and bars across America. It's a great way to discover interesting drinks and interesting places to drink in at the same time. Many of the drinks in this book have some pretty wacky names, like Label Whore, Heavy Petting, Finding Nemo, Periodista, and The Naughty Greek. In addition to the cocktail recipes, Cocktails 2006 also has a chapter containing 14 very yummy-sounding bar snack recipes. I was particularly excited by the stilton sirloin burgers with onion jam, attributed to the bar at the Peninsula in Chicago (pictured at the top right of the above montage). As a resource, this is a fun, attractive and informative book. I urge any amateur mixologist to pick one up. It's available in bookstores across the USA and off Food & Wine's website.
As a sneak preview, I'm transcribing 3 drink recipes that I find particularly yummy and one snack recipe that I'm sure you'll all love.
Blackberry-mint margarita
From The Hungry Cat, Hollywood, California
8 blackberries, 2 skewered on a pick
10 mint leaves
1.5 ounces reposado tequila
1 ounce lime juice
1 ounce sugar syrup
ice
In a cocktail shaker, muddle 6 of the berries. Add ice, the mint, tequila, lime juice and the syrup shake well. Pour into a rocks glass; top with the 2 berries.
Boa 405
From Boa, Santa Monica, California
2 strawberries, hulled and halved
1/2 ounce sugar syrup
1.5 ounces vodka
1/2 ounce fresh lemon juice
dash of balsamic vinegar
large pinch of coarsely cracked black pepper
In a cocktail shaker, muddle the strawberries and syrup. Add the vodka, lemon juice, vinegar and ice and shake well. Strain into a chilled martini glass and garnish with pepper.
Vanilla old-fashioned
From Mas, New York City, New York
one 1-inch piece of vanilla bean, split (they recommend Madagascan or Tahitian)
one 1-inch piece of orange zest
1/4 ounce sugar syrup
2 dashes of orange butters
2 ounces bourban
1 orange wheel
ice
In a rocks glass, muddle the vanilla bean and orange zest with the syrup and bitters. Add the bourban and ice. Stir and garnish with the orange wheel.
Truffled popcorn
From Suba, New York City, New York
6 tablespoons unsalted butter
1 tablespoon minced black truffle (optional; I suggest using black truffle salsa)
1 teaspoon white truffle oil
3 tablespoons vegetable oil
1 cup popcorn kernels (7 ounces)
salt and freshly ground pepper
In a small saucepan, melt the butter over low heat. Stir in the truffle, truffle oil and a pinch of salt; keep warm. In a large heavy pot, heat the vegetable oil. Add the popcorn kernels, cover and cook over moderate heat until they start popping. Cook, shaking the pot continuously, until the popping has almost stopped. Carefully pour the popcorn into a large bowl. Add the truffled butter and toss well. Season with salt and pepper and serve.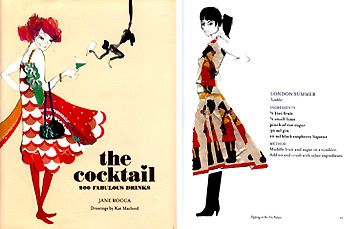 Cocktails lovers looking for an alternative guide should check out The Cocktail by Jane Rocca. I wrote a little about this gorgeous book in my holiday gift guide last December. With 200 recipes and stunning illustrations, The Cocktail is as much an art book as it is a fantastic resource. Like some of the drinks in Food & Wine's guide, Ms Rocca has given many of her drinks some pretty witty names, like Violent Little Ol' Lavender Girl and Tina's On A Taipei Bus. Of the many drinks in this delightful book, the one I'm planning on making very soon is the Geisha Fizz. To make it, muddle 2 lychees in 10ml lemon juice. Then mix 15ml sake, 110ml Champagne, 15ml creme de gingembre with the muddled lychee and lemon juice in a cocktail shaker. Add ice, shake and strain into a flute. Garnish with a broken kaffir lime leaf.
Aun has always loved food and travel, passions passed down to him from his parents. This foundation, plus a background in media, pushed him to start Chubby Hubby in 2005. He loves that this site allows him to write about the things he adores--food, style, travel, his wife and his three kids!