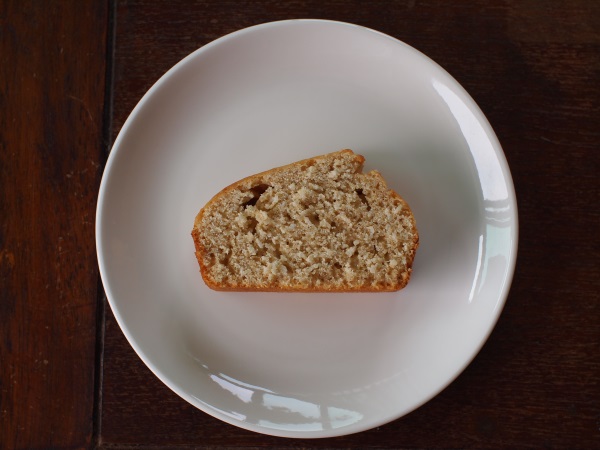 It was one of those perfect moments in time, when I was completely relaxed, basking in the warm glow of the setting sun, sitting reclined and reading a beautiful Bill Granger cookbook. This one, Sydney Food, boasts absolutely stunning pictures, which enticed me so much that I wanted to jump up and try my hand at all the dishes asap. But what I enjoy most about Granger's recipes, is that they are not complicated or intimidating in the least, and every one that I've tried so far has yielded the most satisfying and rewarding results. This coconut bread is a prime example.
This recipe is every busy mom's dream. All you need one bowl and a whisk, the batter takes minutes to prepare, and the house smells deliciously of toasted coconut as the loaves bake. Moist, wholesome and hearty, a slice is ideal for breakfast with a steaming mug of tea and some fruit, or as an afternoon treat with an espresso. The cinnamon and coconut combination makes the bread incredibly aromatic and fragrant, and the tangles of shredded coconut lends great texture. I didn't veer far from the original recipe, but I did substitute half the amount of flour with wholemeal pastry flour, added a quarter teaspoon of salt and reduced the amount of sugar slightly. The cake remained tender even with the wholemeal flour, and the touch of salt intensified the coconut flavour.
For me, cooking is about feeding the people I love with good food, and I never tire of it. Moreover, watching my son tuck into a thick slice of this coconut bread after school, and hearing him say how 'this snack is yummy', is immensely gratifying.
Bill Granger's coconut bread with wholemeal flour
2 eggs
300ml milk
1 tsp vanilla extract
75g butter, melted
1 cup minus 2 tbsp sugar
1½ cups wholemeal pastry flour
1 cup plain flour
2 tsp baking powder
¼ tsp fine sea salt
1 tsp ground cinnamon
150g (about 1½ cups) unsweetened shredded coconut
Preheat oven to 180°C. Prepare two loaf tins by greasing the sides and lining bottom with grease-proof paper.
Melt butter and set aside.
In a large bowl, stir together eggs, milk, vanilla and melted butter.
Whisk in the sugar.
Sift in flours, baking powder, salt and cinnamon. Stir till just combined.
Stir in shredded coconut and distribute evenly between two loaf pans.
Bake for 30-35 minutes until a cake tester or toothpick comes out clean.
Dawn, a lanky food-crazed lady, started out writing for lifestyle magazines, and later spent several years in banking. When not eating, she's cooking, reading about, hankering after, and writing about food. On her first date with her boyfriend (now husband), they dined at four restaurants across Singapore. He's gained 25lbs since, and their culinary escapades continue after welcoming two rotund angels. Dawn's committed to feeding them with the best, and creating lasting food memories and traditions for her family.