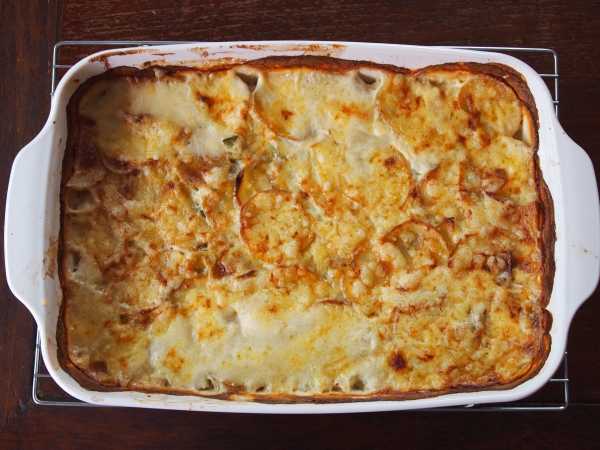 My brother D, is your typical meat and potatoes kinda guy. He is always hankering after a good slab of beef, and some weeks ago, for our regular Sunday dinner at my mum's, he treated the family to some amazing Wagyu steaks. My job was to cook some sides to complement the meat. I instantly thought of having the simplest salad (tomatoes, cucumbers, extra virgin olive oil, salt and pepper) and baking up a tray of this awesome leek and potato gratin.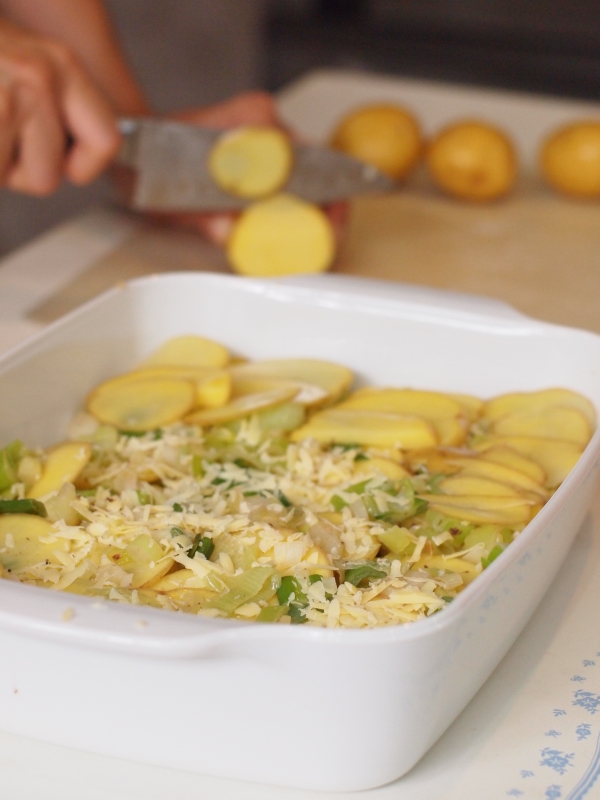 As much as I love a simple, perfectly roasted spud, this gratin is a welcome change. Slightly crisp on the top and edges, tender and creamy within, I can't think of anything that it doesn't go with. Have some alongside pan-fried salmon, sausages, sunny-side up eggs, grilled chicken, smoked ham… you get the drift. For me, a gratin is the ultimate potato dish for entertaining. It looks great on the table, everybody is almost guaranteed to enjoy it (even the kids love it), and it doesn't require a lot of prep. It can even be made in advance and simply heated up in the oven when your guests are ready to tuck in. Furthermore, this indulgent dish is probably one that we should endeavour to share with as many people as possible. I say this nobly, but in my heart of hearts, I was quietly scheming to just have a dinner-plateful of this cheesy potato, without anyone noticing.
Leek and potato gratin
2 leeks, thinly sliced
3 tbsp butter (1 tbsp for the leeks, and 2 tbsp for dotting the top of the gratin before baking)
750g Yukon Gold potatoes, sliced as thinly as you can
100g cheese, coarsely grated (I used Swiss between the layers and Parmesan on top)
2 cups milk
sea salt and black pepper
Saute the leeks in 1 tbsp butter until just tender. Season lightly with salt and pepper. This should take about 3 min.
Preheat the oven to 180ºC.
In a large casserole dish, place one layer of the sliced potatoes on the bottom, overlapping slightly. Season lightly with salt and pepper.
Next, scatter half of the sauteed leeks over. Add a third of the grated cheese, spreading it out evenly.
Repeat the process. Then arrange a last layer of potatoes over the top.
Pour the milk over, making sure that the milk reaches the bottom of the top layer of potatoes. Add more if necessary. Season with salt and pepper.
Dot the dish with the remaining 2 tbsp of butter.
Bake uncovered for 30min, turning the tray halfway through, and pressing the potatoes down to make sure that the top layer stays moist in the milk.
After 30min, remove the dish from the oven, press the potatoes down again, and scatter over some cheese (I like Parmesan here). Making sure the entire surface of the casserole is covered.
Bake uncovered for another 15-20min, until the top is golden brown. Serve hot, or at room temperature.
*You can substitute the leeks with sauteed mushrooms/onions/spinach, etc. All very yummy.
Dawn, a lanky food-crazed lady, started out writing for lifestyle magazines, and later spent several years in banking. When not eating, she's cooking, reading about, hankering after, and writing about food. On her first date with her boyfriend (now husband), they dined at four restaurants across Singapore. He's gained 25lbs since, and their culinary escapades continue after welcoming two rotund angels. Dawn's committed to feeding them with the best, and creating lasting food memories and traditions for her family.