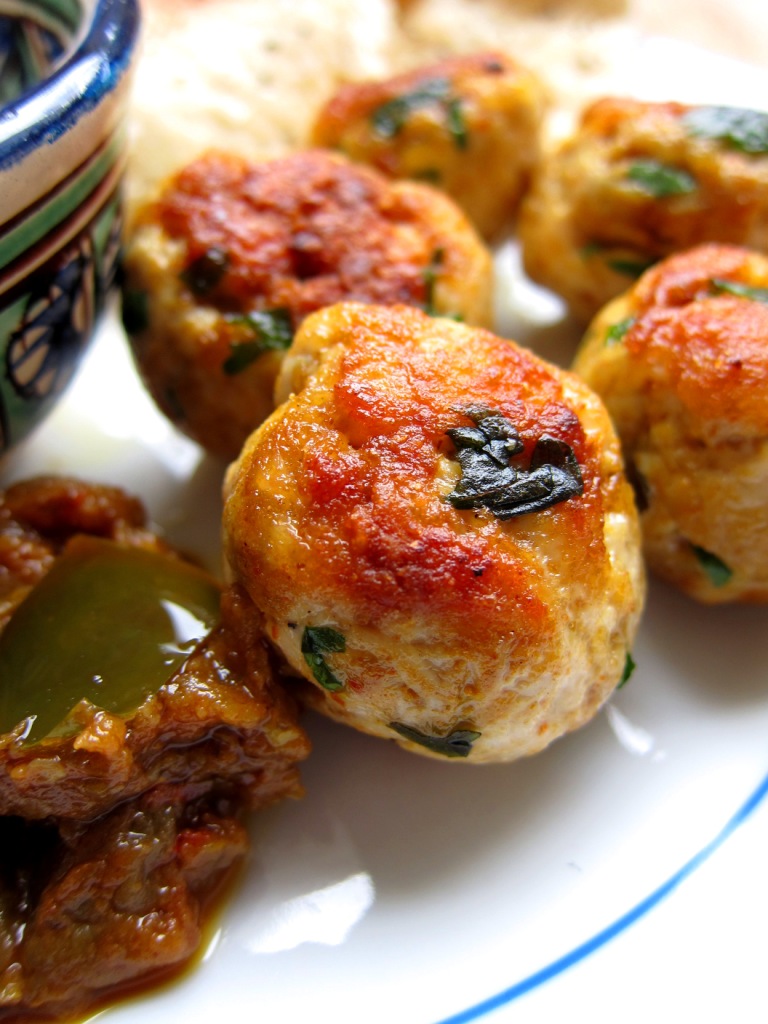 During a recent trip to Perth, I picked up a jar of Providore's brinjal pickles. Once home, I had a taste of the pickle with plain white toast. I was pleasantly surprised by the taste – it was a mix of tomato flavours and mild curry spices. The brinjal (also known as eggplant or aubergine) itself was not too mushy. On its own, I do find the pickles slightly acidic (perhaps due to the pickling process), so I needed something to balance the acidity and elevate the curry spices. And the first thing that came to my mind was curried meatballs.
I concocted a curried spice rub for this recipe – a fair bit of spices is used but it is worth every penny (and effort). Once you have the spices ready, the rest is pretty effortless. The key to making good meatballs is not to overwork the meat. I like to use my hands (and sometimes a spatula) to fold in the spices. If you start bashing the meat, there is a good chance you may end up with tough chewy meatballs.
You can also control the spices that go into the meatballs, so this is a great opportunity to introduce kids to curry spices without scaring them too much with the heat. For example, you can choose to put a smidgen of chilli powder or not. You can even get the kids to help you in the preparation of the meatballs (think play-doh). Whenever I'm in the kitchen, preparing to cook or bake, my niece and nephew would raise their hands and go "can I help?".  Allowing kids to prepare their own food, letting them feel the texture of each ingredient and seeing how they evolve into a dish, gives them a nice sense of achievement. Whether a dish turns out the way it should be or not, trust me, they will gobble up everything on the plate. Because they were involved in making that dish!
These curried meatballs are very versatile. In my case, I paired them with homemade naan, brinjal pickles and raita – they make a delicious mid-afternoon or anytime snack. You can also pack them in a hotdog bun and create a meatball sub or simply throw them in your favourite pasta sauce.
Curried meatballs with raita
I like the combination of hot and cold. The raita is a great accompaniment to the hot and spicy meatballs. For the spice rub, I usually heat up the spices and grind them using the mortar and pestle. I also realised that if the spices are not ground together properly, they leave a gritty aftertaste. Hence, I prefer to use powdered spices.
Recipe type: Snack, Lunch, Dinner
Prep time: 30 minutes–2 hours 15 minutes
Cook time: 5 minutes
Total time: 35 minutes–2 hours 45 minutes
Serve: Makes about 15 meatballs and ½ cup of raita
Ingredients
260g minced meat*
1 tablespoon curry powder
1 teaspoon coriander powder
1 teaspoon cumin powder
A (small) sprinkle of garam masala (optional)**
A sprinkle of chilli powder or chilli flakes (optional)
Neutral flavoured oil (example, grapeseed, canola or vegetable oil)
A generous pinch of salt
5g (¼ cup) panko bread crumbs
A small bunch of coriander (chinese parsley), finely chopped (around 2-3 tablespoons)
– Mix the curry powder, coriander powder, cumin powder, garam marsala and chilli powder (if using) in a small bowl.
– In a large bowl, spread the minced meat around the bowl (so you will get a thin layer of meat). Drizzle a bit of oil on the meat and use your hands to spread evenly across.
– Spread the spice rub on the minced meat. Gently fold in the meat; you can do this with your hand or with a spatula. At this stage, be careful not to overwork the meat. It's ok if you are unable to coat the meat evenly with the spices.
– If you have the time, leave the meat in the fridge for 2 hours to marinate and rest. If not, you can skip this step.
– After the meat has rested, take it out from the fridge, and sprinkle salt, panko bread crumbs and chopped coriander on top. Once again, gently fold in the meat. Don't worry if you are unable to coat the meat evenly.
– Using a tablespoon, spoon the meat and roll it into a ball (with the palm of your hands) and place them on a baking tray. If you are not using the meatballs immediately, you can freeze them. Simply stick the finished tray of meatballs in the freezer.  Once frozen, you can pack them in ziplock bags***.
– To cook, use a flat frying pan (preferably non-stick) on medium heat. Once the pan is heated, add in around a tablespoon of oil and swirl it around.
– Gently drop the meatballs and ensure they are not placed too close together, and do not overcrowd the pan. You might need to do this in two (or more) batches. At this stage it is very tempting to start poking the meatballs. Don't. Leave the meatballs alone to brown. After 1-2 minutes, holding onto the handle of the frying pan, swirl the meatballs around. If your meatballs are still stuck on the pan, they are not ready. If you have to, you can gently move them with a spatula.
– Just keep swirling to ensure all sides of the meatballs are cooked. This should take around 2-3 minutes depending on the size of the meatballs. If you're worried that the meat is not fully cooked, break open one of the meatballs to check the insides.
– Once cooked, place the meatballs on a kitchen towel and serve while hot.
*You can use minced chicken or pork or a combination of both. If the pork you are using is on the fatty side, you might want to omit the oil.
**Garam marsala is very pungent. Please use it sparingly with care.
***If you plan to use the meatballs after freezing them, make sure you thaw them and bring them to room temperature before beginning to cook.
Raita
You can prepare the raita beforehand (we are removing the seeds of the cucumber so it will not make the raita watery). Besides acting as a nice condiment to the meatballs, at times I like to use raita as a dressing for my salad.
Ingredients
60ml (¼ cup) plain yoghurt (low-fat or full-fat)
40g Japanese cucumber, deseeded and chopped into cubes (about half a cucumber)
A small bunch of coriander, finely chopped (around 2-3 tablespoons)
A small bunch of mint, finely chopped (optional)(around 1 tablespoon)
Pinch of cumin powder
Pinch of salt
Pinch of sugar (optional)
– Deseed and chop the Japanese cucumber into cubes. You can use the "normal" cucumber if that's your preference; I prefer the taste of Japanese cucumber as I find it sweeter and more flavourful.
– Combine the cubed cucumber, chopped coriander and mint (if using) together. I do not have mint in the house all the time and I would just omit it from the recipe – it doesn't affect the flavour of the raita.
– Season the raita with a pinch of salt and cumin powder, then taste. Add more salt if needed. If you find plain yoghurt too sour, you can add in a bit of sugar, to taste.
– Once combined, serve immediately or keep in the fridge for later use.
Mandy's journey into the culinary world began out of necessity–a means of survival whilst she was at university. She believes cooking should be simple and fun. Besides spending time in the kitchen whipping up hearty meals, Mandy also dreams of having a bottomless stomach that she can fill with all kinds of delicious things.