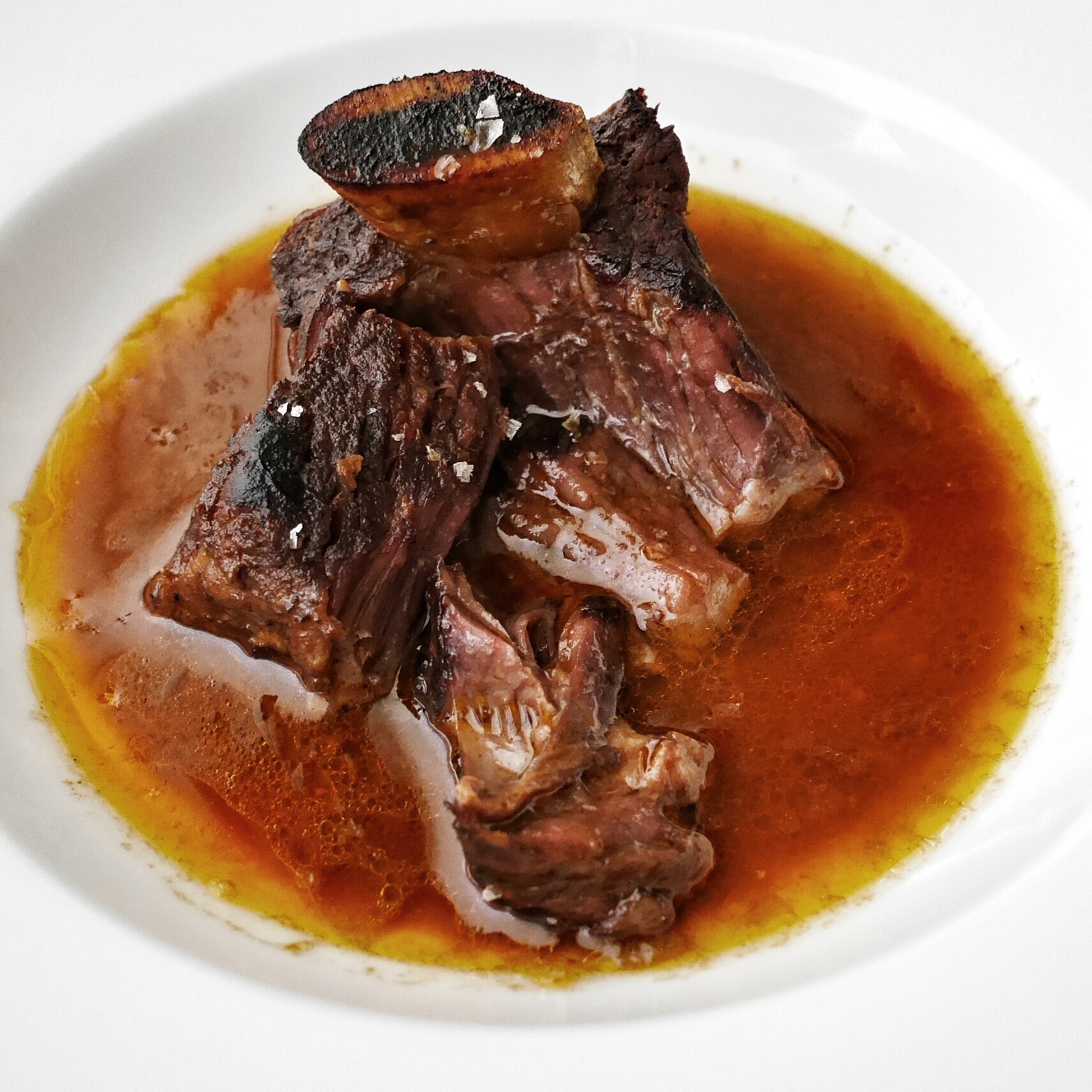 One of my favourite braised beef dishes is a Vietnamese braised oxtail that incorporates both Laughing Cow cheese and Coca-Cola in the meat's marinade. I had written about how I discovered this dish and its recipe back in 2012.
More recently. I decided to try making a Bo Kho style dish, but this time using gorgeous slabs of short rib and tweaking the recipe to better accommodate this cut of meat. I have to admit that I was motivated to make this after visiting a critically acclaimed local restaurant and having a lovely, rich, and fork-tender serving of short rib. The short rib at this place was lovely. As far as the cooking was concerned, there was not a single thing I could complain about. What wasn't lovely was the insanely high price for what was a surprisingly miniscule little cube of beef. Suffice it to say I felt ripped off. And while I had considered briefly the idea of ordering 2 more portions, because, honestly, that's how many I would have had to order to feel satisfied, once I did the math, I tossed that idea out the window.
Post-meal, I was left feeling both dissatisfied and unsatisfied, and wierdo that I am, I developed an immediate craving for more short ribs. So, the next morning, I drove to Huber's Butchery, picked up a couple large slabs of beef and worked out a cunning plan (any Blackadder fans out there?).
I decided to cook the short ribs Bo Kho style because I love the combination of umaminess and unctuousness, balanced with aromatics, spices and caramel that come together with this recipe. Granted, as I wrote when I first introduced the oxtail version of this dish three years ago, the ingredients are a little left of centre. Nonetheless, they work amazingly well and I urge you to try this for yourself. It's a wonderful Asian braise and one that I guarantee your friends will love.
Braised Bo Kho Short Ribs
Serves 4-8 depending on serving size
2 kg short ribs, bone in, cut into 2 inch pieces
2 tablespoons oil
1 onion, diced
2 organic carrots, sliced thinly.
1 tablespoon minced garlic
3 tablespoons tomato paste
1½ litres beef stock
½ litre red wine
2 teaspoons salt
Marinade
6 black cardamom seeds
3 star anise
1 cassia bark (Chinese cinnamon)
2 cloves
½ teaspoon five-spice
2 teaspoons rice wine
½ box Laughing Cow cheese
1 tablespoon Hoisin sauce
170ml Coca-cola
For serving
1 white onion, cut into thin rings
1 handful Thai basil
In a small frying pan, toast the black cardamom seeds, star anise, cassia bark and cloves until fragrant and slightly coloured. Then grind them in a mortar. Pour into a large mixing bowl or container and add the rest of the marinade ingredients. You'll probably need to mash up the cheese but after stirring it for a while with a wooden spoon, it will integrate with the rest of the marinade. Add your short ribs. Mix well, cover with cling wrap and pop in the fridge for at least 24 hours.
When ready to cook, Preheat your oven to 180° Celsius.
Remove the short ribs from the marinade.
Heat up a large dutch oven / cast iron pot over medium high heat and add the oil, diced onion and garlic. Stir-fry until the onion softens, 2-4 minutes. Add the short rib pieces and increase the heat. Add the tomato paste, stir it around, and fry until the meat has been sealed on all sides. Add in the red wine. Ensure it bubbles and cook for 5 minutes or so. Then add the carrots, beef stock and salt and bring the liquid to the boil.
Take a piece of`grease proof paper and cut a circle out of it that will fit into your dutch oven. Place that over the meat and liquid, tapping down so that it sits right on the surface. Cover your pot and place in the oven for 2 hours minutes. Remove the lid from the pot, take off the paper, and put back in the oven uncovered for 30 minutes.
Once done, you can either cool down the short ribs, cover, and pop in the fridge overnight (which I recommend) or serve right away.
If serving, transfer short ribs to a platter. Carefully spoon carrots into a bowl. Strain sauce from pot into a measuring cup. Spoon fat from surface of sauce and discard; season sauce to taste with salt and pepper.
Preheat your broiler. Broil the meat, turning once or twice, until glazed and sizzling, about 10 minutes. Transfer the meat to plates or bowls, spoon the sauce on top, top with carrot, white onion and basil, and serve.
Aun has always loved food and travel, passions passed down to him from his parents. This foundation, plus a background in media, pushed him to start Chubby Hubby in 2005. He loves that this site allows him to write about the things he adores--food, style, travel, his wife and his three kids!