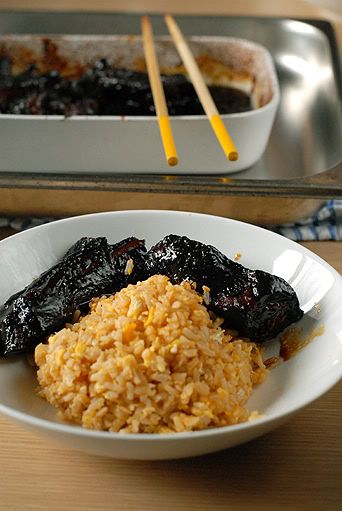 It wasn't too long ago that I raved about pork, naming some of my favourite places in town to eat delicious pork dishes. In addition to ordering pork in restaurants, I also like cooking it. When I see some delicious slabs of the "other white meat" in the market or at the butchers, I find it very difficult to resist buying as much as possible. Of course, like most men, I tend to overdo things. I often buy way too much to cook or eat at one sitting, a predicament that S never appreciates. This is particularly bad when I buy cuts that can't keep, like loin. If, however, I've actually used my noggin for once and bought some braising/stewing cuts, then the leftovers can always be frozen or chilled and eaten at a later date.
Some dishes, in fact, taste better the day after they're made. It's simply amazing what sitting in the fridge overnight can do for certain braised foods. Flavours become richer and meats, when reheated, become beautifully tender. One such recipe, that I have just tried, comes from one of my favorite cookbooks, Molly Stevens' All About Braising. I've previously prepared some of Ms Stevens other pig recipes, like her pork loin braised in milk, with consistently outstanding results. So, I was very excited to both make and taste her pork ribs braised in a Vietnamese caramel sauce.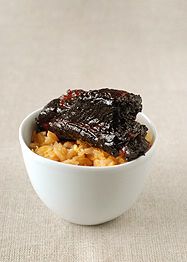 This dish is really easy to make. The only difficult thing is not eating it right away. Ms Stevens recommends refrigerating it for between 1 to 3 days before digging in. My patience only lasted a day. I couldn't help myself; I had to wolf these down for lunch the day after cooking them.
The braising liquid, made by combining caramel with fish sauce, shallots and water, is delicious. It has this lovely sweet and savory umaminess that is highly addictive. It both colours and flavours the pork well. When done properly, the pork is tender enough to pull (or bite) off the bones without any difficulty. When I ate my ribs, I served them with some fried rice, one of the quickest things in the world to make (so long as you have some pre-cooked rice in the fridge). The two dishes worked really well and made for a very satisfying lunch. And while I had actually made quite a large portion of ribs, with the intention of saving some leftovers for later, when S and I had finished our meal, we realized that we'd devoured every last bit of pork.
Pork Riblets Braised in Vietnamese Caramel Sauce
from Molly Stevens' All About Braising
Serves 2 as a meal or 4 as a starter
1 cup sugar
1/2 cup water
1 tablespoon lemon juice
1/3 cup fish sauce
1/3 cup sliced shallots
1 teaspoon cracked black pepper
1 slab baby back ribs (1.75 to 2 lbs)
sawed lengthwise in half
Spread the sugar in the bottom of a wide heavy-based skillet. Pour over 1/4 cup of the water and the lemon juice. Let it sit for a minute. Then heat over medium heat until the sugar begins to liquefy. Reduce the heat the medium low and let the caramel boil until it turns red.
Remove it from the heat and slowly pour 1/4 cup water and the fish sauce into the caramel. Return to the heat and stir. Let boil for a few minutes, until the sauce is smooth and a bit thick. Add the shallots and pepper and simmer for another 2 minutes. Remove from the heat.
Separate the pork ribs into individual riblets by cutting down between the bones. Add them to the caramel sauce, stir to coat, and bring to a simmer over low heat. Cover and braise, stirring every 15 minutes with tongs, for 90 minutes. Don't let the caramel sauce boil; if the heat is too high then use a diffuser. The ribs are done when they have become tender enough to pull easily away from the bone and are a deep mahogany colour. At this point, you can serve them or store them. If you want to store them, let them cool and then store in the fridge for 1 to 3 days. To reheat, pop them in an oven preheated to 180 degrees Celsius for 20 minutes.
Aun has always loved food and travel, passions passed down to him from his parents. This foundation, plus a background in media, pushed him to start Chubby Hubby in 2005. He loves that this site allows him to write about the things he adores--food, style, travel, his wife and his three kids!