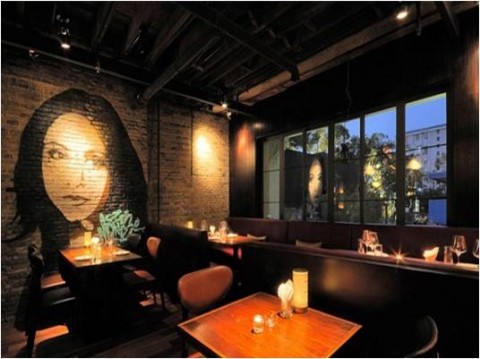 You have probably read about China's obsession with wine. If you are interested in the intersection of wine and China, you should definitely watch the documentary Red Obsession – narrated by Russell Crowe, this documentary details the relationship between China and Bordeaux and how Chinese demand artificially inflated Bordeaux market values which later crashed. And so it is, quite rightly true, that the Chinese are becoming big wine drinkers.
With Shanghai as the epicenter of Chinese cosmopolitan culture, it is no surprise that China's best wine bars can be found in the commercial and fashion hub of China. As a wine aficionado myself, since I have lived here the past three years, I have spent a great deal of time seeking out the best venues to enjoy vino in Shanghai. While there are a great many options, over time I have created a short list of favorites based on wine selection, ambiance and overall experience.
My favorite and probably the best wine bars in Shanghai are: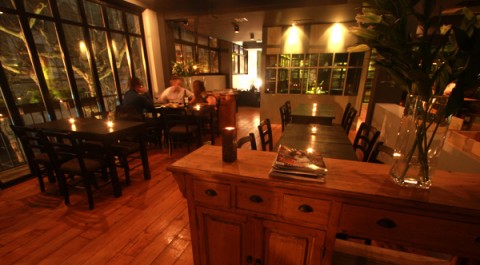 Dr. Wine
Centrally located on one of the main streets in the French Concession, if you can forgive the silly name, Dr Wine has been hugely popular since its opening 3 years ago.  There are two levels, with the downstairs being more of a bar style and the upstairs more lounge. The floors are salvaged housing beams and the tables are rustic wood. In the upstairs lounge areas, there is also a large community farm table where groups mix, as well as some private-ish rooms with leather sofas. This place is almost always packed, so bookings are essential. I like to come here because they have a great range of wines (international, but heavy on the French selections) from affordable to astronomical. So no matter who you come with and their budget, there's something available. Also the handmade, thin crust pizzas are quite good for snacking and sharing.
UVA
UVA might be my favorite wine bar for ambiance on the list. And while there might be better wine lists at some of the others I name in this list, I like UVA for its low lit, velvet-draped and cozy environs which makes the wine drinking experience much more sultry and intimate than others on the list. It focuses entirely on Italian wines – so if high tannin reds or Northern Italian whites aren't your thing, UVA might not be for you. Don't bother with the food unless it is a cheese or salami plate – it's more about the wine here.
Pata Negra 
This is my current regular place (main image) to drink wine because it is the triple threat of wine bars -1) great ambiance, 2) fantastic wine list and 3) amazing food. It's intended to be a destination for Joselito Iberico ham and tapas, but I come here often more so for the diverse wine list. It's very international representing everything from Argentina and California to France and Italy. The large space is broken up into smaller rooms with large booths and tables for lounging. It's city chic with rustic rough-hewn wood tables and pop art posters which give the space a slight urban edge. There is even a special ham room for those of you more interested in the Iberico ham than the wine. And even though ham is the self-proclaimed star of the show, they do a crazy good pizza here. Seriously. Not to miss. And what's even better? Pizza with Iberico ham and a glass of a big, Super Tuscan Cabernet Sauvignon.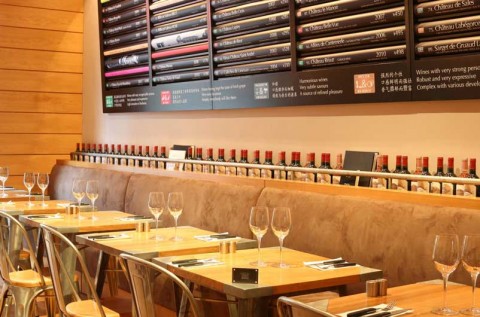 Burdigala
Reminiscent of a European train station schedule, Burdigala displays its wine list on plaques pegged to a long wall. The wine list is entirely Bordeaux, but affordable Bordeaux. The founder wanted to ensure that Shanghai's denizens got an opportunity to experience good Bordeaux without the pomp and circumstance that go along with some of the more famous (and extraordinarily expensive) wines of Bordeaux. Also, they have snacks well suited to wine…from foie gras to truffle pasta to smoked salmon.
The House of Roosevelt Wine Cellar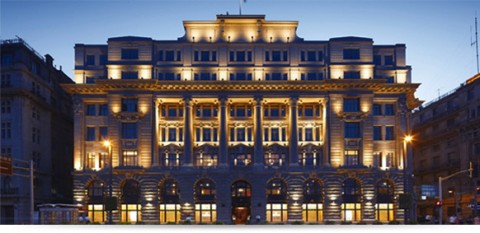 This is no doubt the largest collection in Shanghai, with over 4000 labels from nearly every wine producing country. Every Wednesday there is a tasting event comparing varietals from different regions or even different countries. This is also the venue for certain wine fairs and wine dinners throughout the year. This is not a cozy, intimate wine bar exactly… it's more of a huge multi-level historic building with a restaurant, night club and a rooftop terrace. But – they know their wine. So for the serious wine drinker this is definitely the place to go. That said, even if you are a casual drinker there is still a casual ease with which the House of Roosevelt operates, so you won't feel out of your element.
While House of Roosevelt and Dr. Wine are "old hands" and have been mainstays in the Shanghai wine scene for years now, the others are relatively new. And no doubt there will be more popping up every month as China's obsession with wine doesn't seem remotely close to diminishing.
Dr. Wine
177 Fumin Lu,
near Julu Lu
Tel: +86 21 5403 5717
UVA
819 Shanxi Bei Lu,
near Kangding Lu
Tel: +86 21 5228 0320
www.uvashanghai.com
Pata Negra 
913 Julu Lu,
near Changshu Lu
Tel: +86 21 5403 2976
www.patanegra-shanghai.com
Burdigala
550 Wuding Lu,
near Shanxi Bei Lu
Tel: +86 21 6217 0377
www.theburdigala.com
The House of Roosevelt
2/F, 27 Zhongshan Dong Yi Lu,
near Beijing Dong Lu
www.27bund.com
Joanna Hutchins is a culinary travel blogger based in Shanghai, China.. In 2009, Joanna founded Accidental Epicurean, a culinary travel blog focused on Asia. Joanna is also a contributor to CNNGo, Look East magazine, SE Asia Globe and Two magazine.