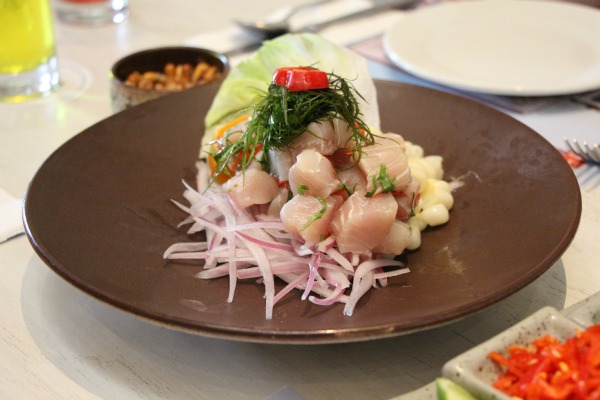 During my most recent trip to Lima, I visited two prominent seafood restaurants famous for their cebiche: La Pescaderia and Pescados Capitales.
La Pescaderia is a sustainable seafood restaurant and concept store.  I went to the newer Barranco location which opened in late 2011, the original is in La Punta, in the port of Callao.  Owner Jose Lopez de la Fuente has designed the menu of his eco-eatery with the help of Chef Pedro Miguel Schiaffino of restaurants Malabar and Ámaz.
The main focus at La Pescaderia, unlike most other cebicherias in Lima, is to promote seasonal dishes and showcase the best and freshest seasonal produce the sea has to offer. It must be noted that the Peruvian ocean is incredibly rich.  The cold Humboldt currents bring a magnitude of fish, and it is not hard to find a vast variety of marine resources throughout the year. However, there has been depredation due to the competition and overfishing by boats of the fishmeal industry, which sometimes invade Peru's artisanal fishing zones.   With that in mind, La Pescaderia's emphasis on seasonality, its willingness to educate clientele about seasonal eating through a diverse menu that goes beyond the traditional seabass or sole, makes this restaurant particularly noteworthy.
La Pescaderia offers seafood specials that I have yet to see in other restaurants in Lima, such as king crab feasts on Tuesdays or a raw bar serving the market's best.  The philosophy of serving sailfish, which is a by-catch of the tuna fishing boats, or using marlin to then smoke it in-house, and offer it as a hearty sandwich for lunch, makes La Pecaderia a hit.  I had to order both cebiche and tiradito to fully rejoice in the freshness of the fish.  The fish portions were generous, the cuts of tiradito (wafer-thin sliced seafood) superb, and the quantity of accompanying choclo, onions, and sweet potato in the cebiche, just right. I finished the leche de tigre by the spoonful, consciously combining it with cancha (the crunchy chulpe corn we know we'll find at Peruvian cebicherias), slowly savouring every mouthful.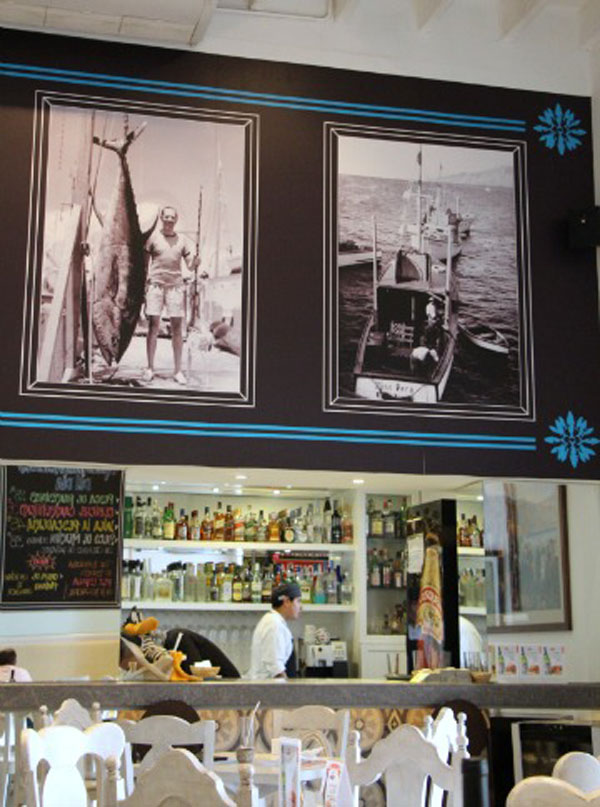 The service at La Pescaderia is courteous.  The details run from the welcoming staff to the complimentary fish consommé before the meal, to the tiny, yet adequate alfajores (shortbread biscuits filled with manjar blanco or caramel) served at the end.  The space, part of a renovated old house in the bohemian district of Barranco, is well taken advantage of.  You notice the tile flooring, the clean, open kitchen, the raw bar with fresh fish, as well as daily specials written on large chalkboards alongside sayings on fishing and preserving our natural wonders.  It feels like an up-scale beach shack, like an old friend's pristine living and dining room by the sea, with high ceilings and proud photo posters of successful fishing moments printed in black and white.
Pescados Capitales is an old favourite.  Like many of their regulars, I keep returning, thoroughly enjoying my visit each time.  This restaurant has also expanded, opening a second location in Chacarilla, Surco, a more residential location from its original counterpart in the tourist district of Miraflores.  I was eager to try Pescados Capitales's new branch, see if the food was up to par, and whether the service maintained its warmth and standard as in the original location.  It certainly did.
The name Pescados Capitales translates to capital fish.  In fact, it is a play on the words pecados capitales (which means capital sins; deadly sins), and the menu at this restaurant cleverly uses the seven deadly sins to describe the menu.  From greed to gluttony, you work your way around clever appetizers like cebiche-filled crispy wonton wrappers with aji amarillo sauce, grilled baby octopus, broiled scallops with white wine parmesan cheese, panko-crumbed crab claws and prawn tails.  The selection of cebiche and tiraditos reigns supreme.  Beyond the typical combinations of simple aji limo or aji amarillo and rocoto crema, there's a tuna tiradito with honey, oyster sauce and orange juice, a cleverly named Ghandi cebiche made with mushrooms and mango chutney.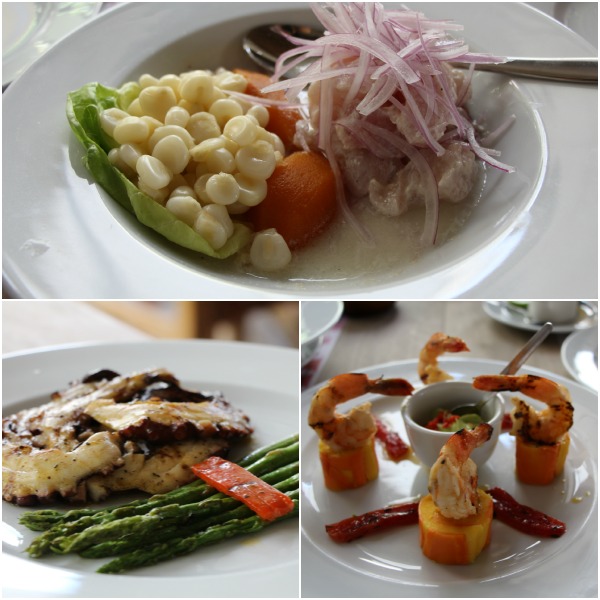 The menu is extensive and well executed.  Pescados Capitales kindly offers a small selection of non-seafood dishes such as the traditional lomo saltado (beef stir-fried sirloin strips) as well as beef medallions on risotto or pasta, beer-basted oven-roasted suckling pig, and even filleted guinea-pig in huacatay (Peruvian black mint sauce).  These dishes come as an added bonus, for I usually don't expect a seafood restaurant to achieve turf dishes tenderly.   The desserts too range from the traditional to the modern.  Lima's ubiquitous suspiro a la limena, is served with lucuma; crunchy caramelized rolls filled with passionfruit cheesecake, custard apple mousse, and even rice pudding crème brulee.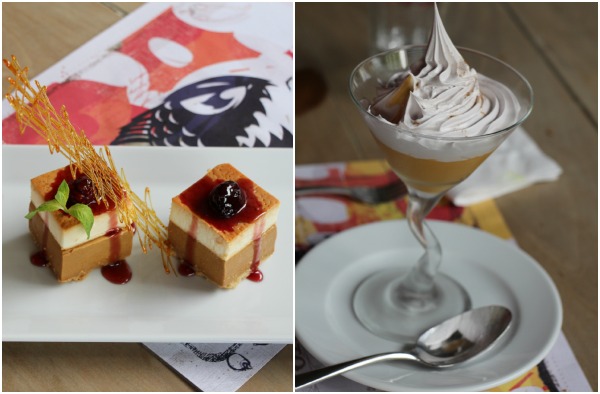 Pescados Capitales has an open-plan space made out of concrete with cleverly decorated phrases and sayings about the seven deadly sins.  There's an open bar area and both indoor and outdoor seatings.  The wait-staff is helpful, the dishes are served promptly,and the recommendations for wine or cocktails are both well-informed and genuine.
I feel at ease and am always content after a meal at Pescados Capitales.  The traditional cebiche, made with seabass, with no added textures or fusion of flavours, is to this day one of my favourite.  The amount of heat in the marinade is just used to enhance the acidity of the leche de tigre, nothing more, neither burning nor red of the excess aji.  The way the fish is cut is not chunky, yet it isn't sliced as delicately as in a tiradito, keeping form, as I feel a true cebiche should.  A pisco sour, a ginger-ale chilcano of pisco, or a glass or crisp white wine, and this dish, at this restaurant (despite the wonderful array of other options) is an experience I'm happy to repeat in Lima over and over again.
I'd strongly recommend both La Pescaderia and Pescados Capitales for multiple occasions.  Whether stopping for a leisurely lunch in Barranco, to take a break from touring around an art gallery or an artisan market, to a Sunday outing with the entire family.  As Peruvian tradition dictates, Sunday is family day, and a visit to a seafood restaurant of the calibre of Pescados Capitales and La Pescaderia will keep the entire family content.
La Pescaderia
Avenida Grau 689, Barranco
Lima 4, Peru
Tel: +51 1 586-8423
www.lapescaderia.pe
Pescados Capitales
Avenida Primavera 1067, San Borja
Lima 42, Peru
Tel: +51 1 717-9470
www.pescadoscapitales.com

Janice is a girl from Lima, Peru who loves a good cebiche and a glass of dry Riesling. She travels the world (often for food or to check out new restaurants) and lives in Australia. Janice tries to learn about different countries through cuisine, and takes advantage of Sydney's multiculturalism by exploring gastronomy in all of its forms. Grower's markets, wine tastings, restaurant openings, cooking classes, shopping for specialty spices; she's keen to do it all.