While it's easy to find great food in Tokyo's Ginza, Akasaka belt, hunting down those gems pretty much unknown to foreigners is that much more fun. Kenzan is one such jewel. Nestled in the prime residential district of Shoto, Kenzan offers its unique blend of Japanese fine dining with a delightful twist.
The first clue to its uniqueness can be discerned from the choice of real estate – a western-themed house. Diners are able to lose themselves in the privacy offered by the double-storey detached house. What is no secret, is the amount of creativity that goes into each dish. Upon first inspection, the 9-course meal looks pretty much like standard Japanese cooking. Dig a little deeper and you will find the little surprises that make the meal extraordinary.
The Uni Chawanmushi for example is not the soft steamed egg variety but proffers a springy consistency much like a creme brulee. The delightful Fritz of Snapper Roe on Tartar sauce continued the cross-cultural playfulness. We were thrilled when the Bagna Cauda made it's appearance—the combination of seasonal Japanese vegetables and the hot, salty crab miso was just perfect.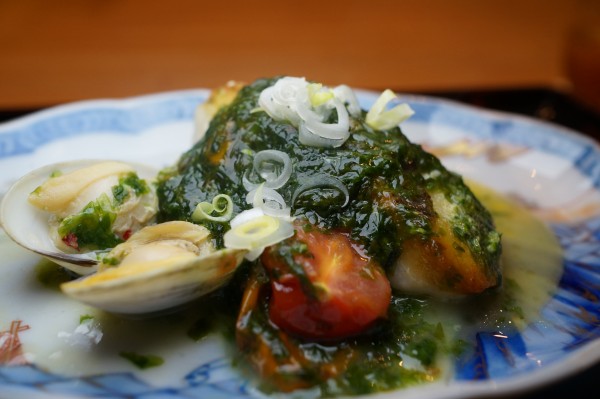 The main course, Zabuton Steak with Gobo sauce, just blew us away. Sabuton refers to a prized portion of the beef shoulders, and it was so artfully seared that a veneer of crunchy fat protected the tender meat below. One word – bliss!
Kenzan also prides itself for stocking a small but good range of wines that complements the meal. We had the marvellous Kotaku Riesling, which was specially created to complement the delicate flavours of Japanese food.
The small 25-seater only opens for dinner, and at 12,000 yen per head, there is no shortage of patrons. My advice – book early.
Kenzan
2 Chome-13-12
Shōtō Shibuya-ku,
Tōkyō-to Japan
Tel +81 3-6804-8484

Roger's love affair with food started with a bang. Sent to a distant corner of Kent at 16, an Asian-food starved Roger tried to recreate mom's stir-fry with explosive results. The loss of the left eyebrow was well worth the reprieve from steak and kidney pie. Today Roger runs his own creative agency as a pretext for his food-based escapades. If you are unlucky enough to be seated next to Roger in a restaurant, do be thankful that he is annoying you with his camera, and not attempting to flambé with a wok.