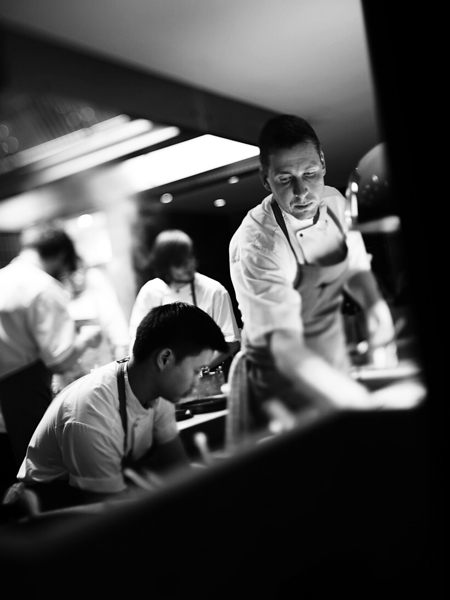 Studio at the Standard Copenhagen, is an exciting debutante in the vibrant Copenhagen culinary scene. Created by Noma co-owner Claus Meyer and Noma alum Torsten Vilgaard, Studio aims to reach for the lofty heights of Michelin Stars. And they have chosen a beautiful historic building – the old Custom House in Copenhagen – as a wonderful launching pad. After negotiating the stairs and a short walk along a beautiful hallway of the old Custom House, my wife and I found a warmly lit, open-concept restaurant with a beautiful view of the harbour. The vibe was great, everyone looked relaxed and determined to enjoy a great evening. Patrick, the affable restaurant manager and sommelier, promptly greeted us, and sat us in front of the open-concept kitchen. They were the best seats in the house, as we marvelled  at the creativity and energy that makes this 40-seater work. Chef and co-owner Torsten Vildgaard was right in the thick of the action— tasting, plating and directing.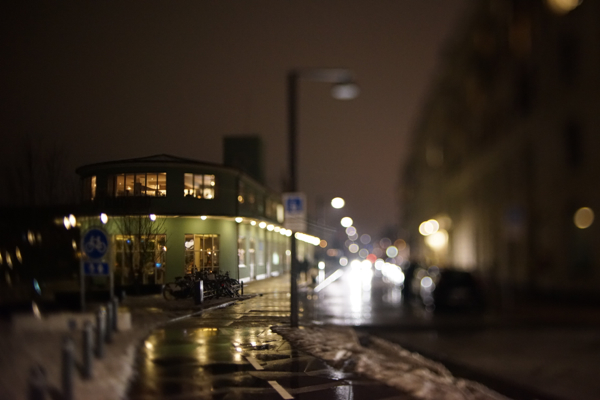 After enquiring on our choice of menu, Patrick began the night with a gorgeous glass of Blanc de Blanc that was constantly topped up, thus ensuring that we were well-lubricated for the seven courses that followed.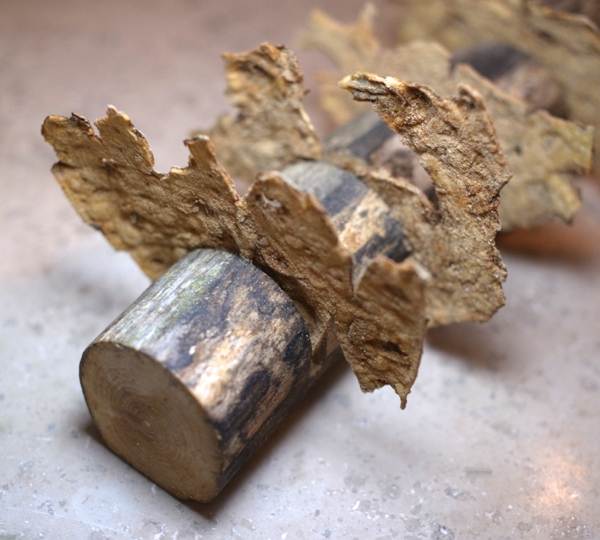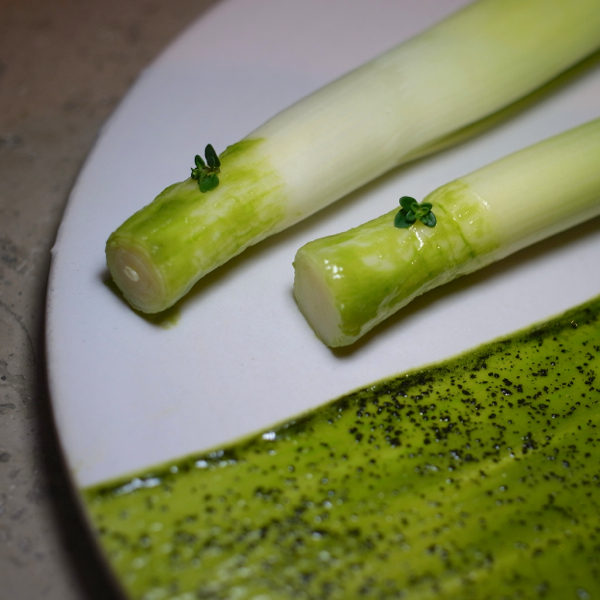 The first amuse bouche—the  crunchy Fried Moss with  Creme Fraichewas—was so much fun to eat with excellent contrast in texture and flavour . The crispy Bark of Jerusalem Artichoke with Cep powder, reminded me of gourmet Japanese prawn crackers and was just smashing with the Blanc de Blanc. However, it was the simple boiled leek that stole the show with its unexpected tenderness and sweetness. Only the bottom quarter of the leek was blanched but that didn't stop me from finishing that most wondrous Nordic cultivar, with only a light onion breath to pay for it. The vanguard did such a great job I was all ready for the mains.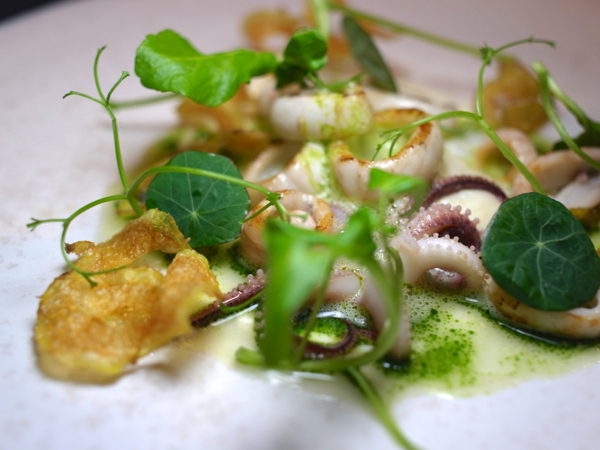 When the Grilled Reindeer Heart with wood sorrel emulsion was served, my ticker went ballistic.  With a pair of tweezers, we picked up each morsel and coated it with the emerald coloured emulsion, and waited for our inner Bambi to admonish us. No trace of iron, or Bambi—just good bite, great texture and that magic sorrel  sauce's oxalic acid to bring it all together. In between courses, Aaron was busypeeling the milk skin away from its fabric separator for plating, so I was eager to try the The Squid with Potatoes and milk skin. The squid was done flambé style and had so much sweetness coupled with just the right amount of 'heat';  while the potatoes were simmered in sauce of lovage and whey.  I love scallops and was  looking forward to the Raw Norwegian Scallops with white currant juice. And it did not disappoint, especially with the sweet succulent scallop dancing in a mix of fruit acid and frozen creme.
In Copenhagen, it's common practice for the chef to personally present their creation. So when affable Chef Torsten presented the amazing lobster with grilled salad, I asked him about the philosophy behind Studio. Having spent 8 years at Noma, and four of it as head of Research and Development, Torsten certainly knows the ins and outs of recreating the Noma experience. However, the ginger-haired culinary maestro was adamant about delivering his own vision.
"Why do the same thing as Noma?" Torsten replied in perfect unaccented English. "When we started Studio, we wanted to combine luxury fine dining ingredients with the Nordic touch. We were not afraid to integrate foie gras if we feel it's right." Indeed, Studio's  Foie Gras with Beets and BlackBerry, was a shot in defiance over the bow of Noma's highly restricted ingredient list. Each bite was so well balanced, with the fat brilliantly supported by acidity of the purple fruits. There were some similarities in technique with Noma (e.g. the potato in lovage and whey sauce), but in the main, Studio offered a less fussy, and a more immediately gratifying dining experience. Another highlight was the Tatar of Razor Clam and dill with mussel marinated stem celery. Artfully plated, it was just as delightful to look at as it was to eat.
At the end of the meal, the bill arrived in a sealed brown enveloped with a final tally for 3800 kroner—not bad for a seven-course meal (not counting the five amuse bouche)  with six glasses of wine—including a steep 25% VAT.  I wish Torsten and his team success in his quest for the stars that they so richly deserve.
Studio at The Standard Copenhagen
Havnegade 44
1058 København K
Open Tuesday through Saturday, 17.30hr to 23.00hr
Tel: +45 72 14 88 08
Email: studio@thestandardcph.dk

Roger's love affair with food started with a bang. Sent to a distant corner of Kent at 16, an Asian-food starved Roger tried to recreate mom's stir-fry with explosive results. The loss of the left eyebrow was well worth the reprieve from steak and kidney pie. Today Roger runs his own creative agency as a pretext for his food-based escapades. If you are unlucky enough to be seated next to Roger in a restaurant, do be thankful that he is annoying you with his camera, and not attempting to flambé with a wok.