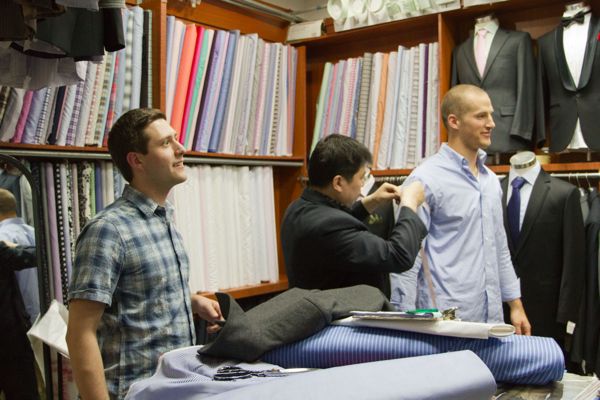 Have you been to one of the ubiquitous tailors in Asia, perhaps in Singapore, Hong Kong or Thailand, or even Vietnam and China? Have you ever left less than satisfied? I have. Until I met Anthony Moynihan. Anthony is a fashion stylist extraordinare based in Shanghai, China. He has worked for top Asian fashion magazines, styled music videos and ad campaigns, created his own line of couture sold in Japan, done custom designs for Japanese pop stars and has helped many a client and friend learn how to look their best.Anthony accompanied me to the Shanghai South Bund Tailor Market to supervise the process and gave me some tips which I now share with you.
1) Any tips, tricks or advice on how to best guide the tailor?
Anthony advises, "if you are simply copying an item, bring it with you and make sure it is
ironed." Ironed? Why ironed? "Because then the tailor can see the true drape and fit of the garment." Also, Anthony continues "if you are copying from a photo, try to get more than one photo of the same item but from different angles and also photos of any specific design details, it helps a lot!" In fact, before we went to the tailor market I showed Anthony a photo of a designer coat I liked. He mentioned that it didn't show enough of the detail and so we went to the designer's store and asked permission to take photos. Once we got to the market, my experience with the tailor was completely different. No more sign language because of language barriers, the photos simply spoke for themselves.
2) What is the most important thing to know before you go to a tailor? e.g. body shape, what shape flatters, etc?
Anthony says, "it's matter of choosing the right tailor and your body size or shape doesn't matter because they will be measuring you. And if there are parts of your body they have not measured, ask them to!" The most important thing in the end is fit. And I can say personally that I have seen girls at the tailor market with lovely figures that look less attractive because of bad fitting clothes. "A well fitting dress can visually shave 2-5kg off your look," claims Anthony.
And Anthony says, "if you are not happy with the fit during a fitting, don't hesitate to always ask for it to be amended until you are 100% satisfied. If it takes 3 or 4 fittings, it's fine because in Haute Couture fashion, clients have up to 9 fittings before the garment is 100% perfect." So don't be shy or feel fussy when you ask for changes, there is no reason to settle for less than perfect – you're making it custom after all!
3) How can I best give feedback at a fitting?
Anthony advises, "always bring a friend who can also be of great help as the tailors often just want to get paid and move on to the next customer. So they are not always honest if something doesn't fit perfectly." And don't forget to move around and sit, as well as try different postures to check for a great fit. Anthony suggests to "move your arms and legs around, ensure you can breathe properly, look in the mirror from all angles." This will ensure you have a comfortable fit outside of the store and when you step out in your new digs in real life. And finally Anthony recommends, "don't let the tailor rush you, take your time and if you're unsure then think again and again until you feel really good in what you're wearing."
Some final tips of the trade from the style maven: always check the lining has been finished properly. Check button holes, buttons etc. Check all seams and ensure there are no straggling threads. And if items come back creased, ask them to steam them so you can better check the garment's fit on your body.
With Anthony's advice and coaching, I can confidently say I experienced completely different result from previous efforts. The clothes fit marvellously and I was getting lots of compliments, as opposed to feeling in the past that something about my new dress just wasn't quite right.
If you are in my town of Shanghai, I highly recommend trying out your newfound stylist skills on a trip to the fabric market.
Shanghai South Bund Soft-Spinning Material Market
No 399 LuJiaBang Road
Shanghai, China
Here are some of my favorite stalls to try:
Stall No. 271 – "Mr. Chanel" who makes Chanel-inspired suits and jackets. I have had several items made here and can highly recommend the tailor as well as the quality of the fabrics.
Stall No. 160 – Cheng Ping who   has wonderful heavy Thai and Chinese silks as well as wools and silk / wool blends . Cheng has made me some stunning Max Mara, Armani, Dolce & Gabbana and Gucci-inspired dresses, skirts, suits, coats and jackets.
Joanna Hutchins is a culinary travel blogger based in Shanghai, China.. In 2009, Joanna founded Accidental Epicurean, a culinary travel blog focused on Asia. Joanna is also a contributor to CNNGo, Look East magazine, SE Asia Globe and Two magazine.