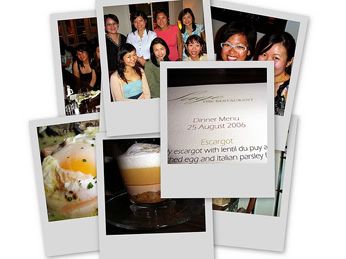 photo montage courtesy of food.recentrunes.com
Last Friday, Sage restaurant hosted the second annual Singaporean food blogger's gathering. Last year, we had a fantastic lunch at Mag's Wine Kitchen. This year, we decided that dinner might allow us more time to eat and mingle. Chef Jusman So whipped up a lovely five-course dinner, which was paired with wines generously provided by some of my fellow food bloggers.
Huge, huge thanks go out to our generous sponsors: Sage restaurant, for offering us an incredible menu at a very good price; Razor Sharp for gifting each blogger with a stunning Kasumi 12cm utility knife and for also sponsoring one amazing 27cm Masahiro slicer as a lucky draw prize; BATS Singapore for sponsoring 3 awesome lucky draw prizes, 2 Staub cocottes and the cutest Staub fodue set; Julius Truffles for some hand-made chocolates; and last but not least the Gryphon Tea Company for giving each of us a box of its Straits Chai tea — a blend specially made for the IMF-World Bank Meetings that are being held here in Singapore next month — and for creating a special bespoke tea just for our dinner. Huge thanks also to Colin from Only Slightly Pretentious Food for organizing this year's feast.
Here's a list of the blogs of the bloggers in attendence:
www.cheateat.typepad.com
www.cocotterouge.blogspot.com
www.ilovemypaddington.blogspot.com
www.dimsumdolly.com
www.sooksfoodnotes.blogspot.com
www.hautestuff.blogspot.com
www.skinny-epicurean.blogspot.com
www.umami.typepad.com
www.food.recentrunes.com
www.fine-fare.blogspot.com
www.cinheartlife.blogspot.com
www.lavendercupcaker.blogspot.com
www.joonelovesfood.blogspot.com
www.epicurative.blogspot.com
www.kitchencrazydaffy.blogspot.com
Aun has always loved food and travel, passions passed down to him from his parents. This foundation, plus a background in media, pushed him to start Chubby Hubby in 2005. He loves that this site allows him to write about the things he adores--food, style, travel, his wife and his three kids!