We held another dinner party yesterday evening, hosting two friends from Singapore and two friends visiting from out of town–Washington DC and Bhutan. S and I planned a simple menu of 4 small courses, each a slight tweak of some of our favorite classic dishes.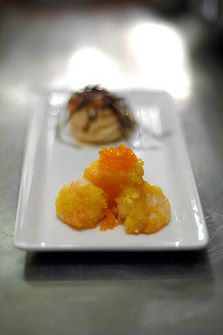 Duo of Mentaiko Pasta and Prawns with a Salted Egg Crust
Our first course was a plated combination of two of my all-time faves. I've written about Mentaiko pasta in the past, so I won't go into details here. For the prawns, I used a recipe from Jereme Leung's New Shanghai Cuisine, a book that S helped to write. I love seafood cooked and coated in a salted duck egg yolk sauce. The sauce has a super-rich and utterly delicious umaminess that I can never get enough of. My favorite version of this prawn dish here in Singapore is the one served at Hu Cui, a fantastic Shanghainese restaurant in Ngee Ann City. Every time I have it, I can't help but lean back in my chair and moan in pleasure. It's that good. Understandably then, I was thrilled when I discovered a recipe for "crab claws and prawns with a salted egg crust" in Jereme's book. I was even more excited when I realized how easy it was to make. Essentially, the egg yolks (separated from the whites) are steamed for 5-7 minutes and then allowed to cool. Once cooled, the yolks should be chopped up into tiny bits and set aside. The prawns need to be coated in potato flour and then fried over high heat in some (normal vegetable) oil. Once they're just cooked, drain the oil and set aside the prawns. Then melt some salted butter in another fry pan. Once the butter begins to foam, toss in the chopped up egg yolk. Stir until it becomes a saucy paste. Then throw the prawns in, stirring everything gently until the egg yolk sauce coats the prawns thoroughly. For our dinner party, we used a long rectangular plate, setting a twirl of Mentaiko pasta, topped with nori, on one end. On the other end, we gave each person 4-5 prawns, topped with a small spoonful of tobiko.
Continue Reading →