Sometimes it really pays off to have foodie friends who know you like to cook. This past Sunday, we had the most amazing feast, thanks entirely to the gift of a fantastically aromatic (and of course ridiculously expensive) white Alba truffle. The only caveat imposed by the friends who gave us this precious delicacy, of course, was that that they, in addition to ourselves and two others, be present at the ensuing truffle feast.
Inspired by the white truffle, S and I put together a whole truffle menu. Two of the four savory courses would use the white truffle, while the two others would call upon its black cousin. The dessert course would also be truffled, thanks to a wonderful white truffle-honey that S buys in a local gourmet store.
Given the grandeur of the occasion, S and I went all out, laying out a crisp, starched, white table cloth, pulling out plates and crystal we rarely use, and chilling several bottles of good Champagne–which we felt would match most of the dishes better than any other kind of wine. We also dimmed the lights rather dramatically, which while great for entertaining stinks for photography. I was forced to shoot the pictures at 1600 ISO, which exlains the graininess of the shots below. Truth be told, I wasn't really that interested in shooting this meal. Just in eating it.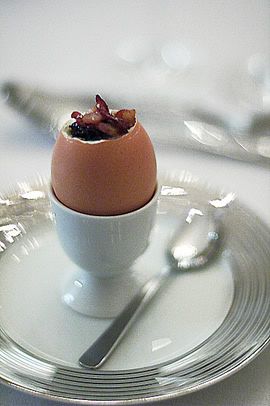 Continue Reading →