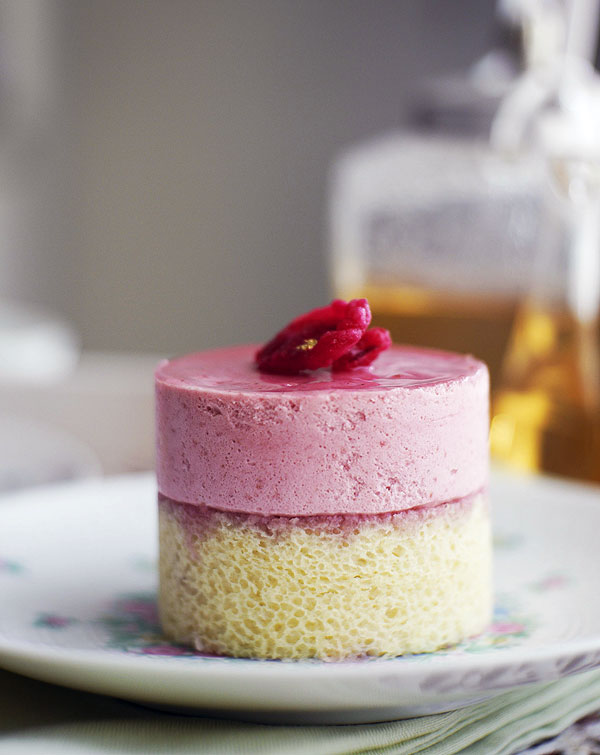 I first discovered Japanese mousse cake savant, Hidemi Sugino (along with many of his other fans within the blogosphere, it seems) through Keiko's gorgeous blog. I found myself repeatedly returning to her beautifully precise renditions of his recipes in Le goût authentique retrouvé. And when I finally had the opportunity to taste the master's work in Tokyo, I was enthralled by the lightness of his creations, as well as the subtle and sophisticated layering of complementary and contrasting flavours. They were simply the best mousse cakes I'd ever tasted (here's Nick's superb dissection of some of Sugino's entremets). I promptly bought a copy of Le goût authentique retrouvé on that fateful first visit in 2007—disregarding the fact that the recipes were all in Japanese. I somehow figured that I would be able to decipher them based upon the ingredients listed in French despite the fact that I don't speak French either!
Five years (and many more mousse cake pilgrimages) down the road, I was still no closer to comprehending the secrets of his book until I stumbled upon Evangeline of Evan's Kitchen Ramblings' exquisite Sugino interpretations, some of which are generously accompanied by recipes. Based upon her recipes and some heavy squinting (being able to recognise some of the kanji in the original recipes helped in a miniscule way), I was able to rustle up my first entremets.
I chose Fruits Rouges because it seemed remotely achievable. It only called for three components, as well as ingredients that I could easily acquire. It also didn't contain chocolate (CH and I have divergent opinions on how chocolate desserts should taste, and I needed a willing guinea pig).
My verdict: Making entremets isn't terribly complex. But it does call for patience, precision and organisation. I wasn't successful with creating the piped jam stripes you see here on my first attempt, so I've gone with unadorned joconde for the moment. But my plan is to try making joconde imprime (here's a useful step-by-step) in future. I love the lightness of the finished entremet. And the high acidity in the gelee cuts through the richness of the mousse. But you have to love this style of mousse cake. My Japanese friend inhaled the two I gave her (one was actually meant for her husband).
CH's verdict: It's a grown-up dessert (i.e. it's not to his taste, but he doesn't want to upset his wife). Nevertheless, he's hoping I'll attempt other recipes in the book.
I'm just thrilled to have discovered the online world of Hidemi Sugino junkies.
Fruits Rouges
Adapted from Hidemi Sugino's
Le goût authentique retrouvé
and
Evangeline's interpretation
of his recipe.
Makes about 14 (6cm in diameter, 4.5cm high)
30° Baume syrup (Simple syrup)
130g castor sugar
100g water
Soaking syrup (Sirop d'imbibage)
30g simple syrup
20g water
20g kirsch
Glaze
15g red currant or raspberry puree
120g neutral glaze (I used mirror glaze)
Red fruit gelee
6g gelatine leaves (3 leaves)
150g red currant puree (I used Morello cherries instead)
150g raspberry puree
50g lemon juice (I used calamansi to soften the acidity)
50g castor sugar
10g kirsch
Butterless biscuit joconde
100g icing sugar, sifted
100g finely ground almonds, sifted
80g egg yolks (about 6 yolks)
60g egg whites
90g cake flour, sifted
French meringue
200g egg whites
120g castor sugar
Red fruit mousse
10g gelatine leaves (5 leaves)
300g whipping cream
150g red currant puree (I used Morello cherries instead)
150g raspberry puree
30g kirsch
Italian meringue
100g castor sugar
50ml water
50g egg whites
To make the simple syrup, combine the sugar and water in a small saucepan. Bring to a boil, ensure that the sugar has dissolved then cool. This can be stored in the refrigerator until needed.
To make the soaking syrup, combine the ingredients in a bowl, cover and refrigerate until needed.
To make the glaze, combine the ingredients, cover and refrigerate until needed.
To make the gelee, cover the base of a round cake ring mould with 2 layers of aluminum foil (Sugino recommends a 18cm mould but it only gave me 12 portions. I will try 22cm next). Secure the foil with rubber bands. Place it on a small tray or other flat surface that will fit easily into your freezer.
Soak gelatine leaves in iced water.
Combine half the red fruit puree with the lemon juice and sugar. Heat it enough to dissolve the sugar, but do not bring to a boil. Gently wring each gelatine leaf to remove excess water before adding it to the warm mixture. Stir to combine. Add the remaining puree and kirsch. Pour into prepared ring mould (the gelee should be about 1cm high) and freeze. I usually prepare the gelee the night before I intend to assemble this entremet.
To make the butterless biscuit joconde, line two 30 X 40cm baking sheets with Silpats. Preheat the oven to 220° Celsius (you may need to adjust the temperature depending on your oven) using the conventional setting.
Combine the icing sugar and ground almonds in the bowl of a stand mixer. Whisk on low while you add the egg yolks and whites then increase speed and whisk until thick and pale yellow. Fold in the cake flour.
To make the French meringue, place egg whites in a clean bowl and whisk until foamy. Gradually add sugar and whisk until stiff, glossy peaks form.
Gently fold one-third of the meringue into the egg mixture (I use a whisk). Fold in the remaining meringue. Do not over mix. Divide the batter between the two baking sheets (I find it easiest to do this by weighing both sheets on separate digital scales as I fill them to get an even thickness of joconde). Spread it evenly and thinly with an offset spatula. Draw a clean finger along the edges of the baking sheet, creating a gap between the sheet and the batter. Bake for 5-6 minutes until golden and the middle of the joconde springs back when touched.
Let them cool slightly, but work quickly. Draw a knife along the edges of the joconde. Dust with icing sugar (to prevent them from sticking), cover with a sheet of baking paper, invert the joconde onto the baking paper and gently peel the Silpat away. Be careful, otherwise the joconde may rip.
When completely cool, trim the edges of each sheet of joconde. Slice 14 or more strips that will line the circumference of your mousse rings, reaching up half its height. My 6cm in diameter, 4.5cm high rings call for strips measuring 2.25 X 17.5cm. I just cut extra strips just in case of mistakes along the way. Cut another 14 or more circles to fit the bases of the rings. I use a 5cm ring cutter for mine. I usually prepare the joconde the night before as well. I store the cut strips and bases in an airtight container at room temperature.
When ready to assemble, line 14 individual mousse rings with food safe acetate sheets (optional). Line the sides and bases of the mousse rings with joconde. Brush the bases generously with the soaking syrup and place the rings on a baking tray that will fit into your freezer. Set aside.
To make the red fruit mousse, soak gelatine leaves in iced water.
Whip cream until soft peaks form. Refrigerate until needed.
Warm half the fruit puree but do not bring to a boil. Gently wring each gelatine leaf to remove excess water before adding it to the warm mixture. Stir to combine. Add the remaining puree and kirsch.
To prepare the Italian meringue, combine sugar and water. Bring to a boil. Remove from heat when it reaches between 118 to 120° Celsius. In the meantime, whisk the egg whites until foamy. Continue to whisk as you drizzle the hot sugar syrup into the egg whites. Continue to whisk until stiff peaks form. Measure out 120g of the meringue.
Fold the whipped cream into the puree mixture (I use a whisk). Then fold in 120g of the Italian meringue. Transfer to a large piping bag. At this point, I refrigerate the mousse for a short while because it tends to get runny in our tropical climate.
In the meantime, use a 4cm ring cutter to cut 14 gelee circles. Pipe some mousse into the base of each ring, top with a gelee disc then fill the rings up to the rim with mousse. Level with an offset spatula. Freeze until firm. I usually perform this step the night before I intend to serve the entremets and leave them in the freezer overnight.
Brush the tops with glaze at least a few hours before you intend to serve them (I usually do this first thing in the morning if I'm serving them at dinnertime). Remove them from the rings by carefully pushing them up and out of them. If you don't use acetate, then you will need to heat the rings with a hairdryer or a kitchen blow torch to release the entremets. Place them on individual cardboard bases for ease of plating later. Decorate as you like. I used candied rose petals and some gold leaf. Store in the refrigerator until ready to serve.
Su-Lyn is Aun's better half and for many years, the secret Editor behind this blog known to readers simply as S. Su-Lyn is an obsessive cook and critical eater whose two favourite pastimes are spending time with her three kids and spending time in the kitchen. She looks forward to combining the two in the years to come.