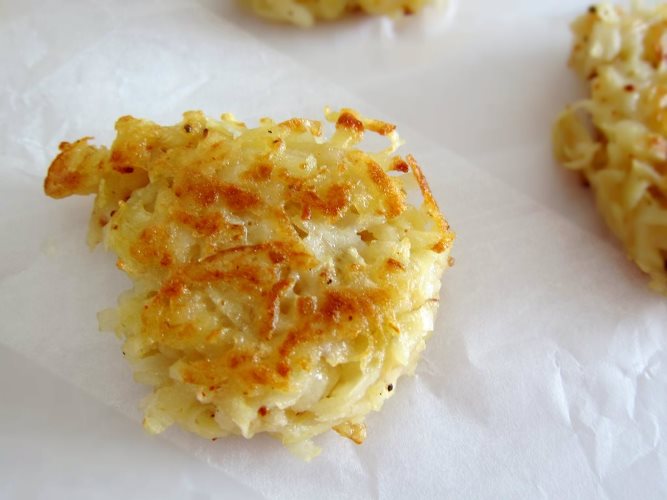 Odd bits of vegetables are a common sight in my fridge. I will have leftover vegetables from recipe testing, and some are tragically abandoned at some dark corner of the fridge. Of course, I can use the leftovers for another recipe, which also means that I might need to get more ingredients (and end up having more leftovers–vicious cycle!).
Thus, I have mastered a few dishes to nicely use up the leftovers. One of them is a vegetable pancake. It is essentially a rosti that is chock full of vegetables. It is easy to make, and you can add anything you want or have. It does not need to be vegetarian. You can sneak in leftover fish, meat, basically whatever you need to finish up.
The biggest reason why I love this vegetable pancake–it freezes very well. This means that if you have a last minute guest or need a midnight snack, you can thaw these babies, and have something delicious and healthy.
Vegetables pancake
The quantity of vegetables listed is what I happened to have left in the fridge. You can use your preferred vegetables. You can also make a mini version and serve them as hors d'oeuvre–top with a bit of crème fraîche and smoked salmon.
Makes 4 6" pancakes
Ingredients
500g potato washed, peeled, and grated (rough) (around 2 medium-sized potatoes)
100g white onion, washed, peeled, and grated (rough) (around 1 small onion)
50g carrot, washed, peeled, and grated (rough) (around ½ a carrot)
40g asparagus, washed, and diced
30g all-purpose flour
1 egg, lightly beaten
Salt and black pepper
Oil
Line a sieve or colander with a cheese cloth or a clean tea towel. Add the grated potatoes, onions and carrots into the sieve/ colander, and sprinkle a generous pinch of salt, and mix well. The salt will help to draw the liquid out from the vegetables. You do not want a soggy pancake. Set aside for 15 minutes.
After 15 minutes, gather the end of the cheese cloth/ tea towel, and squeeze out the excess liquid from the vegetables. Once done, place the vegetables in a medium-sized bowl.
In the bowl, add in the asparagus, flour, egg and black pepper, and mix well. I usually don't add any more salt since I'd added it earlier. If you want to check the seasoning of the pancake, you can pan-fry a small spoonful of the mix to test.
Roughly divide your vegetable mix into 6 equal portions. On a medium-sized pan, add in a teaspoon of oil and place it over a low-medium heat. Once the oil is heated, drop a portion of the vegetable mix and flatten with a spatula. If you are a daredevil like me, I usually flatten it with my fingertips.
Cook the pancake until golden brown (about 5 minutes on each side). Once cooked, place the vegetable pancake on a plate and repeat for the rest.
If you have any leftovers, you can freeze it. All you need to do is place a parchment paper in between each pancake (for easy removal), and put them in a ziplock bag.

Mandy's journey into the culinary world began out of necessity–a means of survival whilst she was at university. She believes cooking should be simple and fun. Besides spending time in the kitchen whipping up hearty meals, Mandy also dreams of having a bottomless stomach that she can fill with all kinds of delicious things.