If you ever find yourself in Perth, Fremantle craving a juicy, meaty burger, I highly recommend Flipside. To tackle a Flipside burger, you need all your fingers. It is huge and extremely messy to eat. But it is also without a doubt, one of the best burgers I have ever sunk my teeth into.
To start, choose between their 100% beef patty, tender free-range chicken breast, or a vegetarian spicy chick pea and sweet potato patty, and load up with toppings freestyle, or if you prefer to be guided, choose from their vast menu. I had my beef burger with mashed avocado, a fried egg (with lovely, runny yolk) and home-made tomato relish, all sandwiched in a lightly-charred bun. Plus the requisite side of thick, hand-cut fries dusted with flaky sea salt.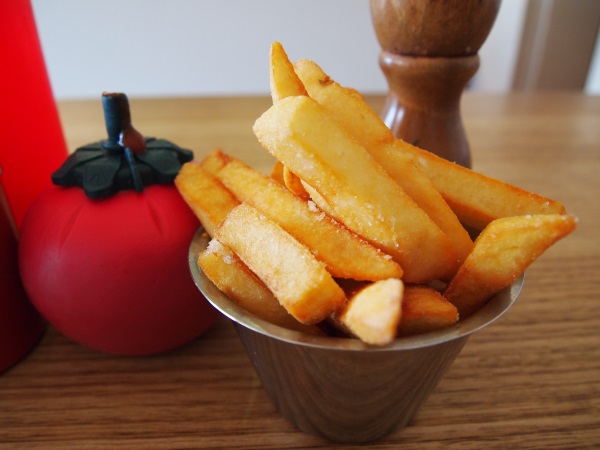 The burger was a thing of beauty, and truly scrumptious. The patty was robust, had a great bite to it, seasoned to perfection and juicy as can be. My son ordered from the kids' menu, and had a "Mini Flip" beef burger with fresh lettuce and tomato within. He loved it so much that he barely uttered a sound during the meal. He particularly enjoyed the delicious fries and ate half of the (not small) order.
While I was there, I saw many customers tucking into the "Chilli-ander chicken" burger. It was grilled chicken breast topped with chilli jam, rocket leaves, a small heap of corriander and mayo. It looked so fresh and zingy that I made a mental note to order it on my next visit. I never fail to a have good meal at Flipside. To all aficionados out there, I strongly urge you to give their burgers a go on your next trip to Perth.
Flipside
239 Queen Victoria Street
North Fremantle WA 6159
Tel:  +61 8 9433 2188
www.flipsideburgers.com.au
Dawn, a lanky food-crazed lady, started out writing for lifestyle magazines, and later spent several years in banking. When not eating, she's cooking, reading about, hankering after, and writing about food. On her first date with her boyfriend (now husband), they dined at four restaurants across Singapore. He's gained 25lbs since, and their culinary escapades continue after welcoming two rotund angels. Dawn's committed to feeding them with the best, and creating lasting food memories and traditions for her family.