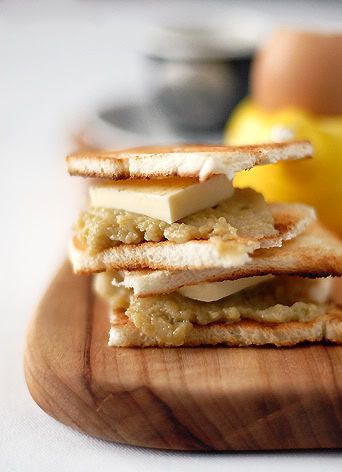 Today, Singapore celebrates its 41st birthday. So today of all days, I thought it would be appropriate to make, eat and write about something that I felt was very typically (though not uniquely) Singaporean. While there a myriad of dishes that are beloved by my countrymen and women and some which are considered by many to be "The Great Singaporean Dish", like chicken rice, fish head curry or laksa for example, to me, nothing is more Singaporean than a breakfast composed of kaya toast and soft-boiled eggs.
For foreign readers, kaya (or serikaya, as it was originally called) is an egg jam, made with coconut milk that's been infused with the aroma and taste of pandanus leaves (also just called pandan). It's a Malay and Nonya (Straits Chinese) specialty. Local food historians trace its origins back to to the Portuguese, who, during the height of the spice trade, had established major trading outposts in the Straits of Malacca.
"Kaya toast" combines this rich, delicious jam with thin slices of toast and cold bits of butter. Traditionally, the bread is toasted over a charcoal fire. The combination is, while simple, quite heavenly. The sweet jam contrasts wonderfully with the savoriness of the butter. The crispy toast also acts as a good counterpoint to the two spreads.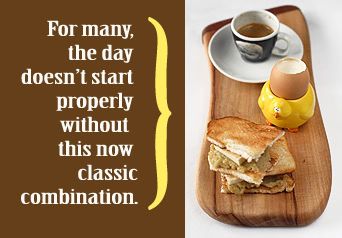 Kaya toast is usually served with soft-boiled eggs (flavored with soy sauce and pepper) and a cup of exceptionally strong, sweet coffee. All across the country, thousands upon thousands of Singaporeans wake up every day, get dressed and head out to their favorite coffeeshop for the nation's favorite breakfast. For many, the day doesn't even start properly without digging into this now classic combination.
I've never tried making my own kaya before. And while I own several local cookbooks, including some fantastic old volumes handed down to me by my mother, I decided to ask an expert for some help. Christopher Tan is my go-to guy when it comes to Nonya food. Unlike me, who rambles aimlessly on the Internet, Chris actually makes a living writing about and working with food. He's an extremely respected food writer with several cookbooks under his belt, a great photographer, and one of the few and best food stylists in the region. He also comes from a family of food journalists. His book Shiok! is the one volume that S and I always recommend to anyone interested in learning to cook Malaysian and Singaporean dishes.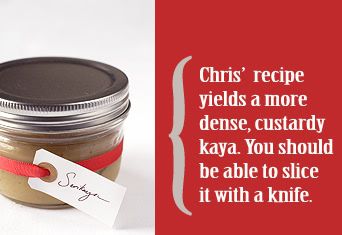 Chris passed S and me his family's favorite recipe and has graciously allowed us to share it with all of you. Unlike the kaya used in most coffeeshops, which is creamy and smooth, Chris' recipe yields a slightly more dense, custardy kaya. He contends that traditional Nonya kaya is made this way. You should be able to, he told me, slice it with a knife. The soft, spreadable kaya that most coffeeshops, including Ya Kun and Killiney Kopitiam (the two most famous kaya toast places in town), serve is a Hainanese adaptation.
The recipe worked well. In fact, it was surprisingly easy. Easy enough to make me wonder why anyone would buy commercially-made kaya. S and I had steamed our kaya for only 90 minutes (Chris recommends between 90-120 minutes), so it wasn't too firm, i.e. easy to spread. Paired with some nice French butter (which S stores religiously) over hot toast, this really made my (National) day.
(Note: I've created a new badge which appears in this post. I'll be using it when writing about Singaporean foods, restaurants and people. Kudos to Lush 99.5 for their "Lush loves local" campaign; it's a fantastic campaign which has totally inspired me to do this. Of course, this doesn't mean I won't be posting non-Singaporean content. In fact, I've just secured a deal to be the Official Blogger at a major overseas Gourmet Festival. I'll be posting about that soon. )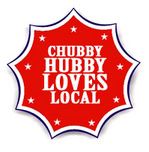 Kaya
Makes 600-700 ml
250ml coconut milk
8 pandanus leaves, washed
275g caster sugar
1/4 teaspoon salt
8 fresh chicken eggs
Combine the eggs, sugar and salt in a large bowl. Stir (do not beat) with a whisk until the sugar is dissolved.
Tie six of the pandanus leaves into a knot, bruising the leaves to release the pandanus aromas. Put the coconut milk and pandan into a saucepan. Slowly heat it up until it begins to boil. As soon as it reaches the boil, pour it over the egg mixture, stirring it in carefully. When blended, take out the pandan and strain the mixture through a sieve into the top part of a double boiler. Gently heat the mixture, stirring constantly, until it just begins to thicken.
Meanwhile, tie your remaining pandanus leaves and place them in a heatproof bowl or loaf tin. Then sieve the mix into the container. If you use jars, use wider, shorter jars; you can also put one tied pandanus leaf into each jar. Cover tightly with foil. Make a few small incisions in the foil so steam can escape.
Place the container (or jars) into a steamer and steam for 90 minutes to 2 hours, or until firmly set. Cool and then keep covered in your fridge. It will keep for a week.
Technorati tags: kaya, breakfast, Singapore, food
Aun has always loved food and travel, passions passed down to him from his parents. This foundation, plus a background in media, pushed him to start Chubby Hubby in 2005. He loves that this site allows him to write about the things he adores--food, style, travel, his wife and his three kids!