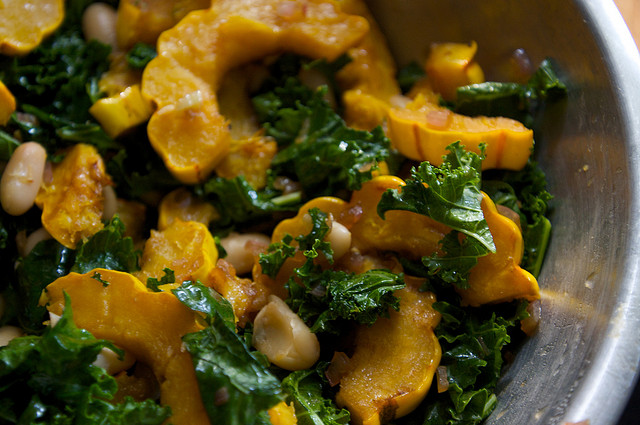 I never used to enjoy salads. Really. Where I grew up in the U.S. they always seemed so blah….iceberg lettuce, tomato wedges and such. But as an adult I became a salad fanatic. Why? Because I discovered main course salads can be so much more than lettuce and other assorted veggies. I love roasted vegetable salads, salads with beans and lentils, salads with crunchy seeds and nuts and anything featuring cheese like feta or haloumi. And nowadays, salad often features as a go-to dinner for me on an average weeknight. So, I am sharing with you my three favorite hearty salad recipes for dinner tonight. And the best thing about hearty salads for dinner? That virtuous feeling you get knowing you are doing your body good. Enjoy.
Butternut Squash and Cannellini Salad
(pictured at the top of the post)
Makes 4 servings
For salad:
1 medium butternut squash (about 2 to 2½ pounds), peeled, seeded, and cut into 1½-inch slices
1 medium garlic clove, minced or pressed
2 tablespoons olive oil
Salt
One 15-ounce can cannellini beans (or other white beans), drained and rinsed (1½ cups)
¼ of a medium red onion, finely chopped
¼cup coarsely chopped fresh cilantro or parsley
For tahini dressing:
1 medium garlic clove, finely minced with a pinch of salt
¼ cup lemon juice
3 tablespoons tahini
2 tablespoons water
2 tablespoons olive oil, plus more to taste
Preheat the oven to 425°F. In a large bowl, combine the butternut squash, garlic, olive oil, and a few pinches of salt. Toss the squash pieces until evenly coated. Roast them on a baking sheet for 25 minutes, or until soft. Remove from the oven and cool.
To make the dressing, whisk together the garlic and lemon juice in a bowl. Next add tahini, whisk to blend. Add the water and olive oil, whisk and taste for seasoning. You may need to add more water to get to the desired consistency.
To assemble the salad, combine the squash, chickpeas, onion, and cilantro or parsley in a mixing bowl. Add the dressing and toss carefully to avoid damaging the beans.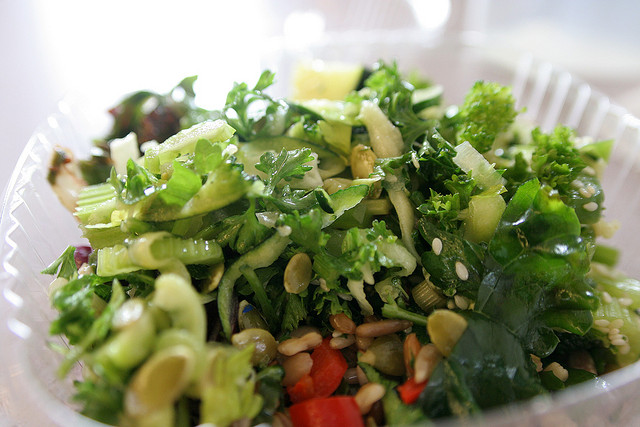 Healthy Shouldn't Taste This Good Salad

Makes 3-4 servings
3 cups finely chopped kale (stems removed and discarded)
1 cup broccoli florets, finely chopped
2 medium carrots, peeled and shredded
½ cup chopped red bell pepper
½ cup thinly sliced scallions
¼ cup finely chopped parsley
2 tablespoons raw sunflower seeds
2 tablespoons raw sesame seeds
2-3 pitted Medjool dates, chopped
2-3 tablespoons fresh lemon juice
1 tablespoon extra-virgin olive oil
1 tablespoon maple syrup or honey
1 tablespoon finely grated ginger root
Sea salt, to taste
In a large mixing bowl, combine the kale, broccoli, carrots, bell pepper, scallions, parsley, sunflower seeds, sesame seeds, and dates.
In a small bowl, whisk together the lemon juice, olive oil, maple syrup, and ginger to combine. Pour the dressing over the salad and toss to coat. Season to taste with salt. Let salad stand at room temperature for at least 15 minutes before serving.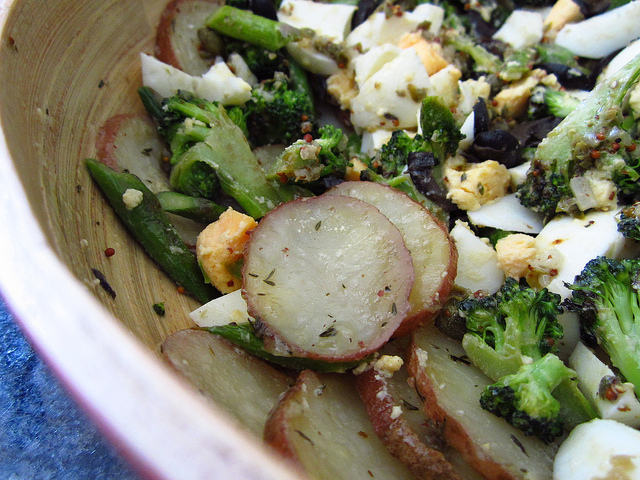 Potato, Roasted Broccoli and Egg Salad with Mustard Dressing
Makes 4 servings if used as a main course. I like to grill salmon and put on top of this to make it a main course salad.
Salad ingredients:
6 cups small red potatoes
4 hard cooked eggs, chopped
1 head of broccoli
3 cloves of garlic, minced
1½ tsp salt
¾cup finely chopped red onion
Dressing:
? cup olive oil or sunflower oil
¼ cup red wine vinegar
2 tbsp dijon or grainy mustard, as you prefer
1 clove garlic, minced
Sea salt, to taste
Preheat the oven to 425°F. In a large bowl, combine the broccoli florets, garlic, olive oil, and a few pinches of salt. Toss the pieces until evenly coated. Roast on a baking sheet for 25 minutes, or until just starting to brown on the edges.
Boil whole red potatoes until done. Cool and slice into ¼ inch thick slices. Set aside.
To make dressing whisk all ingredients until emulsified.
To assemble salad combine all ingredients in a large bowl and stir carefully so as not to break up the potatoes. Then drizzle dressing over top. As I mentioned earlier, this is amazing when served with grilled salmon on top.
Joanna Hutchins is a culinary travel blogger based in Shanghai, China.. In 2009, Joanna founded Accidental Epicurean, a culinary travel blog focused on Asia. Joanna is also a contributor to CNNGo, Look East magazine, SE Asia Globe and Two magazine.