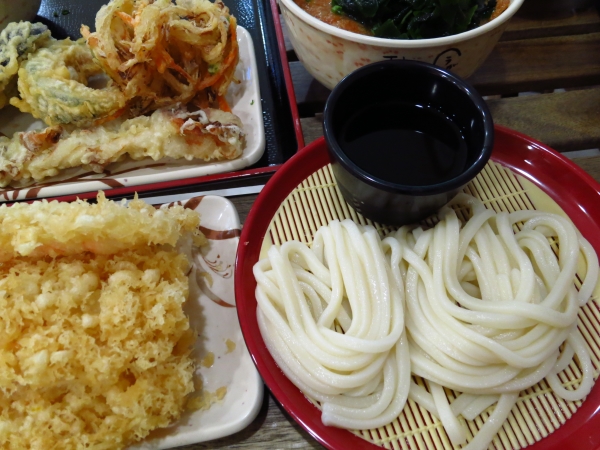 My family absolutely adores all Japanese food. At age five, my son's all-time favourite meal is cold soba noodles with a side of sashimi. He could eat this just about any day, in rather startling quantities. I really enjoy soba too, but have recently begun an affair with udon. Even my son would shift his allegiance once in a while. All thanks to Tamoya Udon.
Tamoya Udon hails from the Sanuki perfecture in Japan, where they run a ragingly-successful udon chain. Since they opened here in Singapore, I have eaten at the Liang Court branch several times. On my first visit, I was apprehensive. The dish looked so plain- just noodles in broth. Could it really be delicious?! But I gamely took a bite, and I was instantly hooked. The udon was extremely smooth and silky and perfectly al dente. The noodles on their own were so flavourful, there was hardly any need for toppings. The "golden broth" was clear and invigorating. I slurped at turbo-speed and and cleaned out my bowl in no time. My baby girl, who was going through a fussy eating phase, ate every last strand. It's been a long time since I didn't have to threaten to confiscate her toys in order to get her to eat.
Apart from udon, they are also famous for their tempura, which you select from the counter. The few times we were there, I saw okra, prawns, fish cake, sweet potato, shredded vegetable, pumpkin, mackerel and eggplant tempura. We ordered a variety, and they were all fresh and crispy. Another draw at the place is that you can help yourself to the condiments and create your favourite bowl of noodles just the way you like it. I always order a bowl of kake udon (plain noodles in their signature golden broth), add a few sheets of inari age (sweetened beancurd), and load up on wakame and spring onions. You can also plop in an ume, sprinkle over some tempura crisps, or spice it up with chili padi. It's all good.
Tamoya Udon
#01-32, Liang Court
177 River Valley Road, Singapore 179030
Tel: +65 63370301
Opening hours: 11am-9.30pm
www.tamoya.com.sg
Dawn, a lanky food-crazed lady, started out writing for lifestyle magazines, and later spent several years in banking. When not eating, she's cooking, reading about, hankering after, and writing about food. On her first date with her boyfriend (now husband), they dined at four restaurants across Singapore. He's gained 25lbs since, and their culinary escapades continue after welcoming two rotund angels. Dawn's committed to feeding them with the best, and creating lasting food memories and traditions for her family.