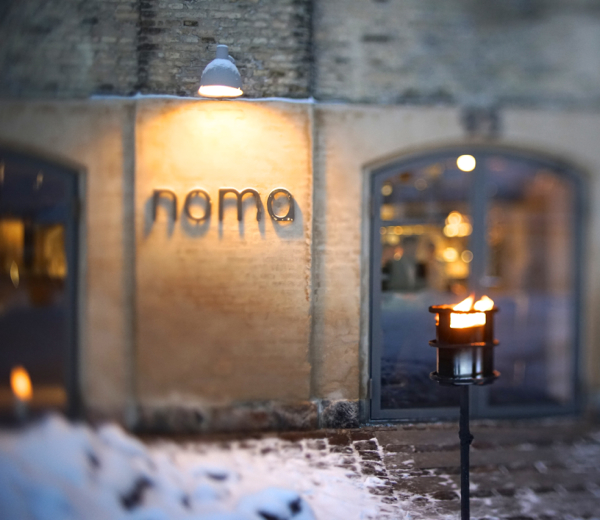 Noma represents the pinnacle of Nordic culinary expression.   The love child of René Redzepi and Claus Meyer, the restaurant has transformed into a creative hub of Nordic food exploration and creativity – attracting international attention and fame. We quickly entered the two Michelin star restaurant to escape the snow, and we were greeted by a hearty chorus of 'welcome' from a group of young international chefs. Their effervescence was inspiring, and with rousing music playing in the kitchen, I get the sense that they were really enjoying themselves. We made our way upstairs, and sat at the end of a rough-cut communal dining table. Sharing the table was a diverse mix of patrons from Denmark, Sweden, Italy, Chile, and our little red dot. Cordial at first, but the diverse group soon bonded over unfamiliar tastes and textures.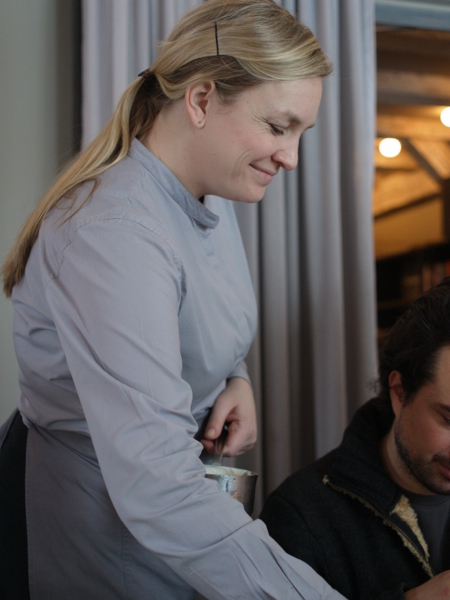 Kat, our knowledgeable and confident waitress from Australia, helped us navigate through mysterious maze of exotic berries, unknown greens and cooking techniques employed. A little primer on Nordic flavors – due to the extremes of climate, vegetation tends to be tougher and exhibit more bitterness. Combined with Noma's ethos on only using local Nordic ingredients, you can imagine the difficulty in balancing the flavours and offering a wide range of tastes over a 4-hour luncheon. Hence, Noma uses fermentation techniques in many of the creations to release even more flavour and texture. Going local also meant the usual fine dining fixtures like foie gras, wagyu beef or Spanish ham were off the menu. To maximize their arsenal of raw ingredients, a team of chefs-turn-foragers scour the local beach and forest for flowers, berries, moss and more. Noma also relies on specialists like a Norwegian diver to hand pick sea urchins and shellfish from the frigid Norwegian seabed. With that in mind, the task of feeding us choosy foodies seems daunting.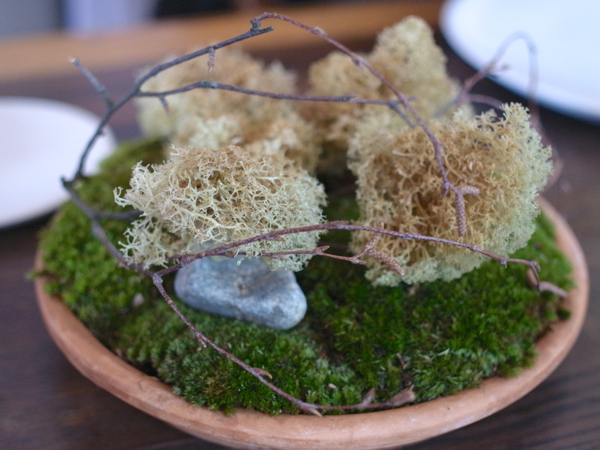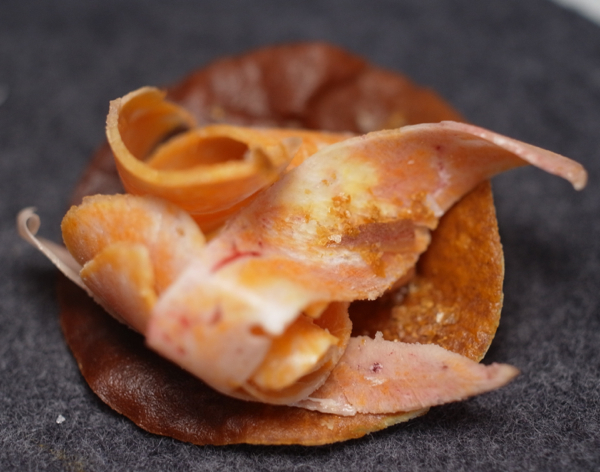 Starters came fast and furious. Dehydrated reindeer moss coated with cep powder, went from crunch to munch in an instant, delivering a wonderful salty aftertaste. Noma's Nordic coconut – a hollowed out turnip containing light broth – was delightful, as we sipped the warm mushroom flavoured soup through the dill straw. The playful blackcurrant berries, surprised us with its outer shell of berry juices and smooth juicy filling. Next was monkfish liver and milk, and that got a few heads scratching, as it tasted like cod-liver oil to some. Ultimately, the starter that shone was the sea urchin and duck skin. My newly acquainted German lady friend had problems eating the sea urchin . I reassured her with a running commentary of how well the crispy duck skin was mixing with the very briny and creamy texture of the Norwegian sea urchin. Of course I added that if she really didn't want it, I would gladly dispose of it for her. Alas, her courage held and down it went – much too quickly I mused. A very easy-to-eat Burnt Leek with Cod Roe, was followed by Roasted chestnuts with Trout Roe – both were sublime. While we masticated the chestnuts and enjoyed the umami of the trout roe, snow continued to paint the view outside of dining room.
I chose a wine pairing lunch (at an additional 1000 kroners) and enjoyed a nine-glass course of organically produced wine from all over Europe. Because of their organic origins, some of the wines were young and not all were great to drink on their own. But when consumed together with each delicious morsel, a little bit of chemistry magic appeared. Take the 2012 Karmin 4 Rose from Austria for example. This organic wine had a challenging nose that reminded me of sulphur fumes, and it drew contorted faces around the table. The Chilean gentleman in particular decided that Austria needed to be annexed for producing such an atrocity – in jest of course. But when paired with the Beets and Aromatic Herbs, the heady nose receded and revealed more of the wines acidity, resulting in a spectacular transformation.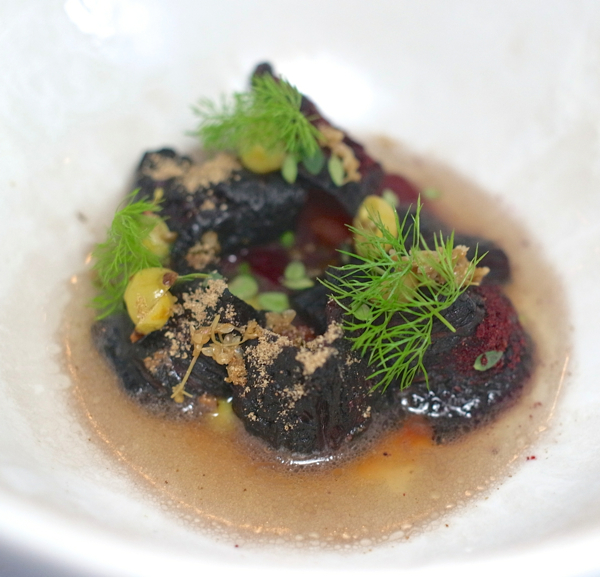 In comparison, my wife's juice pairing meal was straight-forward and pleasant to enjoy. The juices ranged from juices like the exotic cloudberry, infusions such as apple and pine, to mixes like beetroot and redcurrant. This 750 kroner pairing option might seem expensive compared to the 1000 kroner wine paring, but the ingenuity in taste blending was a highlight. In hindsight, I preferred the juice pairing, although the lack of alcohol to help with the mixing of aromatics took a while to get use to. The dried scallops and beech nuts, flourished with the cucumber and whey juice mix. While the wonderfully flavourful and bloody Wild Duck with Pear and Kale (look out for shot gun pellets) was perfectly matched to the enthusiastic Lingonberry juice. Just in case you are wondering what Ligonberry is – it's the same fruit found in the condiment supplied with Ikea's Swedish meatballs.
Before our deserts, we were given a kitchen tour by Tom Halpin, a young Sydney chef with both arms emblazoned with tattoos. Having spent fours years in Noma, Tom articulated its liberal creative culture lucidly. Tom explained that every hand in the kitchen, were encouraged to share their techniques and creations. This sharing of ideas drove the creation of new dishes and kept the environment fresh and exciting, exactly what chef Owner Renee wanted. In fact, popular dishes such as the famous Langoustines with Oysters and Seaweed, are never repeated. Tom alluded that the restaurant was currently busy preparing for its annual Nordic Cuisine Symposium, with the sole aim to further encourage the exchange of ideas with other chefs, farmers, wine producers. As a creative professional myself, I was inspired by the laissez faire philosophy towards creative freedom and discourse at Noma.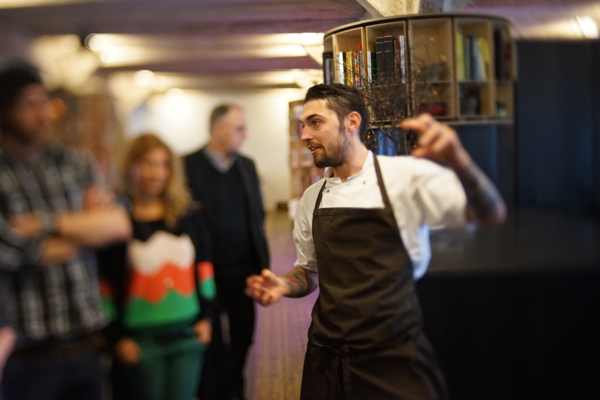 We returned to our table for our desserts. The playfulness in taste manipulation resumed with the Aronia berries and Söl (a local seaweed).  Looking like a traditional desert, I was expecting fruits and crème, but I got umami and berries instead – the combination reminded everyone of salmon. The supporting act did not disappoint too. Instead of ice cream, we had cold mash potato served with plum and ice cream. But the most amusing desert of them all, has to be the crispy pig skin coated with chocolate and berries. When Kat our waitress announced its arrival, everyone on the table was incredulous on its taste combination. By that time, four fabulous hours have passed, the snow had finally abated and my mind was completely blown.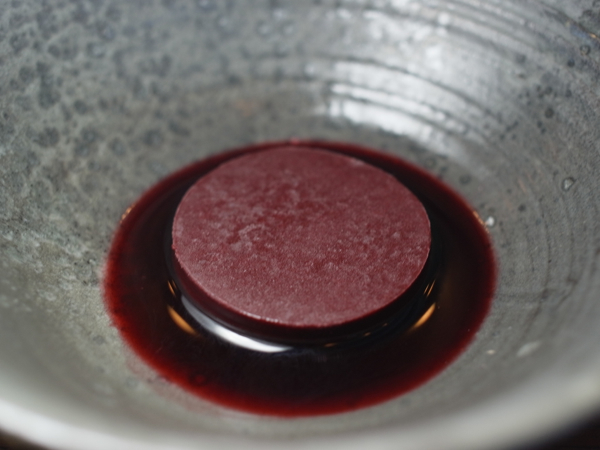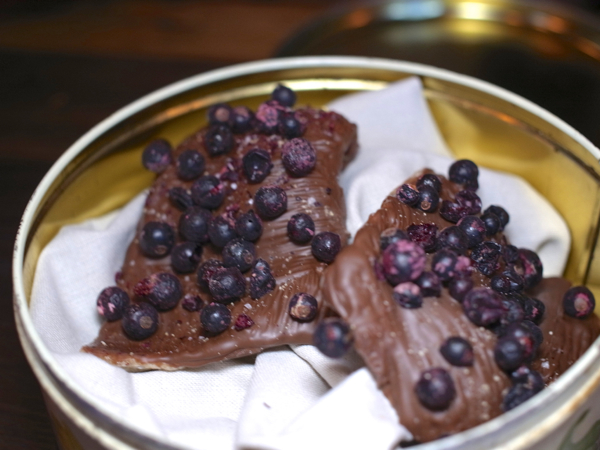 So did I miss the foie gras or the wagyu? Not at all. Did I feel that the chefs delivered a range wide range of tastes to keep me interested during the time I was there? Absolutely. At first, we were disappointed that we did not get a private table, but as the lunch progressed, the motley crew of strangers, soon became co-adventurers in a common gastronomic odyssey, so don't be afraid to go for the communal dining experience. For an afternoon that opened my mind to the possibilities of what a creative mind can do, I think the asking price of 1500 kroner per head – sans drinks – is a bargain. And that ends part one of my Nordic adventure. If you are interested in reading about the rest of my Nordic experience in another blog post, do leave me a note in the comments.
noma
Strandgade 93
DK-1401 Copenhagen K
Tel: +45 3296 3297
Opening hours
Tuesday – Saturday
Lunch: 12.00 p.m. – 4.00 p.m.
Dinner: 7.00 p.m. – 00.30 a.m.

Roger's love affair with food started with a bang. Sent to a distant corner of Kent at 16, an Asian-food starved Roger tried to recreate mom's stir-fry with explosive results. The loss of the left eyebrow was well worth the reprieve from steak and kidney pie. Today Roger runs his own creative agency as a pretext for his food-based escapades. If you are unlucky enough to be seated next to Roger in a restaurant, do be thankful that he is annoying you with his camera, and not attempting to flambé with a wok.