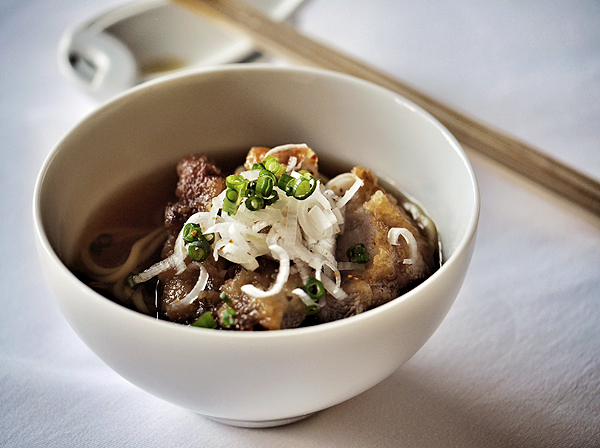 This dish of spare rib ramen—that the Japanese call pakomen (and if you read the kanji, it would be called pai gu la mian in Mandarin)—leapt out at me when I first studied the menu at the Capitol Hotel Tokyu's all-day dining restaurant, Origami, on our most recent trip to Tokyo. It is part of the hotel's old time favourites menu that consists of beloved dishes that that had been served at the old Capitol Tokyu Hotel for decades. As it turned out, pakomen was one of eight varieties of ramen that had been served at the Capitol Tokyu. It was the most popular, and the one dish that purportedly every Japanese prime minister has enjoyed. (Given that the hotel overlooks the prime minister's office, this is highly conceivable). The popularity of Capitol Tokyu's pakomen was so overwhelming that it continued to be served even when the hotel ceased to operate, right through the close to four years of construction it underwent before the new Capitol Hotel Tokyu was unveiled in 2010! A bestseller, it's equally popular at lunchtime as it is after a night of drinking (Origami's last order is at 11.30pm). I was totally intrigued.
I must confess that at first glance, pakomen looks simple. Even plain. But when you taste the perfectly fried pork loin (which has been dusted with potato starch to give it an appealingly crisp yet chewy crust) with a mouthful of springy, al dente noodle sitting in a sip of that beautifully balanced pork and chicken broth, you rapidly realise how incredibly complex the dish is. Origami's pakomen is the work of a true master.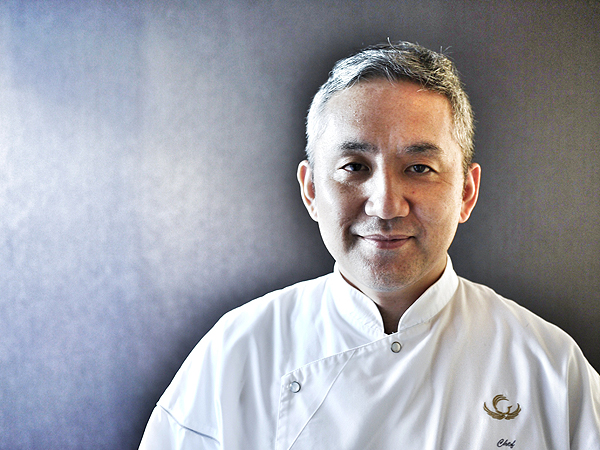 Fortunately, my unbridled enthusiasm for pakomen scored me an audience with chef Koichi Sasaki who heads Origami's kitchen. He revealed that for him, how the pork is marinated and fried, the depth of flavour in the broth, as well as the springiness of the cooked noodle are the keys to a great pakomen. The Capitol Hotel Tokyu-style pakomen, chef Sasaki explained, has pork loin marinated with soy, sugar and sake. And it is dusted with potato starch seasoned with curry powder before it's fried. His broth, which is made fresh daily, consists of pork and chicken bones as well as chicken bouillon, leeks, garlic and ginger simmered for eight hours. It is carefully balanced so that the dish when eaten in its entirety tastes light.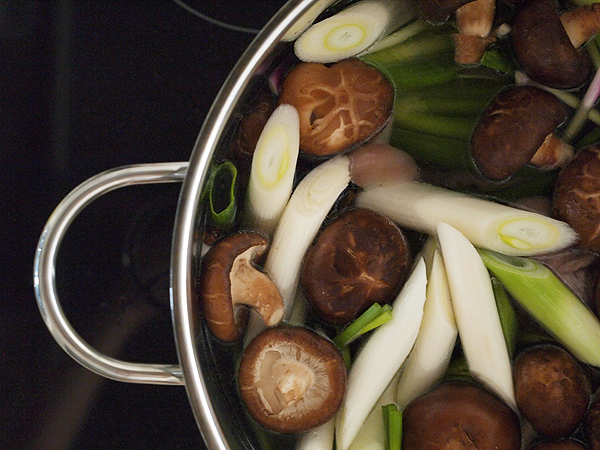 "Everyone drinks up the soup," he told me with evident pride. According to chef Sasaki, traditional ramen is constructed such that it is at its peak within the first 10 to 15 minutes of it being served. In other words, it should be savoured swiftly. But for the Capitol Hotel Tokyu, he has noodles especially made so that the they remain al dente for much longer, making it possible for foreigners to savour the dish slowly if they are unaccustomed to using chopsticks. Such is the attention to detail of a great chef and an equally great hotel.
I was so taken by the Capitol Hotel Tokyu's pakomen, that I sought to create a version of it at home. My recipe is below. Once you see how long it takes to prepare the broth, you'll realise how truly besotted with it I am. It is by no means a reproduction of the original, but it nevertheless hits the spot.
Pakomen (排骨拉麺)
The recipe for the broth is a minutely tweaked version of Kenji's over at Serious Eats. Unfortunately, I have yet to find a ramen noodle recipe that works for me. So I use store-bought. My favourite shichimi togarashi is from Gion Hararyokaku in Kyoto. You can find it at good supermarkets in Tokyo.
Serves 4
4 pork loins (ロース, rosu; sometimes just labelled tonkatsu at Japanese supermarkets)
¼ cup potato starch
1 tbsp kosher salt
2 tsp mild curry powder (we used a Kenyan blend, but a fish blend would work well too)
cooking oil for shallow frying
4 portions ramen (拉麺; I use a dry noodle I buy at Isetan)
roasted sesame oil
Marinade
3-4 tbs Japanese dark soy sauce (koikuchi)
1 tbs mirin
1/8 tsp roasted sesame oil
5 shiso leaves, rolled and thinly sliced
shichimi togarashi (Japanese seven spice powder) and kosher salt to taste
Pork and chicken broth
1 pig trotter (about 1.2 to 1.5kg) cut into 2.5cm discs
1kg meaty chicken carcasses, skin and fat removed
2 tbsp canola or other vegetable oil
2 medium brown onions, peeled and roughly chopped
12 garlic cloves, bruised
8cm length of ginger, roughly chopped
3 Japanese leeks, roughly chopped
24 spring onions, white parts only
200g fresh shiitake
Japanese dark soy sauce (koikuchi), salt and mirin to taste
To serve
1 Japanese leek, white part only, thinly sliced
3 sprigs Japanese spring onions, green part only thinly sliced
chilli oil
shichimi togarashi (Japanese seven spice powder)
Start preparing the broth 48 hours before you intend to serve it. Place the pig trotter and chicken carcasses in a large pot. Cover with water and bring to a boil over high heat.
As the water is boiling, heat the canola oil in a cast iron pan until it is lightly smoking. Add the onions, garlic and ginger. Cook until browned, tossing occasionally, then set aside.
Once the water comes to a boil, tip the contents of the pot into a clean sink. Wash the bones under running water.
Return the bones to a large stockpot along with the browned vegetables, leeks, spring onions and shiitake. Add just enough water to cover the ingredients. Bring to a rolling boil over high heat and skim off any scum that appears. Reduce the heat so that the liquid is at a slow rolling boil. Place a pair of long cooking chopsticks across the mouth of the pot (keep them parallel but set them far apart) and balance the pot lid on them so that the pot is covered but not completely sealed. Continue to keep it at a slow rolling boil until the broth is nearly opaque, topping it up with water when necessary to keep the bones submerged at all times. Let your eye and palate be the judge of this, don't just focus on the number of hours. This took me nearly 24 hours. When I had to leave the pot for an extended period of time (essentially to get a night's sleep!) I turned the stove off. In the morning, I brought it back up to the boil before turning it back down to a slow rolling boil.
Once the broth is ready, strain with a fine mesh strainer. I ended up with about 1.5 litres of broth. If you end up with more and want it to have a more intense flavour, reduce it over high heat (or just freeze any extra broth you may have). Cool the broth and refrigerate it. When refrigerated, it should form a jelly and the fat should separate, making it easier for you to remove it.
Marinate the meat. Use a meat mallet to tenderise and flatten the pork loins. Place them in a bowl or deep tray. Combine the marinade ingredients and pour them over the pork loins. Cover and refrigerate. This can be done up to a day ahead.
To serve, combine the potato starch, salt and curry powder in a flat, deep-sided dish that can also accommodate a pork loin. Bring the broth to a boil and adjust seasoning using Japanese soy sauce, salt and mirin to taste. Keep the broth at a slow rolling boil as you prepare the rest of the ingredients.
Bring a large pot of water to a boil and cook the ramen. Drain the noodles and divide them between four large bowls. Dress with a little roasted sesame oil.
Fill a non-stick frying pan that can accommodate two pork loins at a time with enough cooking oil to shallow fry the pork loins. As you heat the oil, pat the pork loins dry with paper towels and dust them evenly with the potato starch mixture. Tap excess mixture off. Shallow fry the pork loins two at a time until they are browned and cooked through. Rest them on a rack and pat excess oil off using paper towels.
Ladle equal portions of broth over each serving of noodles. Slice the loins into fingers and place them on the noodles. Top with Japanese leek, spring onions, chilli oil and shichimi togarashi as desired and serve immediately (or you can leave your guests to top their own portions).
Su-Lyn is Aun's better half and for many years, the secret Editor behind this blog known to readers simply as S. Su-Lyn is an obsessive cook and critical eater whose two favourite pastimes are spending time with her three kids and spending time in the kitchen. She looks forward to combining the two in the years to come.