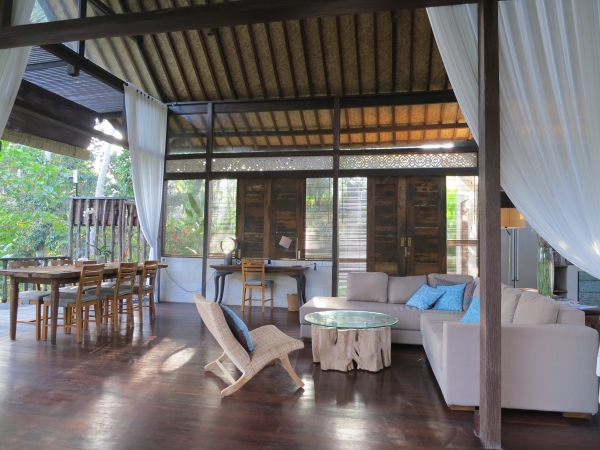 Ever since my last trip to Bali, where I spent four idyllic days on the beach at Nusa Dua, I have been constantly thinking about going back. But this time around, I yearned for the lush hills, ravines and lurid green paddy fields of Ubud, which I have fond memories of, from my honeymoon years ago. The therapeutic effects of being enveloped by peace and tranquility was what I desperately needed to dissolve the stress of the daily hustle and bustle of the city.
I was elated to be asked by the good people at Airbnb if I wanted to check out one of the Bali-based accommodations listed on their site. As soon as I said yes, they quickly connected me to one of their top hosts in Ubud, the wonderful Ida Bagus Oka, who owns a beautiful three bedroom Villa Chandra at Surya Kembar Ubud. I booked the villa online via www.airbnb.com.sg, and with just a few simple steps, I was all set for my getaway. Almost instantly, I received a welcome note from Oka via email, and got to chatting with him directly, inquiring about airport transfers, home-cooked meals (by his lovely wife) and requesting for a driver during my stay. This uber personal touch is not something that one usually experiences with big hotels and resorts, where requests might enter a cauldron of a system and you receive a polite, generic response after a few days. Furthermore, I must add that the Airbnb app made it very easy for me to correspond with Oka through my smartphone, when I was out and about. A week later, I arrived late in the evening at Villa Chandra and Oka's wife had kindly prepared (in my villa's kitchen) a piping hot meal of Indonesian fried rice (pictured directly below), freshly grilled chicken satays with the most amazing peanut, chili and kaffir lime sauce, all washed down by a refreshing mint and lime drink. I must commend her on the perfectly cooked fried rice. Fragrant rice, silky strands of egg, crunchy bean sprouts, scallions and cubes of chicken accompanied with a kick-ass sambal – it definitely hit the right spot after half a day of travelling.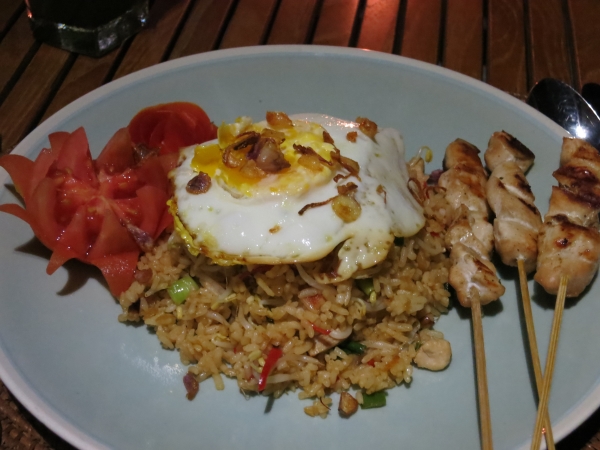 The morning greeted me with a rush of cool air. It was gloriously dewy outside and I could see, for the first time, the beauty of the rice paddies that surrounded the villa. I made a steaming mug of tea, sat back, propped my feet up, and simply stared out into the green. Best of all, there was a stream running alongside the villa, and I sat, transfixed by the soothing sound, in the same spot three mornings in a row.
Like the dinner I had, my breakfast was prepared daily by the villa's staff right in the clean and well-equipped kitchen (above). The menu included fried noodles, fruit platters, scrambled eggs and toast, smoothies, etc, but they recommended a house specialty, banana pancakes. I was initially apprehensive about ordering them because they almost sounded too ordinary and boring. But was I so wrong. They turned out to be soft pandan crepes stuffed with grilled local bananas, and topped with gula melaka (coconut palm sugar) and dessicated coconut. And boy, were they good. I honestly could not get enough, and requested for them at every breakfast.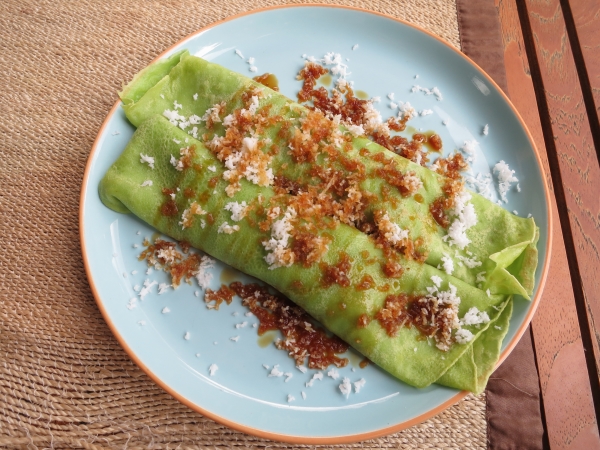 You definitely want to hit the 12-meter long infinity private pool after breakfast. It was invigorating to soak and swim leisurely, surrounded by chirping birds, luscious greenery, white clouds and blue skies. Being on vacation also meant that I could recline in a deck lounger, have another cup of tea and read a novel, which I consider a rare treat. Once you are sufficiently relaxed, Oka can arrange for a driver to take you to town for lunch and a spot of shopping (exactly what I did). He even hired a masseuse from a spa nearby, who gave me an excellent Balinese massage in the comfort of my own villa at sunset.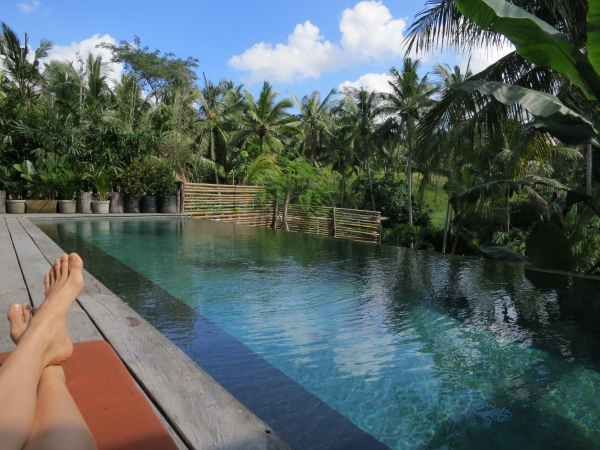 My first Airbnb experience went without a hitch and I could not have enjoyed myself more. It was easy and straightforward for me to book my one-of-a-kind accommodation online, convenient to check on my bookings through the app, and best of all, my host and his family were friendly, attentive and treated me to a first-hand experience of Balinese hospitality. I was particularly taken by the sight of Oka's gorgeous young son (who is the same age as my daughter), playing around the compound with the family dogs. This precious memory is one that I will keep with me. With good food, luxurious surroundings, and warm interaction with local staff, I lacked for nothing at Villa Chandra.
Visit Airbnb now to browse and book unique accommodation for your next holiday. Airbnb also has a great referral program in place, where you can invite friends and family to join in, and earn credits when they travel or host. So don't hesitate, click on this link now, and get started with credits deposited instantly into your account. Get on-board Airbnb and with just a few taps of the screen, you could be on the way to a holiday in a treehouse in Norway, a quaint cottage in Switzerland, a rustic camping pod in Yorkshire, an igloo in Greenland, a stunning loft in Chicago or even a boathouse in Chile. The possibilities are endless. So if you are looking to experience a holiday that is refreshing and unique, or love the adventure of exploring the lay of the land, local style, this is an opportunity not to be missed.
Villa Chandra Surya Kembar Ubud Ubud, Bali 80571, Indonesia
Dawn's trip was courtesy of Airbnb.
Dawn, a lanky food-crazed lady, started out writing for lifestyle magazines, and later spent several years in banking. When not eating, she's cooking, reading about, hankering after, and writing about food. On her first date with her boyfriend (now husband), they dined at four restaurants across Singapore. He's gained 25lbs since, and their culinary escapades continue after welcoming two rotund angels. Dawn's committed to feeding them with the best, and creating lasting food memories and traditions for her family.