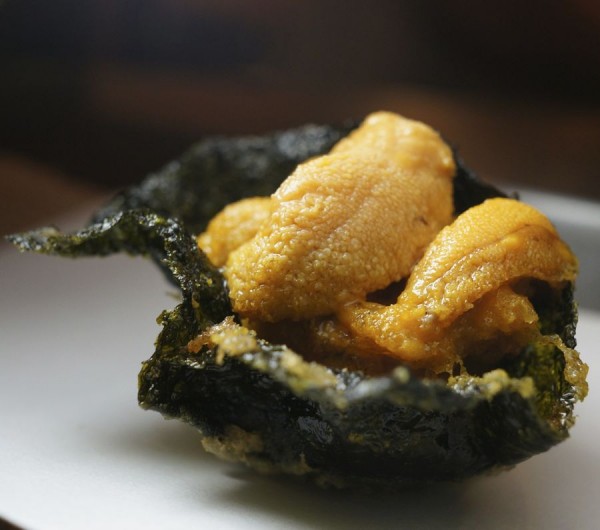 I cannot emphasise how much I love fried food. And tempura in Japan just ticks all the right boxes for me. If you are visiting Kyoto, I would heartily recommend Tenyu. Situated near the Sanjyo train station, it's easily accessible  and the quality of food is beyond reproach. Just check out the Uni tempura. Cooked on a sea of bubbling blended oil, the thin layer of seaweed protects the sashimi grade uni (sea urchin) from being overcooked. It beautifully retained all the yummy creaminess despite being gently steamed by the oil.
My keyboard is getting wet from my overworked salivary glands as I write this. A must-try for all uni lovers. The rest of the meal was delectable too – including the ones pictured below – tai wrapped in shiso leaf, kakiage over rice and deep-fried ayu.
Prices start from 5000 yen (US$50) for lunch and 10000 (US$100) yen for dinner.
Tenyu
324-1 Ebiyacho, Nakagyo-ku,
Kyoto, Kyoto Prefecture 604-8076
Japan
Tel –  +81 75-212-7778

Roger's love affair with food started with a bang. Sent to a distant corner of Kent at 16, an Asian-food starved Roger tried to recreate mom's stir-fry with explosive results. The loss of the left eyebrow was well worth the reprieve from steak and kidney pie. Today Roger runs his own creative agency as a pretext for his food-based escapades. If you are unlucky enough to be seated next to Roger in a restaurant, do be thankful that he is annoying you with his camera, and not attempting to flambé with a wok.