I have been a big fan of the Dim Sum Dollies since day one. I've known Selena and Pam for years and considered the late, incredibly talented Emma a friend. To date, I've been to all their shows. So I am extremely happy that the Dim Sum Dollies has reformed, with the affable, enthusiastic and super cool Denise Tan joining everyone's favorite, local musical-theatre-cabaret-trio. Their new show, Crazy Christmas Ting Tong Belles, kicks off next week, on the 11th of December and runs through to the 22nd of the month. It is very much, for anyone who enjoys silliness, showtunes and Singaporeans making fun of themselves, a must-watch for the holiday season. You can purchase tickets here.
Denise, the new Dolly, was kind enough to have a quick chat with me, in which we talked about the show, Christmas, and, of course, food.
Hi Denise, can you tell me about the Crazy Christmas Ting Tong Belles show please?
It's a virtually all-female cast this Crazy Christmas with the gila girlies Judee Tan, Mina Kaye, Glory Ngim, Petrina Kow, Seong Hui Xuan and it also marks the return of the Dim Sum Dollies – Selena Tan, Pam Oei and myself as the newest addition to the tasty trio. We're getting together to sing, dance, and share all the love and laughter this festive season has to offer. Sebastian Tan crashes the all-girl gala, by putting the "Broad" in Broadway Beng, Kumar will candy-cane you with his peppermint-spiced humour and there'll be awesome acapella from Vocaluptous too. From trishaw sleigh rides to Frosty's pet gripes, from Jingle Bells to Ting Tong Belles, Crazy Christmas promises a very loco, very local time for everyone. It's the year-end favourite packed full of skits, songs and dances that'll get in the festive spirit and have you singing and laughing all the way Ho! Ho! Home from the Esplanade.
You're replacing the amazing Emma Yong in the Dollies. How hard has that been both emotionally and physically?
Simply put, it's been bitter-sweet. Pam, Selena and Emma were always so lovely and encouraging to me and now, I really want to honour Emma's legacy and do the Dollies proud. It's been a lesson in putting aside my fears and doing something special for a friend. I realised what a tight, supportive unit DSD are and there's a lot of comfort knowing you're not performing alone. So physically, the rehearsals have been great – in fact putting your nose to the grindstone and working on choreo, harmonies and the skits have been a really good way to just get on with things, but of course, underneath it all, we all miss Emma terribly, yet there's that sense that she's always with us.
What Dollies song, past or present, is your favourite?
Definitely our insanely catchy theme song, You Want a Piece of Me? It sums up what DSD is all about – 3 hearts in a cart, steaming, gleaming, overflowing, beaming, flashy, eyelashy, but never too trashy and here to turn everyone's frowns upside-down! Coming in a very close second is Parking Pontianak, of course – so hilarious, so true, but sadly, that particular breed of parking auntie is a rare sight these days, that's why it's a favourite – it captures a nostalgic slice of Singapore history.
You're a big name in our local media scene, thanks to your great stage performances and radio job. What have been the greatest highlights in your career so far?
Definitely being a part of the Dim Sum Dollies is huge for me – I still haven't quite wrapped my head round it yet, but I really have to say thank you to Selena and Pam (and Emma) for smothering me with their love!
Being in the 10th and 20th Anniversary productions of iconic local musical Beauty World was pretty awesome – I made my professional theatrical debut in 1998's Beauty World as a member of the ensemble, and 10 years later, I was Lulu, the conniving number 1 Cabaret girl. It represented my own personal growth as an actor.
Getting a Life! Theatre Awards Best Supporting Actress nomination for my role in The Full Monty was memorable too. It was a couple of firsts – my first acting nomination and Pangdemonium!'s very first production (naked men – how to forget?!). For my radio work, I think getting a nomination for most creative trailer at this year's MediaCorp Radio Awards was a nice acknowledgement too.
Nominations aside, ask me again when I actually WIN something – hahaha! But seriously, it sounds clichéd, but I get paid to do what I love – I really feel like my entire career so far has been one long highlight.
Since the show is about Christmas, let's chat about that? How do you usually celebrate the holiday?
With a big Christmas Eve bash my parents throw every year at home – the food and champagne doesn't stop flowing, and friends and family gather just to makan and make merry. Spontaneous carolling or dance-offs have been known to happen. Then on Christmas Day it's another party with friends, more feasting, a gift exchange and a ridiculous tradition we started years ago called the Miss Mariah (after pop diva Carey) Contest. Yes, it involves a tiara, a scepter, a sash and a speech, but no, it doesn't include any Mariah impersonations! It's quite mad! Every year we try to prevent one particular friend (who is the BIGGEST Mariah fan) from winning!
Any special Christmas foods that you especially love?
Nothing really special, but I do have a serious carb-addiction – so come Christmas time, I totally let go and I gobble down copious amounts of mashed potatoes. Buttery, creamy, total comfort food. There are so many things you can do with leftover mash…
add lots of garlic…
add pesto…
add cheese and bacon…
smother in gravy…
Make a shepherd's pie…
coat in egg and panko and deep fry…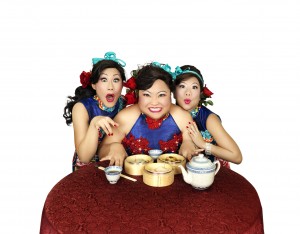 I know you are quite the foodie. If you had to limit yourself to only eating at 5 local restaurants, cafes or hawker stalls, which 5 would they be?
Oh no! This is an evil question! My love for food has no limit! How can you ask me that? This is by no means an exhaustive list, obviously, so I'll just tell you what I feel like eating right now, right this instant…
Mala Hot Pot
There's a place I like to go in Sembawang that many Mainlanders go to – 川王府火锅Chuan Wang Fu Hot Pot. It's strictly no-frills and self-serve, but ooh, the broth is really fiery and oily and addictive and best of all, for about $20, it's an all-you-can-eat orgy of fresh ingredients to dunk in your bubbling cauldron of soup! I'm truly a kiasu Singaporean when it comes to hotpot! Plus, come the next day, helloooo ring of fire! It's my masochistic way of detox!
Sop Kambing
Can you tell I love soup? I love my mutton soup spicy and savoury, so no Chinese herbal-style for me – it's got to be Bahrakath Mutton Soup King at Adam Road Food Centre. You always get a deep, rich flavour and throat-tickling peppery kick from the fragrant broth. Plus there are lots of meaty morsels in there to chew on. If I'm feeling poorly, I head straight for a bowl of liquid comfort from the mutton soup king!
Mee Pok
This is my absolute favourite local dish. The combination of tangy black vinegar, soya sauce, sambal, lard, springy noodles and big, bouncy fish balls blows my mind! For a taste of my childhood (my parents used to take me here all the time in the early 80s and my dad would always get in an argument with the gruff guy serving noodles – dinner and a show, yes!), I go to Newton Hawker Centre's Soon Wah Fishball Kway Teow Mee. The gruff fellow's still there, but he's mellowed out a lot – in fact, they once gave me a bowl of fishball mee pok for free, just because. That totally made my day – that's part of the reason I keep going back – I'm hoping maybe they'll treat me again! Haha.
More Mee Pok
Told you it's my favourite! This one is a more recent discovery and worth queuing for. The man behind Ru Ji Kitchen hand-makes fishballs and fishcake to go with his spicy, perfectly al dente noodles. It's clean, simple, tasty and really, really satisfying. I go to the one in my hood, Holland Drive, but since the food centre has been closed for renovations, I can still get my fix at the Old Airport Road branch run by his daughter.
Steak Frites
Meat and potatoes – killer combo. Usually, I make do with a burger and fries, but if I'm feeling a little more atas, just a little, I head for L'Entrecote on Duxton Hill for French bistro-style Steak Frites. The portions are huge, the fries hot and crispy, the meat tender and smothered in a distinctly tangy, mustardy sauce that makes my mouth water just thinking about it. Plus it's casual, reasonably priced, and they serve you a complimentary Kir aperitif before your meal.
Any Christmas wishes that our readers should know about (and that maybe they can grant)?
We can get pretty caught up with all the merry-making and shopping and feasting during Christmas, but it's also a good time to remember those who are suffering and not able to celebrate the season, especially our neighbours in the Philippines who are still trying to rebuild their lives in the aftermath of Typhoon Haiyan. Perhaps instead of buying gifts we could make a donation to the Red Cross's relief efforts, in our loved ones' names?
I've asked you how you spend Christmas, but can I also ask what does the holiday season mean to you?
I'm a Christian, so this is one of the biggest, most meaningful seasons in the whole year. For me, the Holiday Season means practicing what Jesus preached and it can be summed up in one word. LOVE. To be grateful that I am loved. To love others. To be with loved ones.
If you could have dinner with three other people, alive or dead, in any restaurant in the world, who and where would you pick?
I've been working so much this year that I've barely seen my family, so there's really no place like a dinner with my parents at home. Home is the best restaurant because, even though everyone says this about their mom, mine really is the best cook! I'll ask her to make Itek Tim, Nyonya Noodles and Buah Keluak Sambal roasted in banana leaf. Oh, and Muppet Show diva Miss Piggy could join us – she'll be equal parts terrifying and entertaining – nothing like a little fear and fun to keep dinner exciting. Better tell mom to hold the lard, though.
Go see Crazy Christmas Ting Tong Belles. That's all I'm gonna say. Happy holidays.
Aun has always loved food and travel, passions passed down to him from his parents. This foundation, plus a background in media, pushed him to start Chubby Hubby in 2005. He loves that this site allows him to write about the things he adores--food, style, travel, his wife and his three kids!