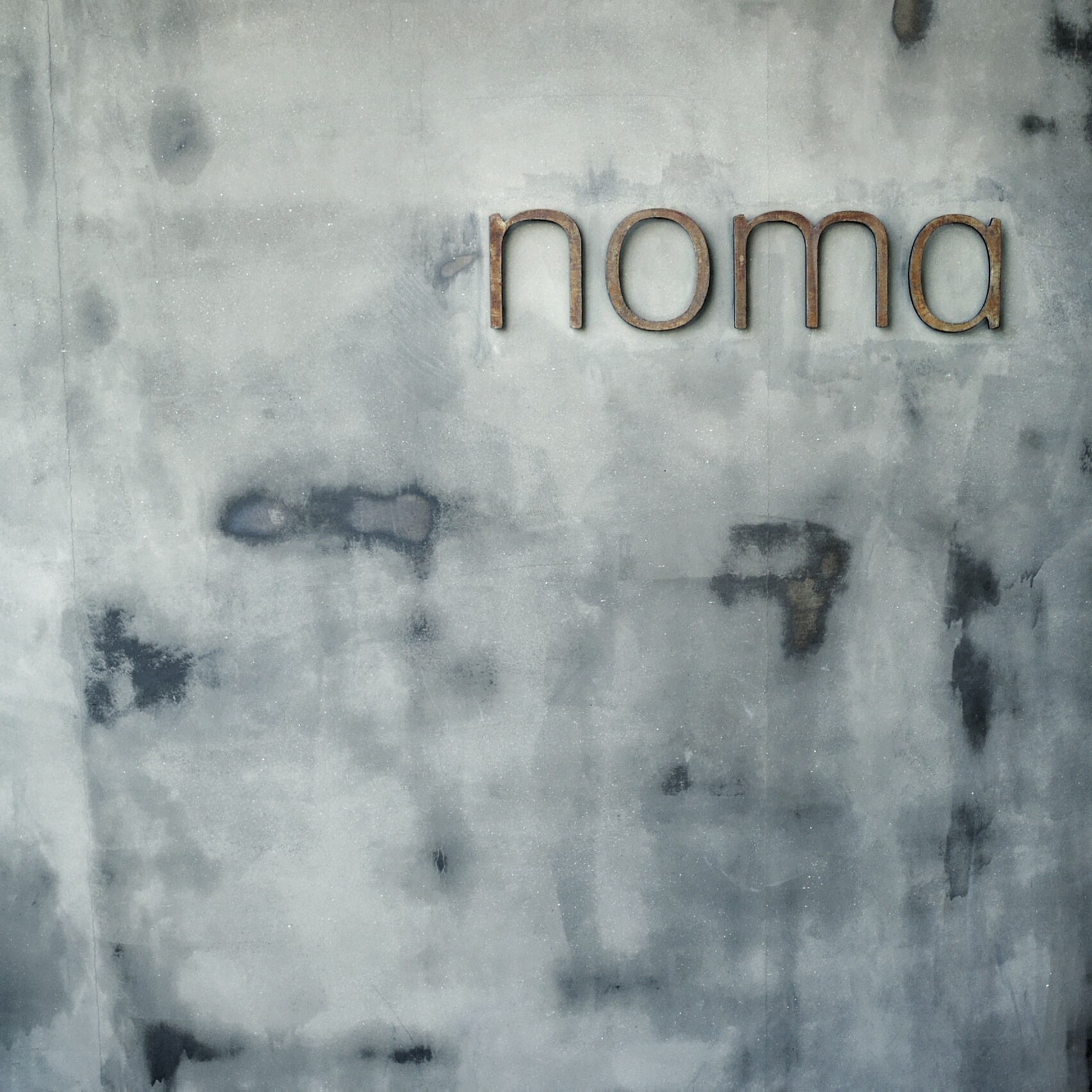 There are meals and then there are once-in-a-lifetime dining experiences. Several years ago, when a friend called up and informed me that he'd been able to secure a table at El Bulli for the following month and asked if my wife and I would like to join him, we immediately said yes, and started to plan an impromptu holiday to Barcelona around the dinner reservation. Just recently, another friend messaged me saying he'd secured a table at the Noma Australia pop-up a few weeks hence and offered us first dibs for two of the four seats at his table. This time, we had to think about it for a day or two; it's harder to pick up and go on a last-minute jaunt when you have a couple of wee ones at home. But our culinary curiosity got the better of us and we agreed! Especially when the wifey went online and read the review by Pat Nourse, who called it a once-in-a-lifetime experience and ended his article with the line, "Beg, borrow or steal: this is one party you'll want to join."
So, on a gorgeously sunny Thursday, we found ourselves alongside our buddy and a friend of his at the Noma pop-up at Barangaroo Wharf, a new chic urban development just west of the Sydney Opera House and north of Darling Harbour. While we were all excited by the lunch to come, other than the knowledge that Chef Rene Redzepi's menu would explore local Australian ingredients, I didn't know what to expect. In contrast to the wife — who read everything she could — I decided to read nothing. I hate going to a movie only to realise the trailers or reviews of the film have given up all of its secrets. Similarly, I didn't want to know what I was going to served. The knowledge of who Rene Redzepi is (currently the most lauded chef on the planet) and what his culinary outlook is, I felt, would be enough.
The meal, I can now say, was extraordinary. And now that I have eaten it, I've taken the time to read some of the reviews by peers and professional food writers. And, if you want detailed analyses of the Noma Australia menu, I suggest reading some of those here, here, here, here, here and here. Because I am not going to go into details. I'm just not knowledgable enough to dive as deep as some of the guys whose articles I've linked to.
What I will say is that the meal was without a doubt, as Mr Nourse, put it, a once-in-a-lifetime experience. The use of local Aussie ingredients was incredible, in not just the way he used unfamiliar ingredients, but also in the way he took familiar ingredients and showcased them in ways we (and from what I've gathered most Aussie chefs) have never considered; and in the way he used local ingredients in the background, as building blocks for sauces and toppings to create unexpected yet spectacular flavour accents. Of the 13 courses we ate, there were only two that I didn't find delicious; but one of those was extraordinary in the way it brought the flavours of its ingredients together. Overall, the meal was incredible, in that it was tasty, enlightening, and educational all at once. The service team were all also amazing: unpretentious, friendly, informed, and clearly enjoying what they were doing. We were given the option of either a juice pairing or a wine pairing; after a little hemming and hawing, we asked if we could combine them, i.e. half the courses with juice and the other half with booze. And we were very glad we did. The juices were as extraordinary, interesting, complex and delicious as the food, made from combinations I for one would have never thought of. The wines, on the other hand, were interesting but not amazing. Chef Redzepi had decided to serve only natural wines. I would have rather he had showcased Australia's best vineyards irregardless of process. But hey, he's Rene Redzepi… he can do whatever he wants at this point.
Anyway, here's what we ate: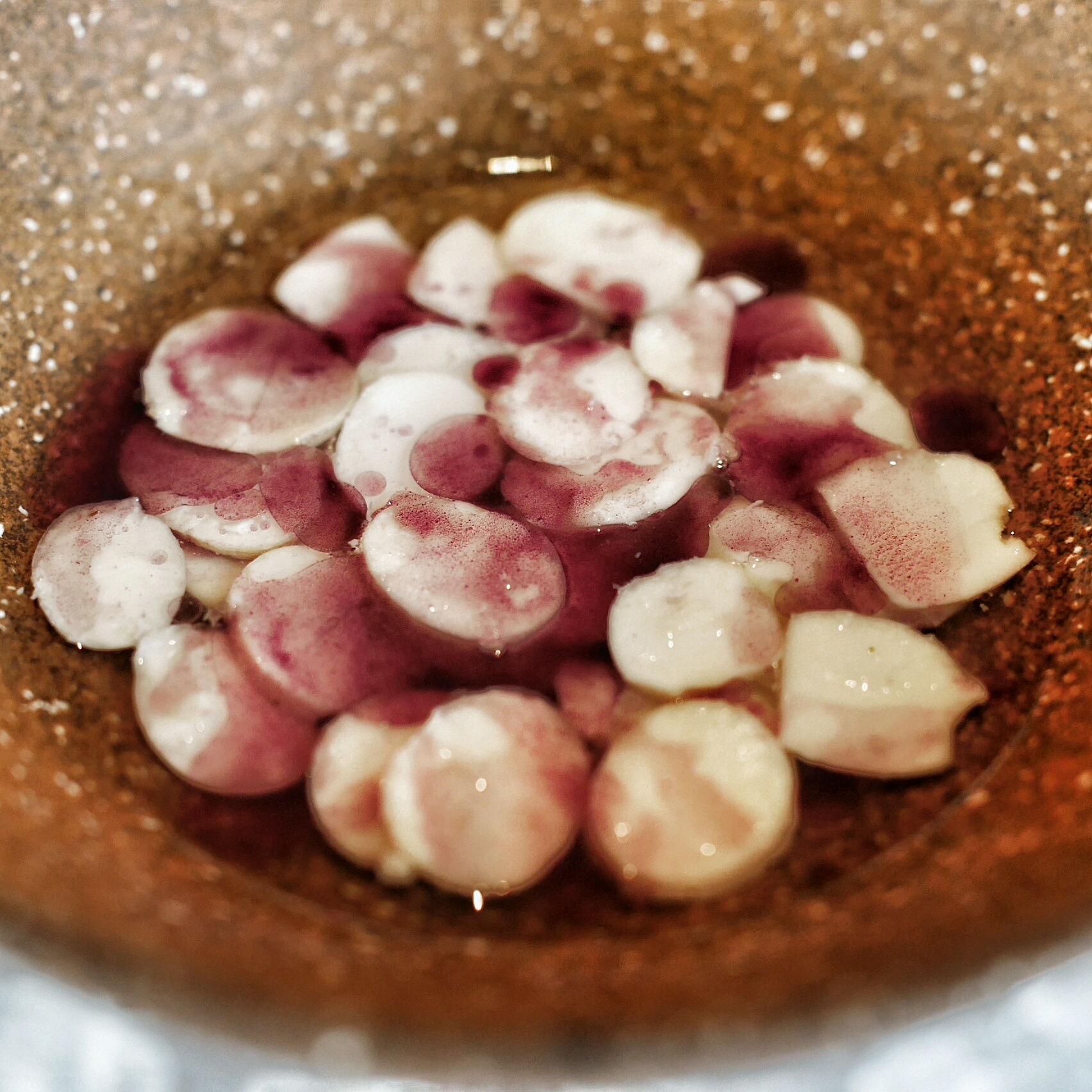 Unripe macademia nuts, thinly sliced, in a spanner crab broth. This was fresh and delicious. My notes say, "the level of seasoning is perfect!"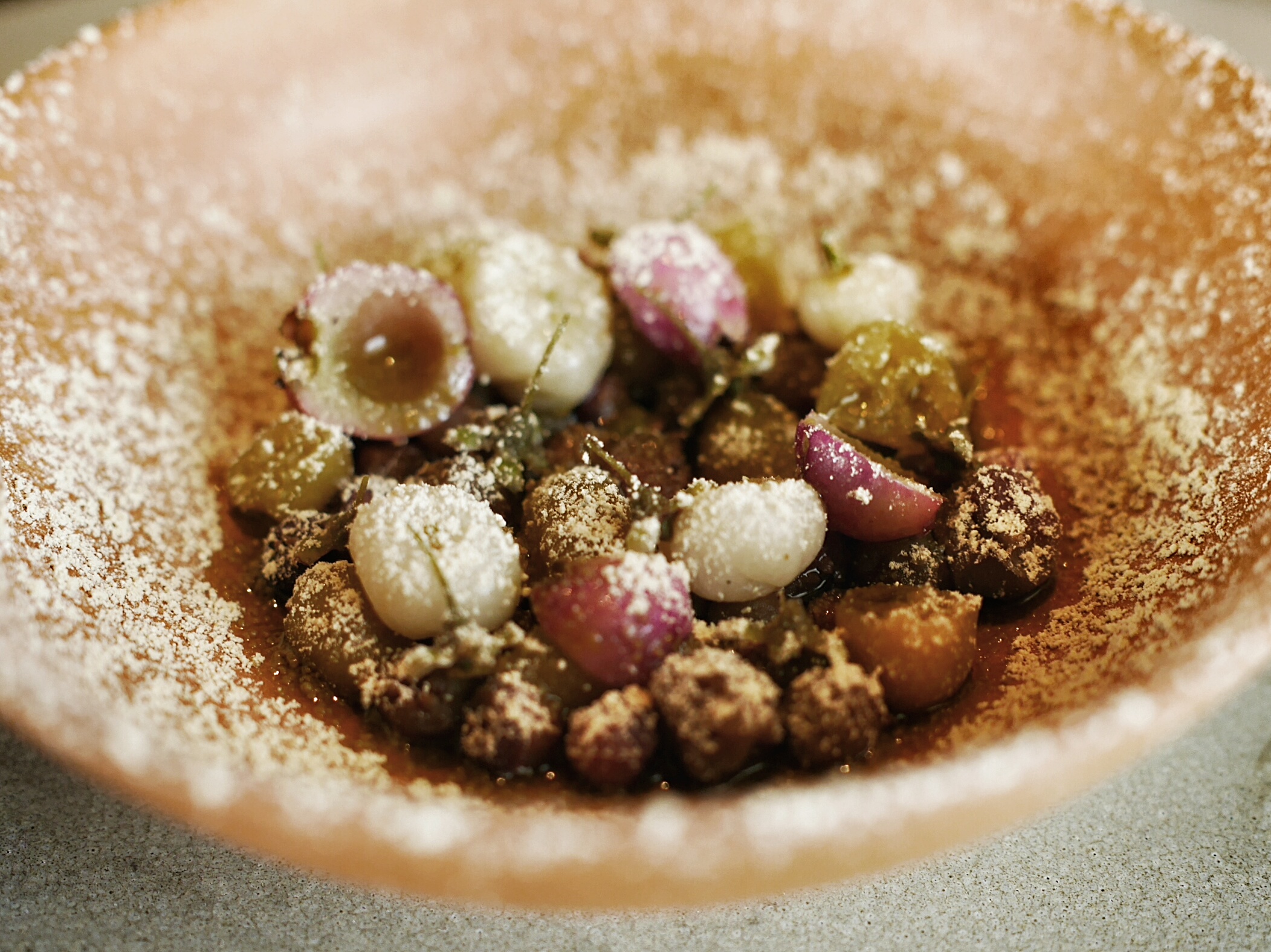 Native Australian berries flavoured with seaweed oil and sprinkled with a plum powder. This was one of the two dishes that wasn't really for my palate, but I had to give it massive props for what it was trying to do.
Porridge of golden and desert oak wattleseed with saltbush leaf. This has a great anise-like myrtle oil that brought everything together. It was minty, herbaceous, and savoury.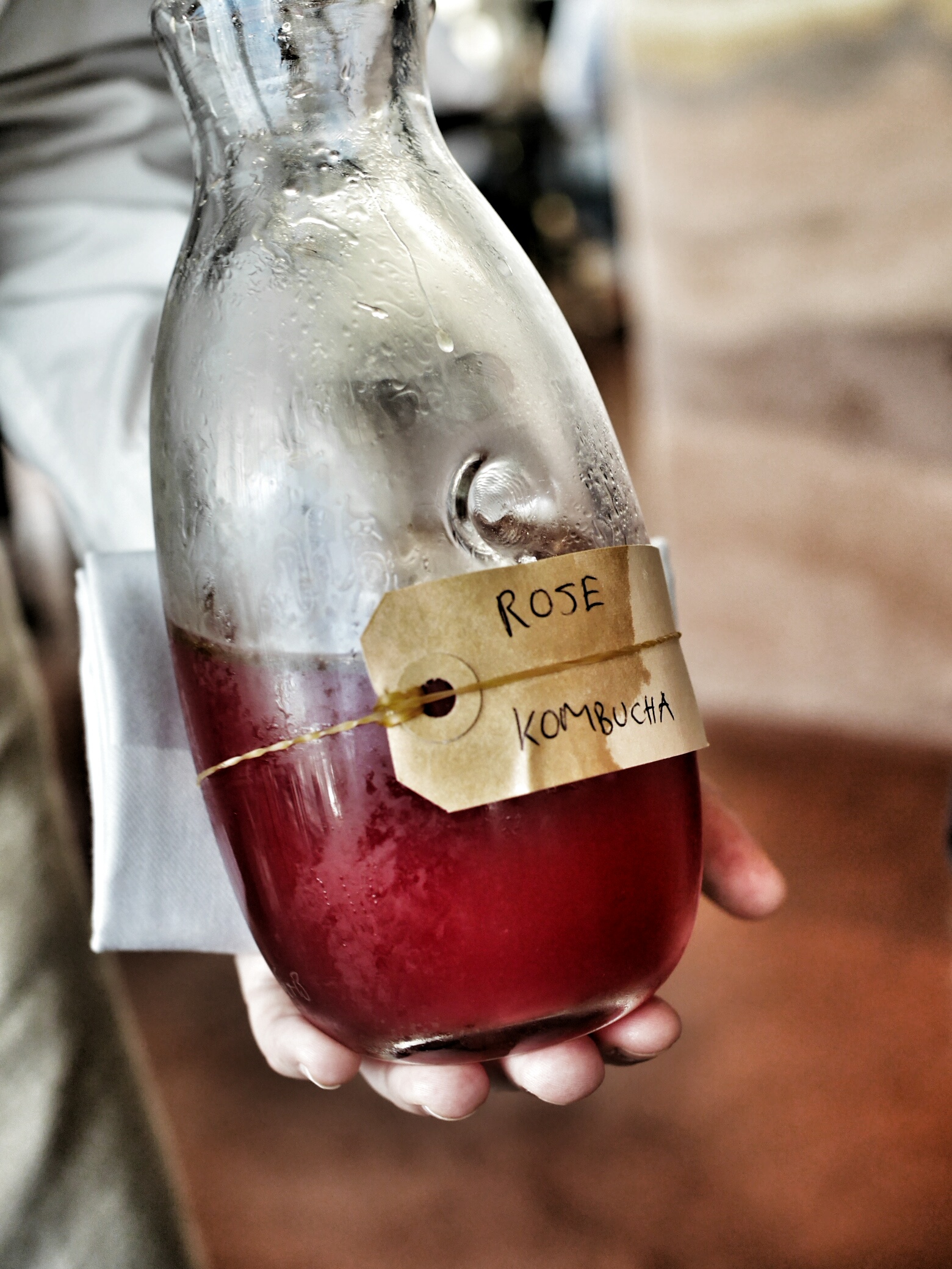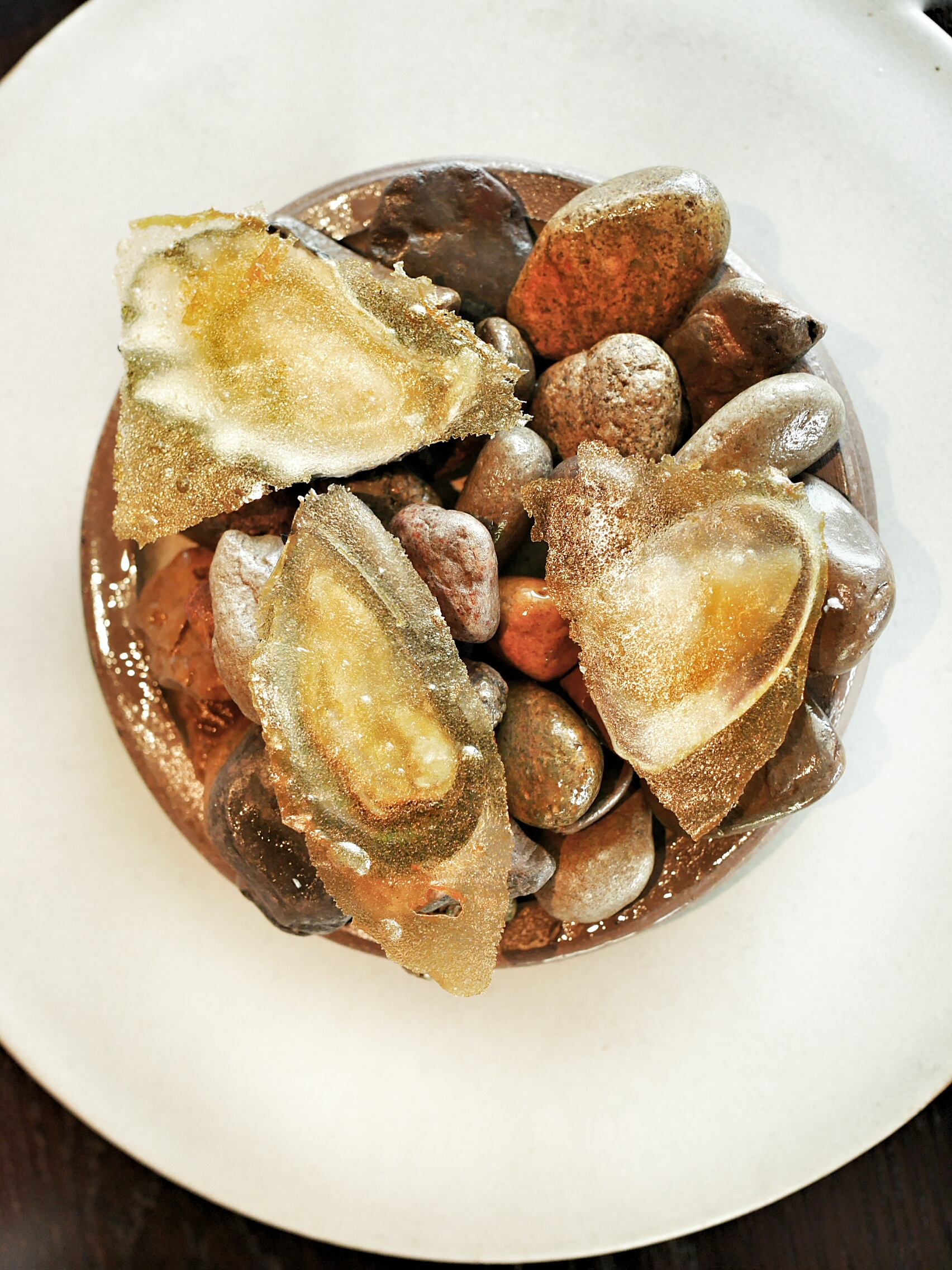 This was an incredible seafood platter: local clam, mussel and oyster, lightly dressed with a katsuoboshi vinaigrette and covered by crisp skin of reduced chicken stock brushed with crocodile fat.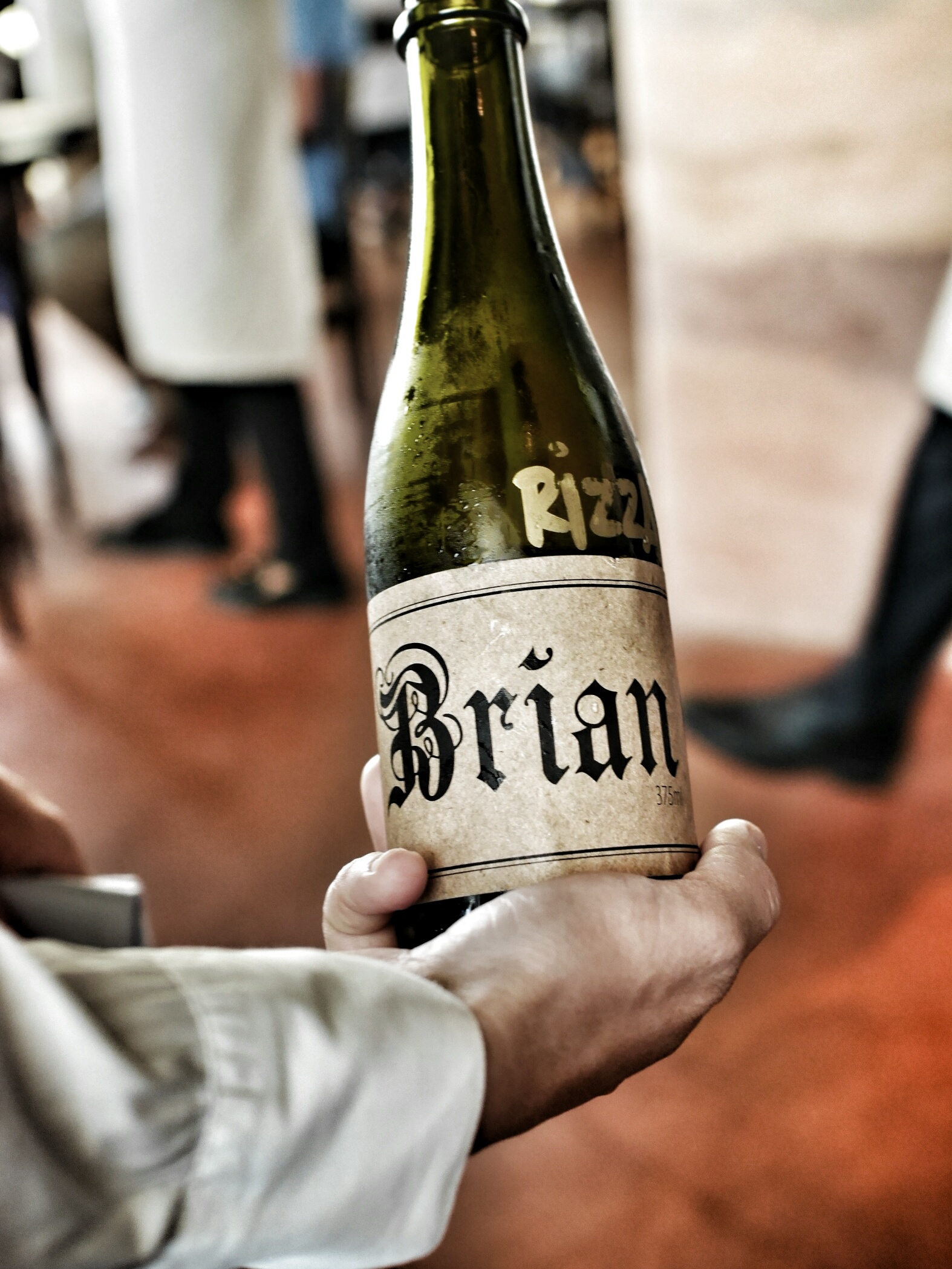 This dish was the best of the meal and one of the greatest things I've ever eaten in my life. Hand-picked Albany snow crab with an egg yolk emulsion that was made from an egg yolk cured in a house-made wallaby sauce. The sauce was made the same way one would make fish sauce. In this case, Redzepi made a sauce with wallaby and fermented it in jars (in the basement of The Old Clare Hotel) for six months. This dish was about being able to serve something at once elegant and refined but also powerful and heady. The natural flavours of the crab were gorgeous, but then having it with the yolk sauced turned it into something umami, addictive and quite frankly mind-blowing.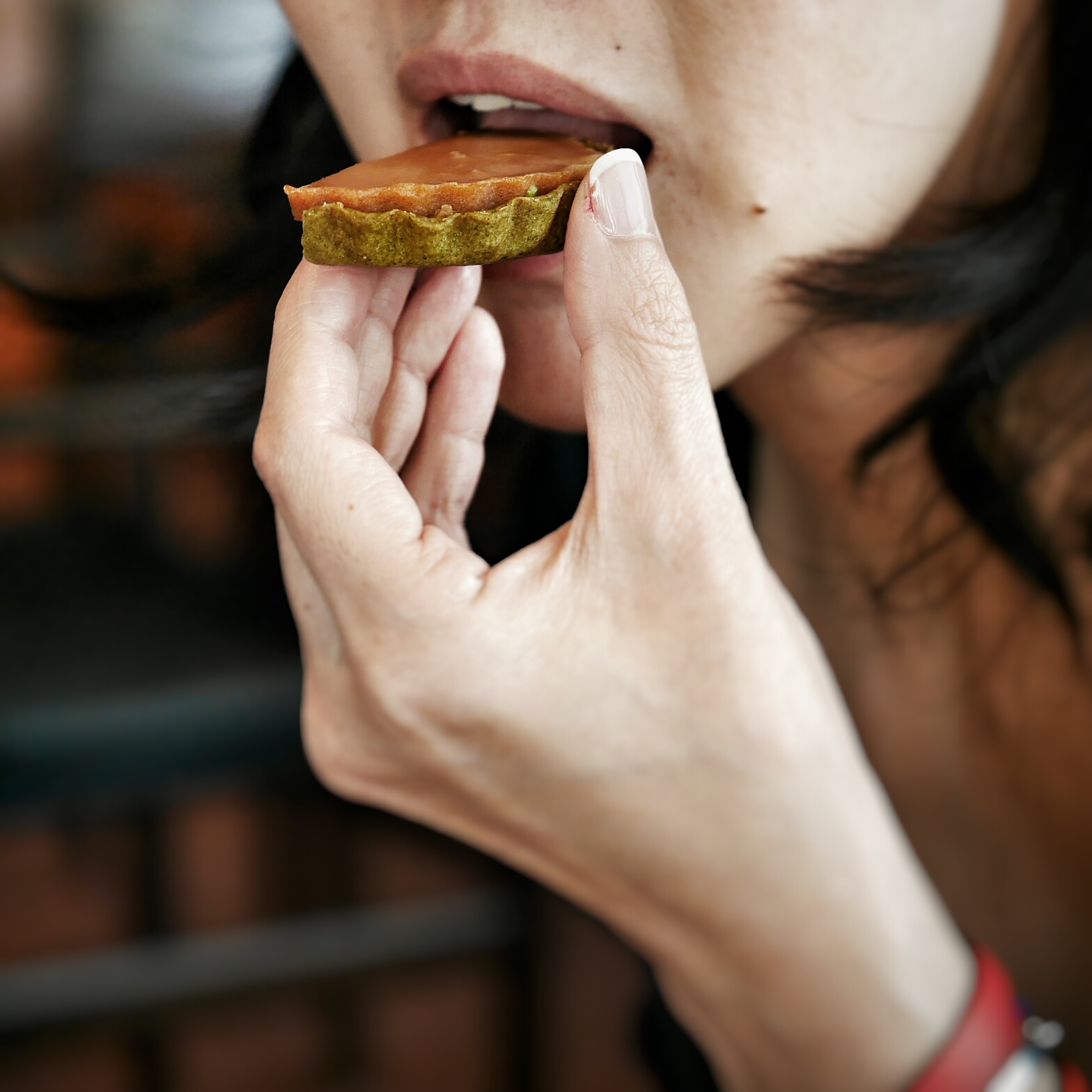 A pie made from dried scallops with a seaweed shell. This was served with nasturtium flowers, which you are asked to eat alongside the pie.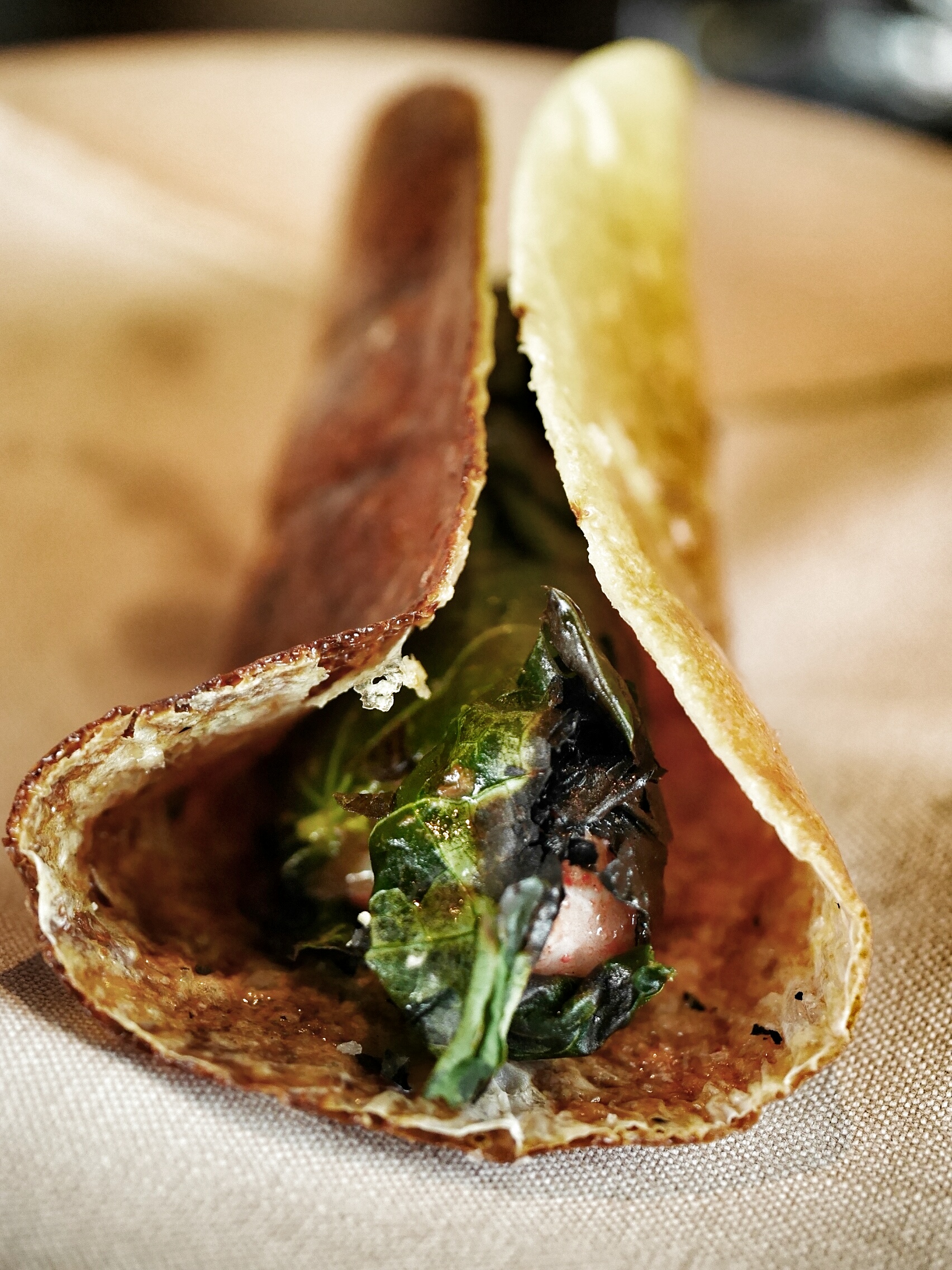 Barely cooked marron with a magpie goose relish, wrapped in barbecued milk skin. Redzepi called this his "dumpling".
A slice of avocado under a thick layer of house made truffle paste.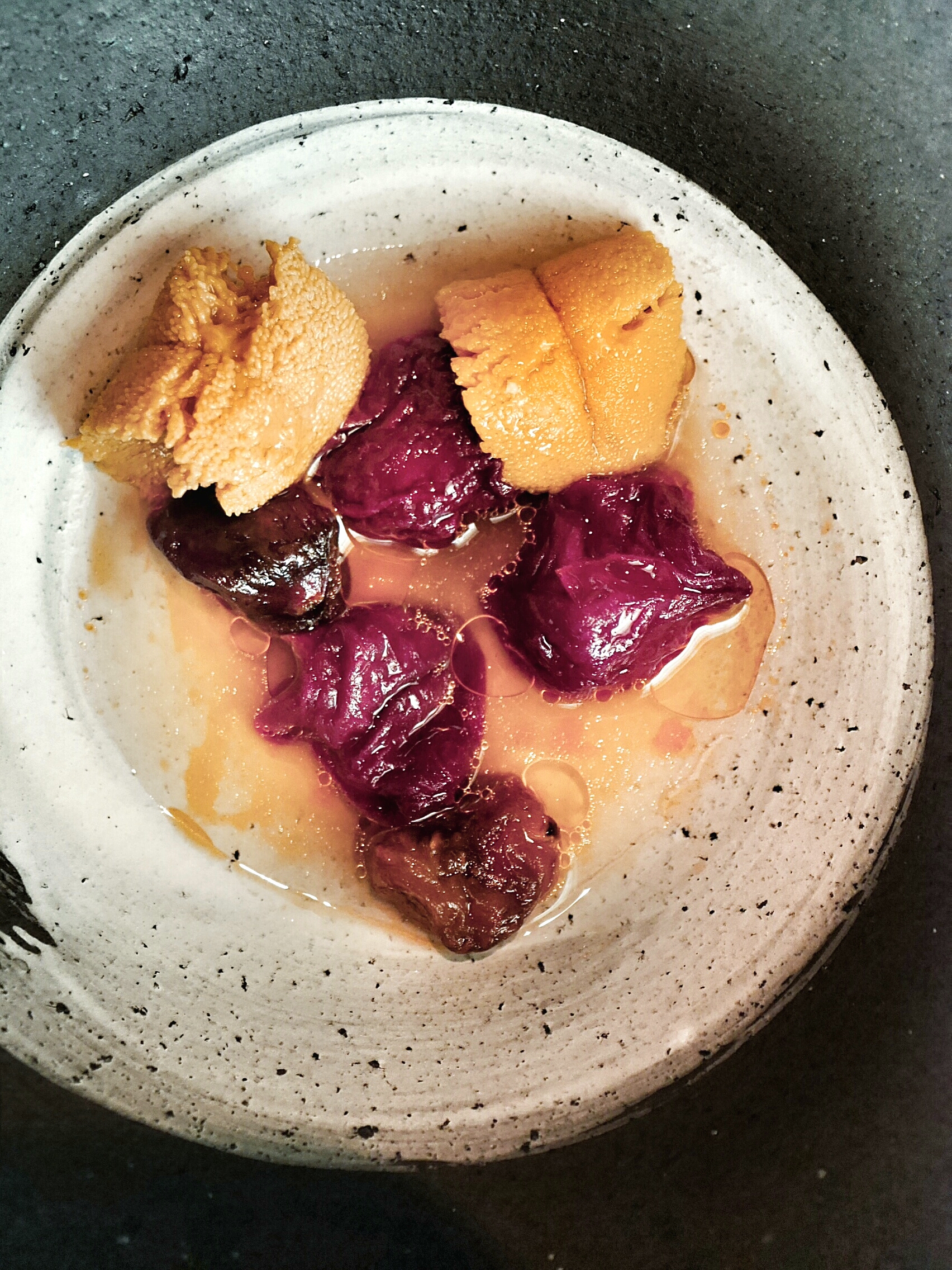 Sea urchin and dried cherry tomatoes and pepper berries, with accents of elderflower. This was a marvellous dish that brought together sweet, savoury, chewy, and creamy elements.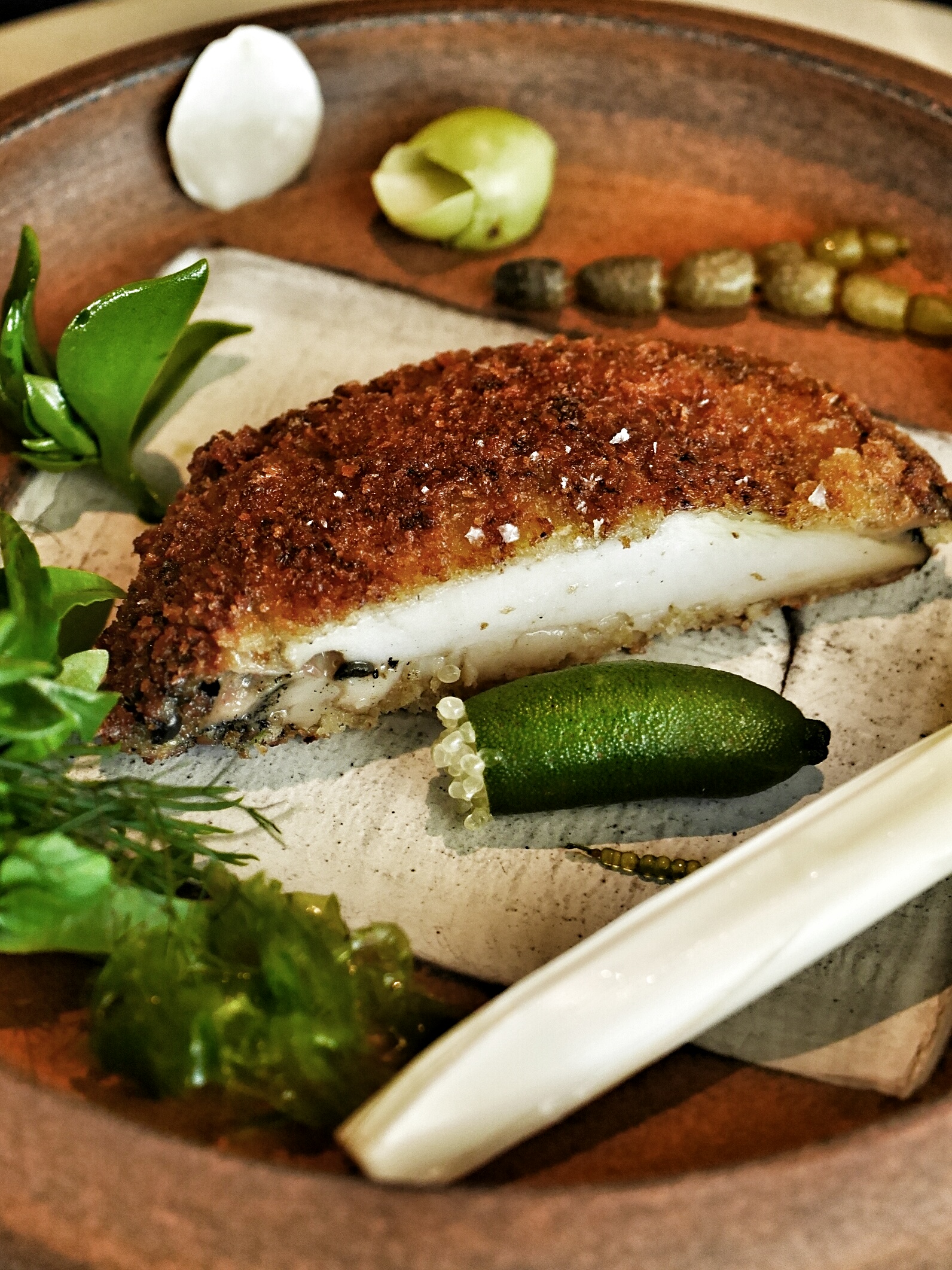 Hand-dived wild Eden abalone schnitzel with "bush condiments". I was very happy to see, on my plate, my new favourite Aussie vegetable, the ice plant. I know that's a random comment but it's something I discovered this past trip that got me really excited.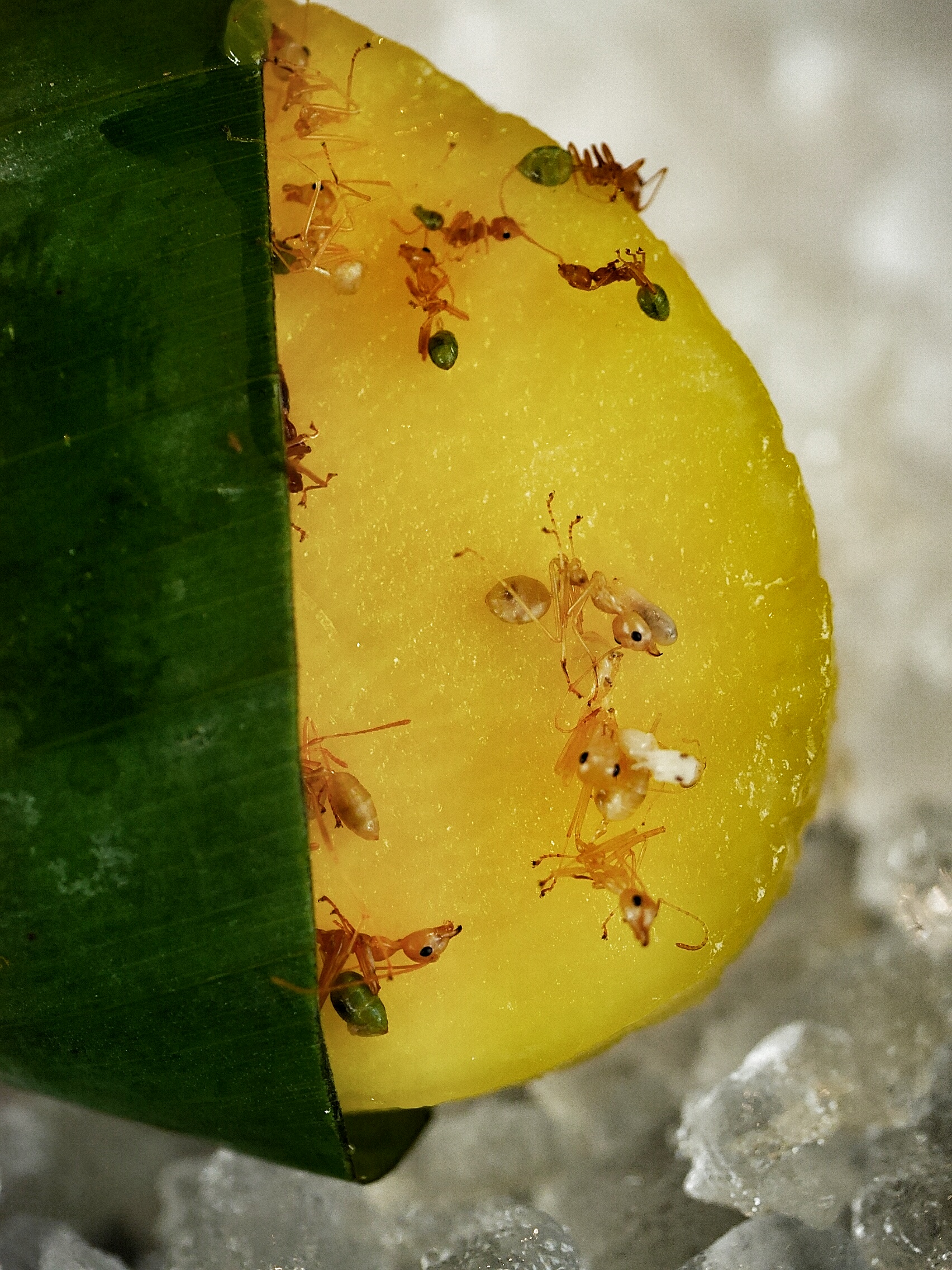 A plate of three marinated pieces of fruit: a piece of pineapple marinated in whisky; watermelon marinated in plum juice; and a mango ice cream sandwich, that just happened to have edible Northern Territory ants on it.
A rum "lamington" made from rum ice cream and milk crumble, with a native tamarind sauce and rose oil.
A peanut milk and freekah "Baytime". This was the second thing I wasn't big on. I liked the peanut milk and the filling but wasn't a fan of the shell.
Some tiny snacks to go with our coffees made entirely from different parts of native lemons.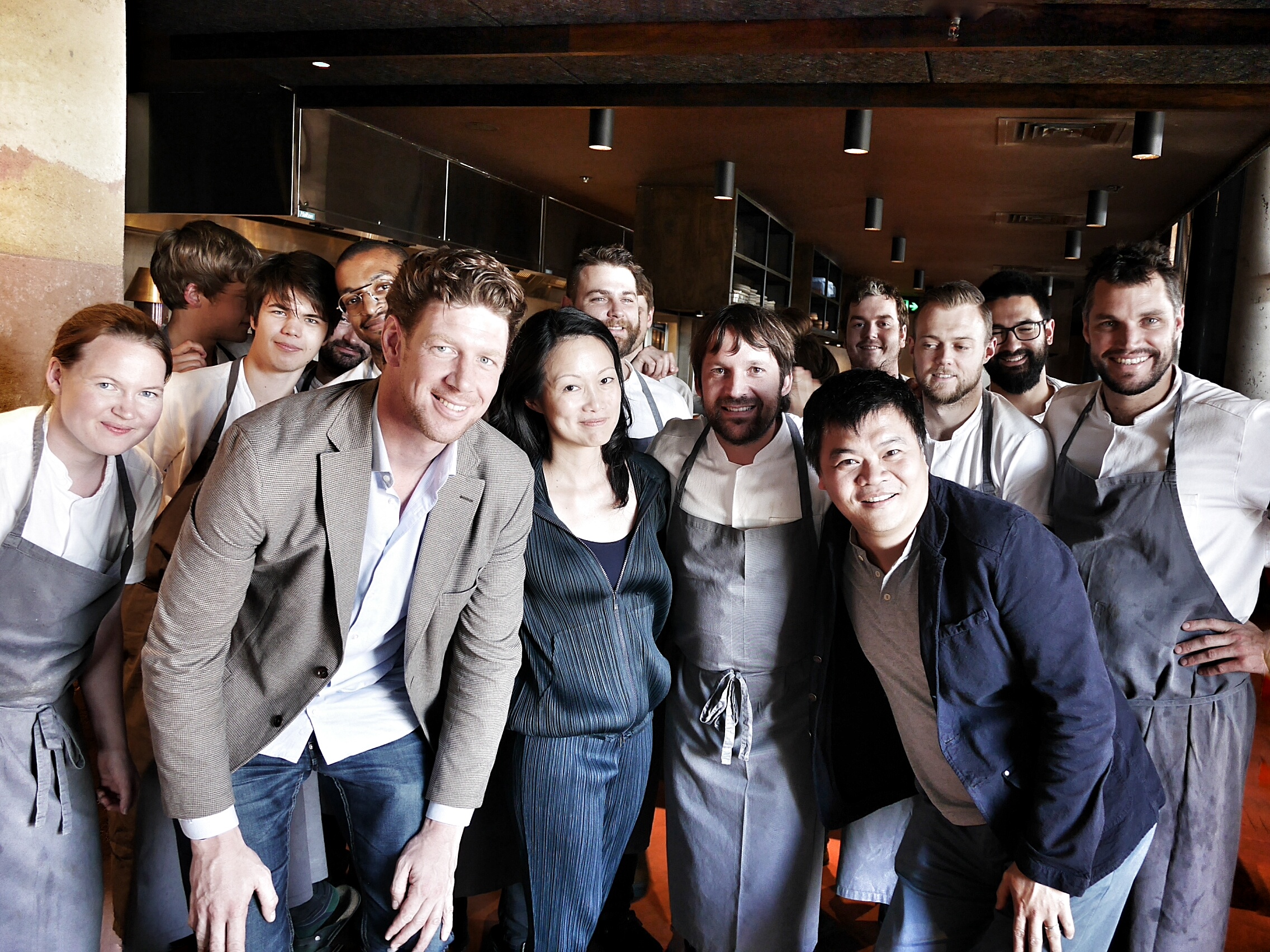 My wife, our dining companions and the Noma team. All I can really say is, "Wow! What a meal." Plus a huge, huge, huge thank you to our buddy who scored one of the toughest reservations on the planet. Thanks dude!
Aun has always loved food and travel, passions passed down to him from his parents. This foundation, plus a background in media, pushed him to start Chubby Hubby in 2005. He loves that this site allows him to write about the things he adores--food, style, travel, his wife and his three kids!