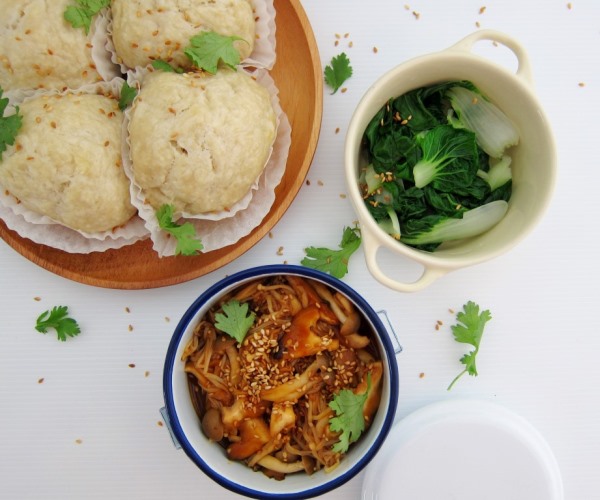 As a home cook who cooks almost every day, thinking about what to prepare for lunch or dinner can sometimes be a tiresome affair. Though I have a mini repertoire of dishes that I have on rotation, I know that sooner or later, I will get bored, frustrated and give up cooking (okay, maybe not that serious).
Despite my bookshelf of cookbooks, the recipes that I am drawn to often required a far bit of prepping and ingredients that I do not necessarily have stocked up in the fridge or pantry. I only schedule half an hour for prepping and cooking, and I am always unwilling to buy a truckload of ingredients just for that one dish.
Thus, I felt I was in luck when I found this recipe which required ingredients that I always have at home (coconut milk, flour, mushrooms and hoisin sauce). I know I have found a winner when the entire meal takes less than half an hour to cook, yet with a result that looks like I have been slogging in the kitchen for hours. The recipe also breaks away from the mundane – instead of serving the hoisin mushrooms with rice, they are eaten with coconut buns. This is a meal that it is not just easy to cook but fun to eat. The bonus? it is delicious too.
Coconut buns with hoisin mushrooms and vegetables
(Adapted from Jamie Oliver's 15 minutes meals)
Actually, I 've tried this recipe a few times and I have yet to prepare it under 15 minutes. That said, this recipe is definitely achievable within half an hour. I have made a fair bit of edits from the original recipe. Since I do not have a bamboo steamer, I "macgvyered" some of the steps. I also converted the recipe to a meatless version.
Serves 4 very hungry people
Coconut buns
My suggestion is to make the coconut buns first before you start on the hoisin mushrooms and vegetables. This is also one recipe where I strongly recommend that you use the food processor. The finished dough is quite sticky – if you use your hands or wooden spoon, it might be a mess (trust me, it will not be a pretty sight).
Makes 8 buns
Ingredients
400ml skim coconut milk
500g self-raising flour (if you do not have self-raising flour, you can use 500g of all-purpose flour and add in 7g of baking powder)
A pinch of salt
With the stove on medium heat, pour water into a wok and make sure it reaches a 5cm height. And place a wire rack in the wok and cover. If you have and are using a bamboo steamer (preferably 25cm wide), there is no need to have the wire rack (unless the bamboo steamer is touching the water).
In the bowl of the food processor (make sure the bowl blade is already in the bowl), add in the skim coconut milk, self-raising flour and a good pinch of salt and whiz the mix into a dough. You know it is ready when the dough starts to come together and clear the side of the bowl. This will take mere seconds.
Once the dough is formed, tip it out to a floured work surface. Dust some flour of the top of the dough too.
As the dough is quite sticky, working really quickly, roll the dough into a log shape and divide them into 8 equal sized pieces (using either a bench scraper or a knife). My OCD self would weigh the dough and divide them accordingly. As mentioned, the dough is really sticky, I wouldn't advise weighing and dividing them – it will be a mess.
Once the dough is divided, place each piece in a double-layered paper muffin cup. There is also no need to shape the dough into a ball before placing it in the muffin cup. It is ok that the dough looks a bit scruffy.
Place the filled muffin cups in either the bamboo steamer (single layer) or on a plate.
Open the cover of the wok, place the bamboo steamer or the plate in the middle and cover (at this point, the water in the wok should be simmering, bordering on boiling). Crank up the heat to high, cover and let the buns steam for 15 minutes (While the buns are steaming, you can work on the hoisin mushrooms and vegetables).
After 15 minutes, uncover the wok and check if the buns are cooked. I would open up one of the buns to ensure the inside is cooked. If it is not, just leave it to steam for another 5 minutes.
Once the buns are done, off the heat and remove the buns from the wok and serve them warm*.
Hoisin mushrooms and vegetables
In the original recipe, Jamie Oliver added skinless chicken breasts which I omitted to make this dish more vegan friendly. He also placed chicken, mushrooms and vegetables in a separate bamboo steamer and cooks them together with the coconut buns. I do not have a bamboo steamer hence I stir-fry the mushrooms and blanch the vegetables instead. If you plan to use a bamboo steamer, I will advise you to place a plate inside so that the juices from the mushrooms and vegetables will not be lost. And you only need less than 5 minutes for steaming.
Ingredients
400g mixed mushrooms (personally I think the Asian mushrooms work very well in this dish. I used an assortment – enoki, oyster mushrooms, (buna)shimeji and shiitake mushrooms)
1 clove of garlic, crushed, minced
2 tablespoon hoisin sauce (I used Lee Kum Kee)
1 teaspoon of oil (I preferred neutral oil like vegetable or grapeseed oil)
Juice of 1 lime
200g vegetables (you can use anything you like – broccoli, cabbage, bay chok. I love nai bai (奶白))
Water
Salt
Toasted sesame seeds (optional)
Coriander (optional)
Wash and prep your vegetables accordingly. If you are using bay chok or nai bai, you might want to cut the ends off. If you are using cabbage, cut them into chunks.
In a non-stick saucepan or wok, fill it with water (make sure it is enough to cover the vegetables) and bring it to a boil.
Once the water is boiled, add in a generous pinch of salt. Have a slotting spoon or a colander on standby, lower the heat of the stove, and add in the vegetables. Depending on the vegetables you are using and size, cook them accordingly. For example, for the nai bai, I just blanched them for 30 seconds. Try to undercook the vegetables as the residual heat will continue to further cook them. Once the vegetables are cooked, drain (either using a slotted spoon or colander) and set aside. And don't wash the saucepan or wok as you will use it for the mushroom**.
Prep the mushrooms – I don't wash my mushrooms, I usually clean them with wet tea towels or kitchen towels. If you are using oyster and shiitake mushroom, cut them into bite sized pieces. For enoki and shimeji, cut the roots and tear them apart. Place all the mushrooms in a large bowl.
In the same large bowl, add in the minced garlic, hoisin sauce and juice of 1 lime and mix well.
On a medium heat, heat up the saucepan or wok (which you have used earlier for the vegetables). Once heated, add in the oil, followed by the mushroom mixture.
Stir-fry the mushrooms, stirring occasionally. If you feel the sauce is a tad too thick and looks like it is going to burn, add 1-2 tablespoon of water to loosen the mixture. The mushrooms will take around 3-5 minutes to cook.
Place the cooked mushrooms on a plate, together with the blanched vegetables (you can also put them on separate plates).
At the dinner table, garnish the buns, hoisin mushrooms and vegetables with a sprinkle of toasted sesame seeds and coriander.
To eat, cut the coconut bun into half and stuff it with mushrooms and vegetables.
*The finished buns are quite dense. They are not like the typical Chinese buns that are light and fluffy. The coconuts buns are quite filling.
**If you are lazy or rushing for time, you can stir-fry the vegetable with the mushrooms. I like to cook them separately (with different methods) so that you can taste the layers of flavours – you can get a bit of dense, fragrant bun with the rich, saucy mushrooms, and a mouthful of clean and crisp vegetables
Mandy's journey into the culinary world began out of necessity–a means of survival whilst she was at university. She believes cooking should be simple and fun. Besides spending time in the kitchen whipping up hearty meals, Mandy also dreams of having a bottomless stomach that she can fill with all kinds of delicious things.