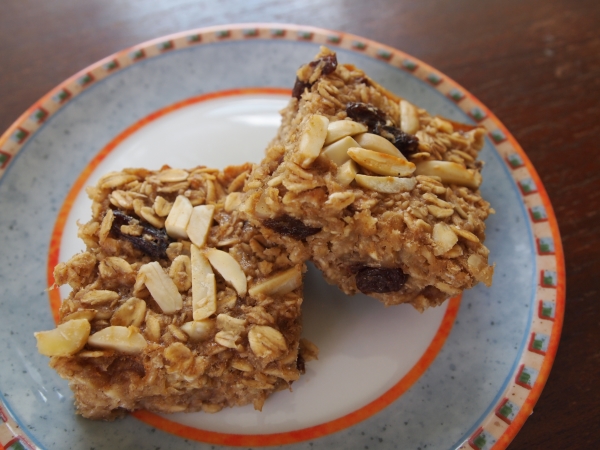 When I think of a nutritious breakfast on-the-go, muesli bars are the ideal. Compact, tasty and substantial enough to keep you filled until lunch, I keep a container of these in the fridge at all times, for a quick bite in the car when we are strapped for time in the mornings. My son loves them as an afternoon snack when he comes home from school, and because these bars are so moist, soft and chewy, I also give small bits (after taking out the nuts) to my 14 month-old daughter to nibble on when she's peckish. Some added chocolate chips will take them into dessert territory; a healthy, yet still indulgent accompaniment to a cup of tea after dinner.
These high-fibre bars are naturally sweetened with honey and over-ripe bananas, which I'm always finding ways to use up. The combination of egg, nut butter, milk, nuts and seeds makes these bars a protein-packed breakfast for our active little ones. Once you give these quick and easy muesli bars a go, I'm sure they will be a regular feature on your family's breakfast rotation.
Honey, Banana and Peanut Butter Bars (makes 16 bars)
2 very ripe, spotty bananas, mashed
¼ cup runny honey
⅓ cup nut butter (I like peanut or hazelnut butter)
1 egg
½ cup milk (I use unsweetened soy)
1 tsp vanilla extract
¼ tsp fine sea salt
1 tsp ground cinnamon
2½ cups old-fashioned rolled oats
¼ cup desiccated coconut
½ cup raisins (dried cranberries and sour cherries are nice too)
½ cup slivered almonds (or any other nuts or seeds you like)
¼ cup dark chocolate chips (optional)
Preheat oven to 180°Celsius (350°Fahrenheit).
Lightly grease and line a 9-inch square non-stick baking pan with parchment paper.
Whisk together mashed bananas, honey, nut butter, egg, milk and vanilla extract.
Mix together oats, salt, cinnamon, coconut, raisins, almonds and dark chocolate chips (if using).
Tip dry ingredients into wet ingredients and mix well.
Pour mix into baking pan, smooth top and bake for 20min.
Cool for 10min, before cutting into 16 squares. Cool completely before storing. Keeps at room temperature for three days in air-tight container or in refrigerator for a week.
Dawn, a lanky food-crazed lady, started out writing for lifestyle magazines, and later spent several years in banking. When not eating, she's cooking, reading about, hankering after, and writing about food. On her first date with her boyfriend (now husband), they dined at four restaurants across Singapore. He's gained 25lbs since, and their culinary escapades continue after welcoming two rotund angels. Dawn's committed to feeding them with the best, and creating lasting food memories and traditions for her family.