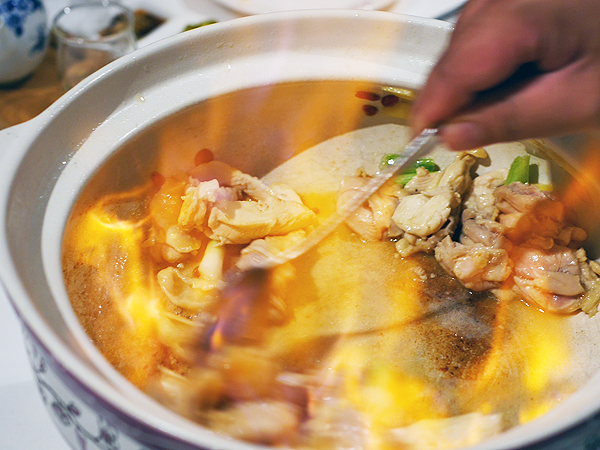 There are some friends who you simply trust explicitly when it comes to food recommendations. My friend L is one such person. So when she raved about the best steamboat meal she'd ever had, and added the caveat that she had been introduced to this gastronomic revelation by none other than Wong Ah Yoke, chief food critic of The Straits Times, the main English newspaper here in Singapore, I knew it was something I had to try for myself. And soon.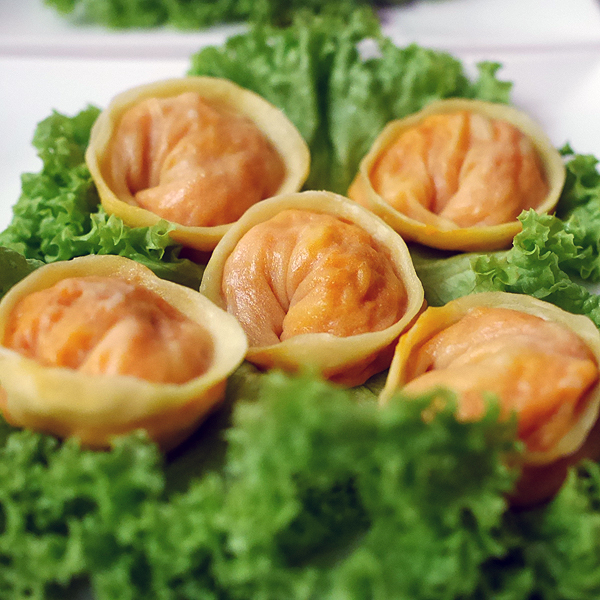 Calling the steamboat dinner at Man Fu Yuan, the Chinese restaurant at the InterContinental Hotel, "steamboat", in my opinion, is a complete misnomer. It hardly comes close to describing the truly incredible food and highly personal service you get. It's sort of like calling a meal at Tetsuya Wakuda's S$400 plus a head Waku Ghin restaurant a "teppanyaki" dinner.
First, let's get one thing out of the way… and that's the price. While the steamboat experience doesn't come close to the price of a meal at Waku Ghin, at S$180 a head, it's still costly enough that it will deter most casual customers. But, in my book, you get what you pay for. You get a private room. You get a member of the restaurant staff personally cooking your food, expelling what you're having and serving you personally the entire meal. You get ultra-premium ingredients, including but not limited to baby abalone, lobster, crab, tiger prawns, grouper, high quality pork and US beef, plus exquisitely made handmade dumplings. You also get so much food that I guarantee you'll need to go to the gym the next day (which is the opposite of most other expensive tasting menus in town).
The meal starts with your personal chef making the stock from scratch in front of you. Chicken, Korean ginseng and Chinese herbs get sauteed and then flambeed, before stewing for a few minutes. Even the first pour from the soup is exquisitely fragrant and rich. After that, the parade of ingredients begins. And all you have to do is sit back and enjoy the show. And occasionally open your mouth to taste the beautifully cooked, amazing ingredients being prepared right in front of you. The chefs have been trained expertly. Everything we were offered was perfectly cooked. Not a single thing was either under or overdone.
At the end of the meal, if you still have any room, your chef will bring the heat up on the soup, adding in crab and lobster shells, and the fish head, bones and tail. This intensifies the broth and makes it one of the most beautifully lush seafood soups you'll ever taste. As someone who cooks a lot, I was especially impressed by how quickly the flavors came together and intensified.
Your chef will then add spring onions and drop beaten egg into the soup, literally drop by drop. Then, in goes some rice. The result is one of the best porridges I have ever tasted and the perfect, warm, filling end to the greatest steamboat experience of my life.
If you're interested in trying this for yourself, please call ahead. The restaurant requires 48 hours notice because many of the ingredients are specially sourced or made just for this meal. Also, the group is a minimum of two persons and a maximum of six.
My wife and I are already planning on bringing my mother here for her birthday this year, as well as getting some foodie friends together for a return visit even sooner. This really was a truly amazing culinary experience — steamboat brought up to a level of refinement that puts the meal on par with the best fine-dining menus from any cuisine. I hope that you will enjoy it as much as I did.
MAN FU YUAN
Intercontinental Hotel
80 Middle Road, Singapore 188966 • Main Line: +65 6338 7600
Aun has always loved food and travel, passions passed down to him from his parents. This foundation, plus a background in media, pushed him to start Chubby Hubby in 2005. He loves that this site allows him to write about the things he adores--food, style, travel, his wife and his three kids!