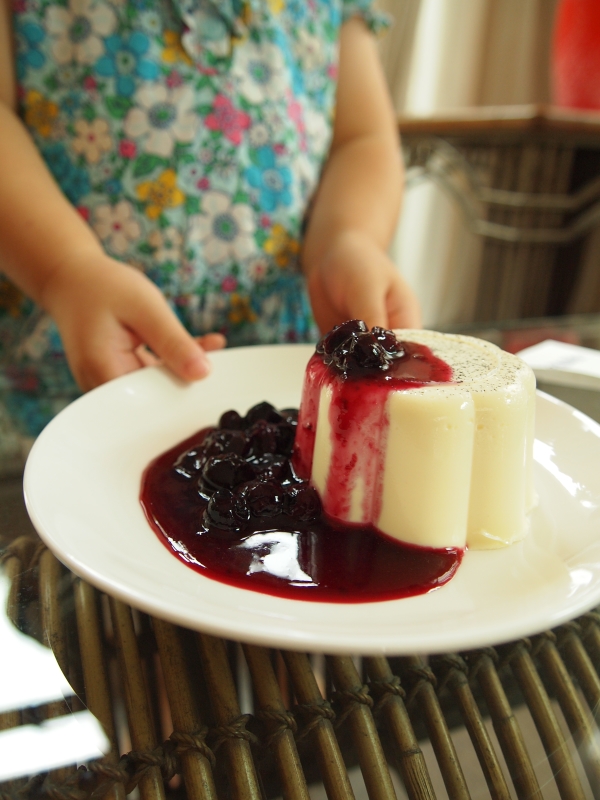 My kids love Panna cotta, and would choose it over any item on the dessert menu without thinking twice. There was a period of time when my darling five-year old son was so obsessed, he requested for it as his after-dinner treat two weeks in a row. Panna cotta translates as "cooked cream", and to me, is a simple, soothing dessert that is an antidote for frazzled nerves at the end of a hard day.
My family enjoys this best with generous spoonfuls of blueberry coulis. The tart berries provide lovely contrast to the richness of the milk and cream, and having them pop in your mouth as you eat, is a wonderful sensation against the quivering smoothness of the pudding. This blueberry coulis is also a great standby in the fridge for topping pancakes and waffles in the morning or swirled into thick Greek yogurt for your child's afternoon snack.
My version of panna cotta is adapted from a recipe by the fabulous David Lebovitz. I substituted half of the cream with milk, to make it lighter on the palate and friendlier to the ever-burgeoning waistline. Also, I reduced the amount of sugar to make it more suitable for my two-year old baby girl. This is a fool-proof recipe that even the most beginner of cooks will be able to execute flawlessly. So with Valentine's just around the corner, perhaps this could be the loving surprise your partner has been waiting for.
Panna cotta
adapted from David Lebovitz
makes about 10 medium servings/14 small servings
2 cups heavy cream
2 cup full-fat milk
⅓ cup sugar
2 tsp vanilla extract/1 vanilla bean, split length-wise and seeds scraped out/1 tsp vanilla bean paste
20g gelatin sheets (about 8 sheets)/ 4g gelatin powder
90ml cold water
canola oil for greasing moulds
1. Heat the heavy cream, milk and sugar in a saucepan over a small flame. Once the sugar is dissolved, remove from heat and stir in the vanilla extract/vanilla paste.
(If using a vanilla bean, scrape the seeds from the bean into the cream and milk mixture, and add the bean pod too. Cover, and infuse for 30 minutes. Remove the bean then rewarm the mixture before continuing.)
2. Lightly oil about 10-14 moulds with canola oil. Place them on a baking tray.
3. Sprinkle the gelatin over the cold water in a medium-sized bowl and let stand 5 to 10 minutes. If using sheet gelatin, soften the sheets in a liter of cold water for 5 to 10 minutes. Wring the sheets out and stir them into the warm Panna cotta mixture in step #4, until dissolved.
4. Pour the very warm Panna cotta mixture over the gelatin and stir until the gelatin is completely dissolved.
5. Pouring the mixture through a sieve as you go along to remove any gelatin lumps, divide the Panna cotta mixture into the prepared cups. Cover with cling film, then chill them in the fridge for about four hours until firm.
6. To serve, dip the cups in hot water, and run a sharp knife around the edge of each Panna cotta and tip onto a serving plate. Spoon over as much coulis as desired. You can keep the Panna cotta covered in the fridge for up to three days.
Blueberry coulis
500g fresh blueberries
1 tbsp lemon juice
2 tbsp agave nectar/honey/sugar- if using sugar, you might need to add some water at the end to thin out the coulis
In a medium pot, stir all ingredients together and bring to the boil.
Turn the heat down and simmer for a few minutes until half the berries have popped. Leave to cool down completely before transferring to an air-tight jar. Keeps well in fridge for a week.

Dawn, a lanky food-crazed lady, started out writing for lifestyle magazines, and later spent several years in banking. When not eating, she's cooking, reading about, hankering after, and writing about food. On her first date with her boyfriend (now husband), they dined at four restaurants across Singapore. He's gained 25lbs since, and their culinary escapades continue after welcoming two rotund angels. Dawn's committed to feeding them with the best, and creating lasting food memories and traditions for her family.